With cooler weather right around the corner, it's time to start planning the perfect fall fishing trip to Coastal Mississippi! 
---
We asked some of the region's charter captains about fall fishing, and they had plenty of expert insight to share. 
What type of fish can you catch?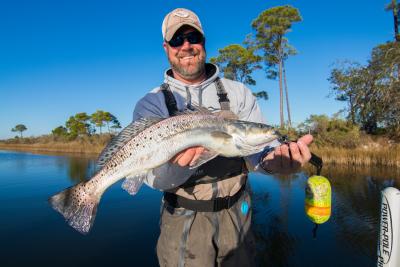 "Mississippi is unique in the fact that we have the ability to fish 12 months out of the year. Inshore and offshore opportunities abound! Our inshore fishing in the fall months is about as good as it gets anywhere. When our bayous and bays start pushing white shrimp out the fish go nuts! Don't miss this opportunity," said Fisher-Man Guide Service Captain Ronnie Daniels. 
Redfish, speckled trout, flounder, sheepshead, drum and even tripletail are choice targets. Fall fishing is distinct because you can fish the near shore reefs, the bridges, the back bay, around local piers, near our barrier islands, and farther offshore. 
During the fall, most of the sought-after gamefish like speckled trout and redfish make their way into the bay and marsh systems along the coast. This makes for shorter boat rides, easier fishing, and not being at the mercy of strong winds. The back bays and marsh areas are well protected from high winds which means fewer canceled trips. Although it never really gets too cold in Coastal Mississippi, it's a lot more tolerable during the fall and winter months. 
Coastal Waters Outfitters Captain Kyle Johnson said, "If you are hoping to catch big fish have no fear, we still have some of those too in the fall. Big bull redfish can still be had during fall even though they're not as prevalent as in the summer months, but big black drum fill the void. Some of the black drum can get upwards of 40 pounds! Alligator gar is another big fish that's fun to catch. Gar are prehistoric-looking fish with big teeth, and get upwards of 6 feet long! Needless to say, there are still plenty of options, and good times to be had fishing in the fall on the Mississippi Coast."
What's the ideal trip for someone new to fishing? 
Reel Southern Charters Captain David Kuehn said, "4-6 hour inshore trips are great for novice fishermen and fisherwomen. It's enough time to get out on the water and get your feet wet." 
What's the best trip for a family?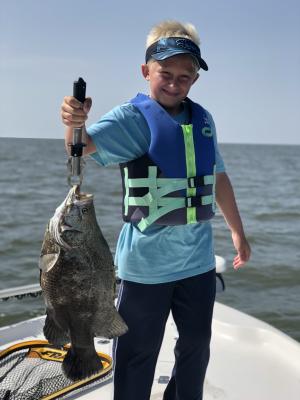 Fisher-Man Guide Service Captain Ronnie Daniels said, "This depends on the time of the year and the age of the kids. Every child is different. With younger children I recommend a half day, live bait, inshore trip along one of our reefs. These should provide a lot of action with several different species."
What's the best trip for an avid fisherman who wants something different? 
There are plenty of unique fishing experiences throughout Coastal Mississippi, from exploring the Chandeleur Islands to sight fishing redfish or tripletail to nighttime flounder trips. 
"I'd recommend either a trip to Cat Island or one of our trips down south in the Biloxi Marsh. However, if someone wants to target a specific species, those trips are always fun and challenging," said Captain Sonny Schindler from Shore Thing Fishing Charters. 
Captain David Kuehn: "Sight fishing redfish can be a blast on calm days with little to no wind. These aren't freezer filling trips, however they are very addictive and quite rewarding to watch a big redfish eat your bait." 
What's your favorite part about fishing Coastal Mississippi? 
Captain Sonny Schindler: "I like the variety of options. Being able to fish marsh, reefs, islands, bays, and rivers always keeps things fresh. You never get bored fishing one area. It also helps having so much to do on land. When you get in from fishing, we've got insanely good restaurants, casinos, museums, golf courses and beaches to play on. If you get bored or hungry here, it's your own fault."
"Variety, I have fished a lot of places and few have as much to offer as the Mississippi Gulf Coast. Y'all come on down and see for yourself!" said Captain Ronnie Daniels. 
How to get started planning your trip 
Check out a full list of fishing charters here. Select your amenities, ranging from diving to rig fishing to overnight trips and more. 
Reach out to your captain to check on availability and book your trip. 
Find the perfect lodging option. 
Build out the rest of your trip with visits to gaming resorts, unique events, attractions and museums, tours, incredible dining, shopping in walkable districts, golfing, and plenty of headlining entertainment!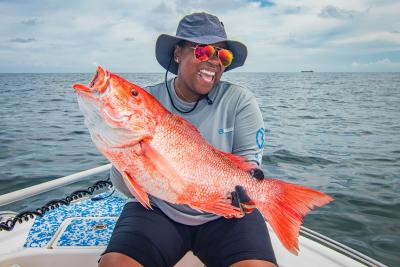 Thanks to these captains for sharing what they love about fall fishing in Coastal Mississippi, and we can't wait to see you catch the big one! 
---
Images courtesy of Captain Kyle Johnson, Captain Ronnie Daniels and Captain David Kuehn