While the Mississippi Gulf Coast restaurants specialize in many different cuisines, seafood often takes center stage, thanks to our destination's coastal locale. No matter where you roam along the coast, the enticing aroma of freshly caught seafood is impossible to resist. Get ready for a delightful journey featuring some of the top seafood restaurants on the Mississippi Gulf Coast.
The Blind Tiger
Biloxi & Bay St. Louis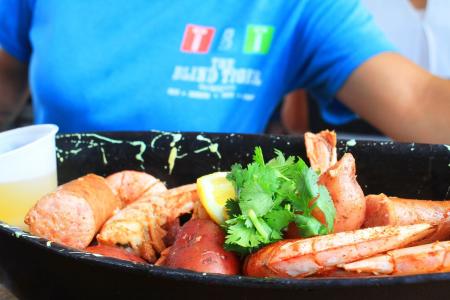 Embark on a flavorful seafood journey paired with easygoing coastal vibes inspired by the Caribbean at The Blind Tiger. Each location in Bay St. Louis and Biloxi offer a unique charm. The Biloxi spot across from Harrah's Gulf Coast boasts a scenic open-air setup right by the water while Bay St. Louis' location overlooks the marina. Indulge in fresh Gulf seafood, such as seafood tacos and fried platters. There are also plenty of bar food options, including burgers and wings. The restaurant's inviting ambiance captures the essence of beachfront living, making The Blind Tiger an ideal destination to unwind with loved ones.
Bay St. Louis
200 North Restaurant & Bar embodies coastal charm and culinary excellence. With a focus on locally sourced ingredients, 200 North Beach offers a diverse menu that delights seafood enthusiasts and those craving Southern-inspired dishes. Be sure to order a dozen raw or chargrilled oysters and crawfish cornbread for the table. The inviting atmosphere and attentive service make it an ideal spot for casual outings and special occasions. Enjoy food and drinks in the upstairs balcony overlooking the boulevard. The restaurant is open every day for lunch and dinner. 
Shaggy's 
Various locations: Gulfport, Biloxi & Pass Christian
Savor laid-back beach vibes, waterfront views, and Gulf-to-table cuisine at Shaggy's with locations in Pass Christian, Biloxi, and Gulfport. Prepare for a lunch and dinner menu as diverse as the Gulf: shrimp and mahi-mahi tacos, hand-battered seafood platters, and Po'Boy sandwiches. And if you're over 21, you'll want to order a refreshing tropical drink that tastes like a vacation in a glass. No worries if seafood isn't your thing–Shaggy's has you covered with mouthwatering burgers that hit the spot. For the kids, there's a range of choices guaranteed to bring smiles– from classic mac-n-cheese to tasty popcorn shrimp.
Gulfport
White Cap Seafood Restaurant, overlooking the Gulf, is a popular casual seafood spot for seafood lovers. Boasting a menu brimming with freshly caught selections, it encapsulates the essence of Gulf Coast dining. From succulent shrimp to delectable oysters, each dish offers a flavorful culinary journey. The restaurant's relaxed ambiance and waterfront views enhance the dining experience, making it a must-visit. You can get a delicious meal from White Cap open every day except for Tuesdays.
Gulfport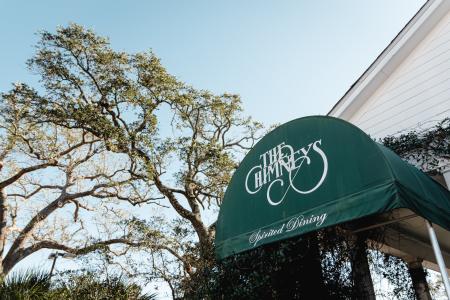 Courtesy of Adventures of Matt and Nat
Situated on the Gulfport waterfront, The Chimneys Restaurant is a testament to culinary excellence and historic charm. Housed in a beautifully restored white mansion, it offers a blend of Southern hospitality and gourmet dining indoors and outside. With a menu showcasing a fusion of flavors and upscale cuisine, patrons are treated to a delicious adventure full of fresh seafood and southern cuisine. The Chimneys is open for lunch and dinner from Tuesdays to Fridays, offers dinner on Saturdays, and serves a delightful Sunday brunch.
Patio 44
Gulfport & Biloxi
Experience the best of casual dining and Creole-style cuisine at Patio 44, with convenient spots in Gulfport and Biloxi. Whether you're in the mood for indoor or alfresco dining, both locations have you covered. Dive into Patio 44's surf n' turf menu, featuring delicacies like catfish and grits, alongside Southern classics such as pot roast and Po'Boy sandwiches. And let's not forget about those hearty steak dishes. Enhance your dining experience with wine, craft cocktails, and beer. Patio 44 is open every day for lunch and dinner and weekend brunch.
Biloxi
Imagine dining in a building that's been around since 1737–that's Mary Mahoney's Old French House Restaurant for you! This iconic gem effortlessly weaves together the stories of the past with the irresistible taste of the coast. Feast on fresh seafood, including mouthwatering crabmeat imperial specialties and tantalizing steaks, while soaking up the upscale ambiance. Whether you prefer the elegant indoor setting or the charming courtyard beneath a live oak tree, you're in for more than a dining experience–it's a journey through history and flavor perfect for anyone seeking an unforgettable culinary adventure. Mary Mahoney's serves lunch and dinner Mondays-Saturdays. 
Biloxi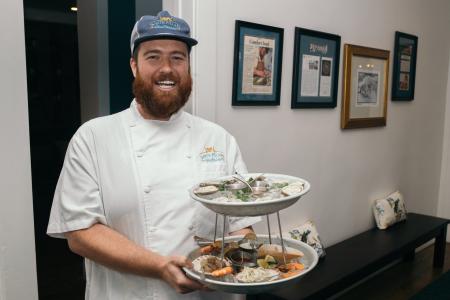 Chef Austin Sumrall courtesy of Eddie Robinson
Biloxi's White Pillars encapsulates Mississippi's essence in its cuisine and ambiance. This farm-to-table eatery celebrates local flavors with ingredients sourced from nearby farms. Meanwhile, the restaurant's artistic flair shines through paintings on the walls and handcrafted plates by local artists. Notably, White Pillars proudly houses Biloxi's oldest documented bar. And with a menu boasting delectable seafood, steak, and more, Chef Austin Sumrall, victorious in Food Network's 2023 series "Alex vs America," orchestrates an exceptional dining experience. White Pillars is open Wednesdays through Saturday for dinner and Sundays for brunch.
Biloxi
Celebrated for its mouthwatering crawfish dishes, authentic Po'Boys, and fresh seafood selections, Taranto's offers a tasty culinary experience. The casual restaurant's menu is influenced by Gulf, Cajun, and Southern flavors, capturing the region's essence. With a welcoming atmosphere, Taranto's invites diners to savor a delightful blend of tastes that celebrate the rich seafood heritage of the area, making it a must-visit for an authentic Gulf Coast dining experience.
Ocean Springs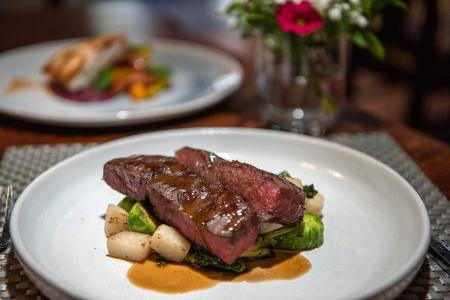 Nestled in the picturesque coastal town of Ocean Springs, Vestige offers a fine dining experience that combines big-city flavors with small-town charm. Vestige chefs Alex Perry and Kumi Omoro–nominees in the 2023 James Beard Awards' Best Chef in the South category–add plenty of flavors and an artistic touch to everything on their menu, from their exquisitely plated seafood dishes to their meticulously crafted desserts. Vestige is open for dinner Tuesdays through Saturdays.
Pascagoula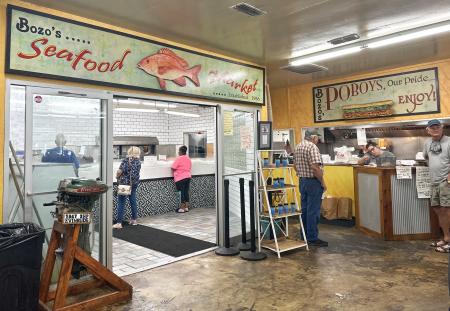 Bozo's Too in Pascagoula is a culinary gem offering a delightful seafood experience. With its diverse menu featuring fresh catches and Southern flavors, it's a must-visit for seafood enthusiasts seeking authentic coastal cuisine in a laid-back market and deli. Bozo's Too is open daily for lunch and dinner.
Pascagoula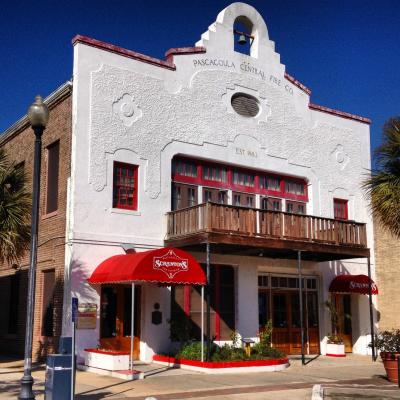 Scranton's Restaurant and Catering, located in Pascagoula invites diners for a casual dining experience where seafood and southern cuisine reign supreme. Whether you're after a sit-down meal or takeout, enjoy Cajun shrimp and grits, snapper filets, and an array of beef, chicken, and burger dishes. Beyond that, explore their market boasting homemade sauces, deli fare, salads, desserts, and soups. It's open daily for lunch and dinner.

These are just some of the many seafood restaurants on the Mississippi Gulf Coast.