If you've never been to Ship Island, then you might not know how secluded and pristine its beaches are. You might not even know that you could visit! You'll be pleased to hear that you can and should if you want to experience one of the most memorable beach days you've ever had!
The island is preserved under the Gulf Islands National Seashore, thus making it somewhat of a national park. You'll find an old Civil War fort called Fort Massachusetts, wildlife, breathtaking views, and seashells galore. In addition, the deep blue waters are enticing for a swim, and the soft white sand makes for the perfect place to lay your blanket. Visitors can walk for miles around the perimeter of the island or unwind under the umbrella and beach chairs available to rent.
Planning Tips
The seclusion of Ship Island comes with a few special considerations. If you don't own a boat, then you can take the ferry with Ship Island Excursions. We advise booking your tickets in advance online as seating is limited and there are only two ferries scheduled daily during the summer. Same day, "walk-up" tickets are also available for purchase at the harbor, but only when space is available.
The ferry is approximately an hour-long ride, and leaves promptly, so plan to arrive 30 minutes early to give yourself some time. It is also recommended to pack lightly since carry-on items are limited for storage reasons – no wagons, tents, or unbagged chairs allowed. Food and coolers under 42 quarts are welcome, but there is a snack bar available on the island.
Click here to view Ship Island Excursion's carry on guide.
When all is said and done and you've made the trek, you are bound to have an amazing time on Ship Island.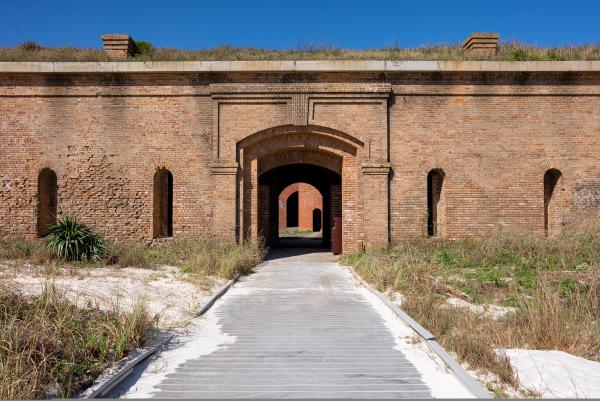 This beautifully preserved brick structure was built around 1859, and was used to protect the coast of Mississippi during the Civil War. Its D shape offered 360-degree coverage from water and land approaches. As part of the National Park Service, visitors can now experience the majestic arches, spiraling staircases, and a cannon with free self-guided or ranger-guided tours during the summer.
Wildlife
Bottlenose dolphins love to swim alongside the bow of the ship during the ferry ride. It is one of the first experiences that guests have with wildlife. However, on the island, you can also spot hermit crabs, ospreys, herons, turtles, beach mice, and more. Keep your eyes peeled and make it a scavenger hunt to see how much of the island's wildlife you can identify! Don't forget your fishing rod and saltwater fishing license too – the opportunities for fishing are abundant.
Rest & Relaxation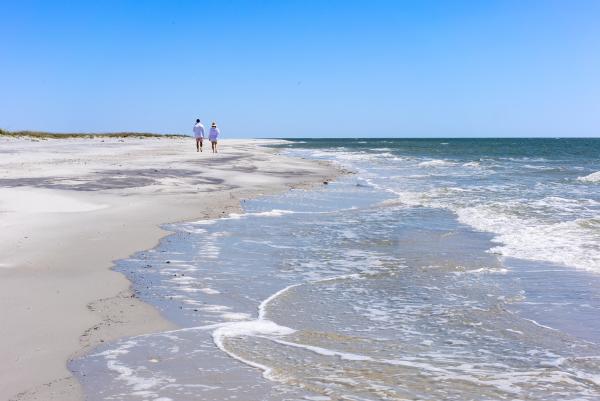 Ship Island's gorgeous and unobstructed ocean views provide the perfect backdrop for relaxing in The Secret Coast sun. Whether you're sitting on the sand and letting the waves flow past you or strolling along the coastline searching for that special seashell, it's easy to let go of all your worries during a visit to Ship Island. So spread your toes in the sand and let the kids run free!
More Adventures
Did you know that the Mississippi Sound is home to six barrier islands? Cat, Ship, Deer, Horn, Round, and Petit Bois Island all lay just a few miles south from Coastal Mississippi's coastline. For even more adventures to the islands, be sure to check out our boat charters such as Island Hopper Charters LLC and Nauti-Toons Boat Rentals. You can even take a kayak or paddleboard to Deer Island if you're daring enough.