If you're seeking warmer weather and safe activities during the winter months, Coastal Mississippi is the ideal destination to escape the cold and enjoy and array of experiences fit for social distancing and plentiful memory-making. The region's 62 miles of scenic shoreline boast a temperate climate year-round, offering an abundance of adventure and relaxation in equal measure.
---
Outdoor Adventures & Nature: For some festive fresh air, take a stroll along sugar-white sand beaches and build your own holiday "sandman," explore miles of hiking trails at parks such as Gulf Islands National Seashore at Davis Bayou, and experience an array of wildlife throughout the region.
Festive Feasts Along the Beach: Outdoor dining is the norm even in the winter months in Coastal Mississippi. From seafood spots serving Gulf-fresh delicacies with a view, to sustainable fine dining and fusion cuisine, there is something to satisfy every taste bud along The Secret Coast this holiday season.
The Mississippi Aquarium: A $100 million aquatic wonderland, the aquarium features more than a million gallons of freshwater and saltwater, with a wide variety of habitats and 200 species.
Museums & Attractions: From kayaking the bayous to gazing art installations, there are plenty of attractions to experience across the 12 coastal communities that make up the Coastal Mississippi region.
The Coastal Mississippi Promise of health and safety ensures that visitors are aware of the vital steps our industry partners are taking to ensure employee and visitor safety and allows for potential visitors to make informed decisions when planning their trip to The Secret Coast. In addition to visiting a destination that prioritizes public health, it is wise to take additional steps to keep your travel group and others safe. To help you do that, here are some of the most effective ways to vacation responsibly in 2021:
Mask up
Everyone 2 years and older should wear masks while in public, per Centers for Disease Control and Prevention recommendation. This includes when you're on vacation, so pack extra masks and plan on wearing them indoors — such as at shops or attractions — as well as outdoors if you're within 6 feet of another person not in your household. You might even consider ordering special masks that commemorate your group trip rather than the traditional t-shirt. They make for great vacation photographs!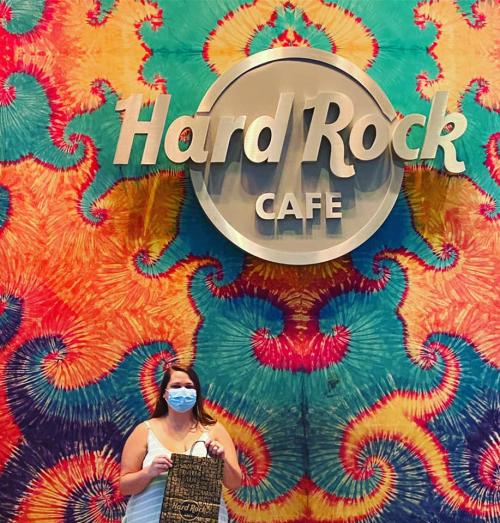 Photo courtesy of Shelby Lodholz
Know and follow local restrictions
Although the federal government has provided best overall practices for staying safe during the pandemic, specific regulations may vary depending on where you travel. For example, as of 12/22/20, Mississippi is not currently under a statewide mask mandate, but the three counties that make up Coastal Mississippi do have mask requirements in place. Take the time to research your destination and what specific protocols they may require. Then talk with your travel group ahead of time so you can all be proactive in following these rules and keeping everyone safe. 
Sanitize frequently
Keep hands clean by washing regularly and avoid touching your face. Wash with soap and water for 20 seconds, or about the length of time to sing "Happy Birthday" twice. When soap and water aren't available, hand sanitizer with at least 60% alcohol is a good option. In addition to hands, consider sanitizing surfaces before use, such as the tray table if flying on your vacation. It may have been sanitized already, but this gives you peace of mind and limits germ-spread even more.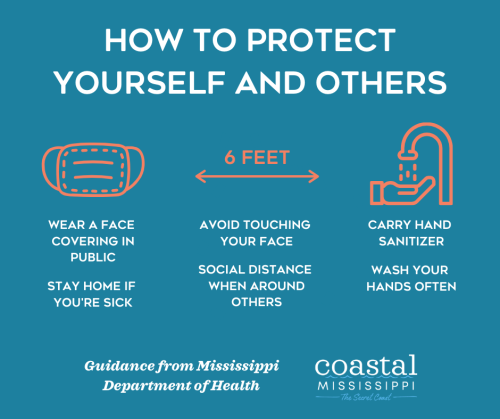 Here are some helpful guidelines on how to stay safe and healthy from the Mississippi Department of Health!
Enjoy outdoor spaces
When planning your itinerary, consider ideas that are outdoors. Fresh air and space to social distance is safer and can make your vacation more enjoyable. From beautiful bayous and bays to the longest man-made beach in the nation, Coastal Mississippi offers an array of outdoor adventures, including exploring the Gulf Islands National Seashore at Davis Bayou, water paddling along scenic blueways, fishing trips, sunset boat excursions and much more.
Explore accommodations
You want to be comfortable where you stay and confident it's clean, so spend some time researching what different accommodations are doing to keep guests safe. Then, book what feels right for you, whether that be a sprawling resort, private bed and breakfast, or unique boutique hotel. Featuring four modern, floating cabins complete with wet bars, and private, lush outdoor showers, Hotel Beatnik in Mississippi's Ocean Springs Creative District offers a fun new option for travelers.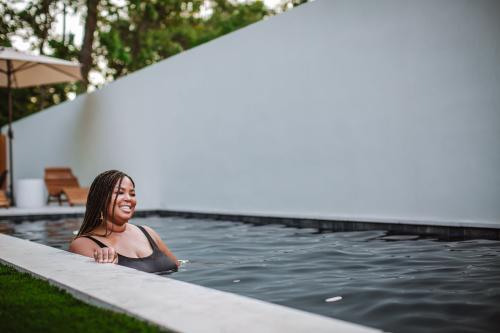 The heated plunge pool makes Hotel Beatnik a perfect choice year-round! Photo courtesy Hotel Beatnik
Book tickets early for attractions  
Many attractions are altering procedures and rules to keep wellness top of mind. Call and ask about what they're doing to keep everyone safe and if there are new occupancy limits. You may want to book tickets early because fewer are being sold so less people are in a particular attraction at once. The newly opened Mississippi Aquarium in Coastal Mississippi is adhering to all recommended guidelines and provides an opportunity for visitors to explore more than 80,000 square feet of exhibits connected by landscaped walkways with plantings representing all seven Physiographic Regions of Mississippi.
Stay home if you feel sick
Finally, if you feel sick, stay home. Many accommodations and attractions will refund your money or offer vouchers for use in the future. That way you can go when you're feeling well and can fully enjoy your trip while also helping to limit the spread of illness.