Secret Coast summers are prime for great fishing! Learn top tips about how to find the best bite from some of our regional experts. Our charters are taking all necessary precautions to keep anglers safe and healthy, as part of the Coastal Mississippi Promise. 
Special thanks to Matt Jargowsky and Amanda Jefferson, both from the Mississippi State University Coastal Research and Extension Center & Mississippi-Alabama Sea Grant, and Captain Mike Freeman, Executive Director of the Mississippi Fishing Guides Association and owner of Boat Trash Charters, for sharing these top tips! 
First, the basics: What type of fish can someone expect to catch during the summer months in Coastal Mississippi?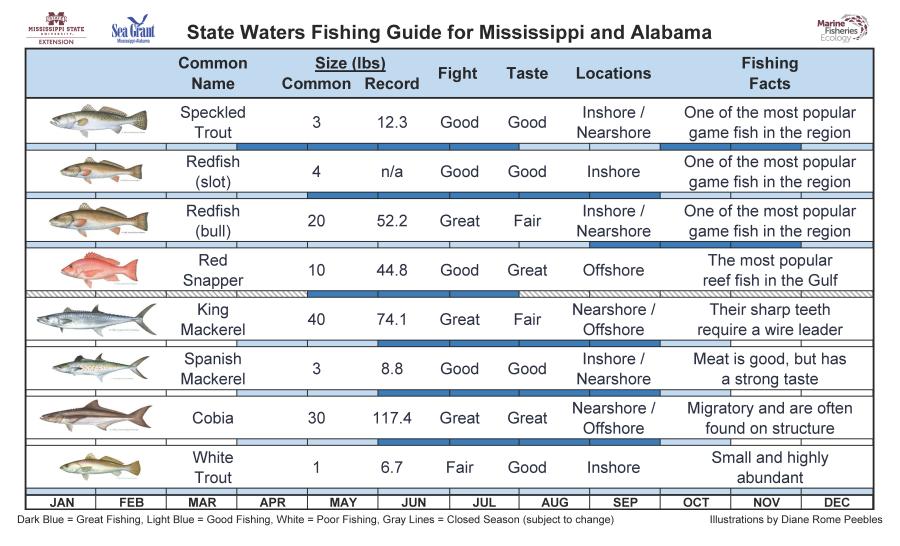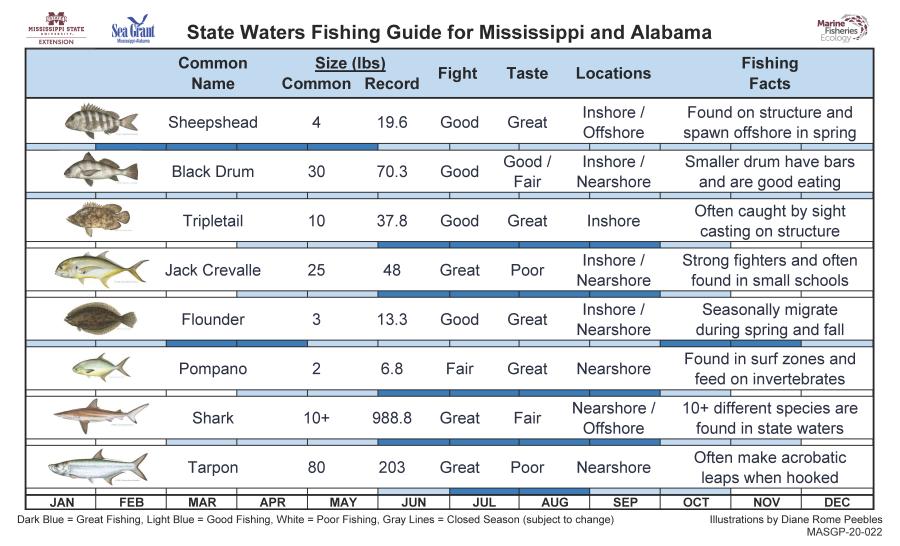 Summer is arguably the best time to fish in Coastal Mississippi. Some of the peak speckled trout and redfish fishing happens during this time, red snapper season opens up, and many of the migratory fishes like cobia, tripletail, king and Spanish mackerel, and even tarpon can be found in Mississippi's coastal waters during the summer.
What makes summer fishing in Coastal Mississippi different?
Fishing in coastal Mississippi is different simply due to the large variety of different sport fish available to an angler. There are fishes that are great fighters, fishes that are great tasting, and fishes that are both. An angler's fishing experience can differ every day depending on how and where he or she is fishing in Coastal Mississippi.
Our world-class fishery offers plenty of land-based activities as well. This makes us the perfect place to visit with great fishing, unique dining experiences, Vegas-style casinos, waterparks and much more. I cannot think of another fishing destination that can provide all of it at the level coastal Mississippi does. - Captain Mike Freeman
What type of trip do you recommend for someone who has never fished during these months?
If the angler has never fished these waters before, then a speckled trout and redfish trip is a great choice because both of these fishes are both fun to catch and good eating. If the angler is looking for a more unique type of trip, then tripletail, king mackerel, or cobia trips are all solid choices. If the angler wants to fish for the iconic Gulf red snapper, then an offshore trip would be his/her best bet (and this could also provide opportunities for cobia fishing).
If the angler wants to catch fish relatively easily, then they should target speckled trout or white trout. If the angler wants to fish for strong fighters, then trips targeting jack crevalle, shark, or tarpon would all be good choices. 
If the angler is interested in eating their catch, then trips targeting speckled trout, slot redfish, red snapper, Spanish mackerel, cobia, sheepshead, tripletail, or flounder would all be good choices.
My best advice when deciding what kind of trip you want to book includes being honest with your captain. I always ask clients if they could close their eyes and envision their idea of the perfect trip what would it look like: Trophy fish? Eaters? Lots of action (super important if you are bringing little ones)? I need to know what your goal is to make it happen. Of course I will have my own ideas on what to target on any given day depending on what has been most active in the days leading up to your trip. - Captain Mike Freeman
What's the best type of trip for a family? 
The best type of trip for a family is probably an inshore speckled trout and redfish trip. First, these trips are generally shorter, which can be good for young kids. Also, inshore trips generally occur in calmer seas, which reduces the potential for sea sickness. Lastly, anglers on inshore trips often catch smaller fishes like white trout; these fishes are perfect for young kids who probably aren't strong enough to catch some of Mississippi's larger fishes all by themselves.
What's your favorite aspect of fishing in Coastal Mississippi during this time of year? 
Our favorite aspect of fishing in Coastal Mississippi during the summer is the diversity of fishes available to anglers. There are simply so many different fishes that an angler can fish for several days and never fish the same way (or even catch the same species of fish) twice. - Matt Jargowsky and Amanda Jefferson​
Is Fishing Allowed Off The Piers Or The Beach?
Yes, with a license. Coastal Mississippi has many public piers open for fishing! A valid fishing license is required for fishing. Fishing licenses are available at many locations along the Mississippi Gulf Coast.  For more information on permits for fishing, please contact the Department of Marine Resources - (228) 374-5000 or (800) 374-3449. 
Thanks to our experts for sharing their top tips and love for summer fishing in Coastal Mississippi! To view a full list of charter options and amenities, visit our Charter Fishing page here.