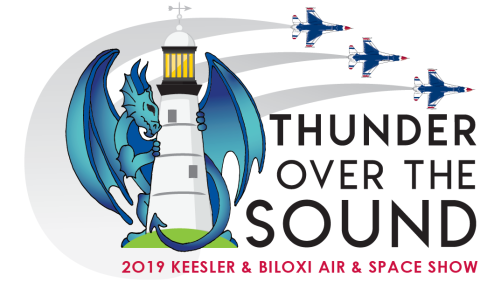 Thunder Over the Sound: The Keesler and Biloxi Air and Space Show takes flight in less than two weeks! Participate in unique, family-friendly experiences and view the incredible skills of Air Force pilots both on Keesler Air Force Base and along the beaches of Biloxi. Thunder Over the Sound is a unique, one-of-a-kind partnership between a military base and its surrounding city, jointly hosting one air show in two locations.  
Public Affairs Specialist for the 81 TRW Public Affairs Office Sarah Loicano said, "Thunder Over the Sound is truly a unique airshow. To our knowledge, it's the first time a military installation and its host city are jointly hosting an airshow. Keesler and Biloxi enjoy a special partnership, and the base could not accomplish its mission without the strong community support from Biloxi; this airshow is a way to celebrate that 70-year strong relationship. It's also an opportunity for Keesler to welcome the community and showcase the professionalism and pride in service of America's Air Force." 
The air show will be divided into two portions; the morning portion, taking place on  Keesler from 7:30 a.m. to noon., will feature aerial demonstrations, ground performances, military aircraft static displays, a kid's zone with bouncy castles and obstacle courses, a science and technology center with interactive, hands-on science and technology exhibits, food trucks and free water for attendees. The afternoon portion takes place along the beach just off U.S. 90, with White Avenue being show center, from 1 to 5 p.m., and will feature the same aerial performances as the morning portion, with the addition of the T-33 Acemaker, MiG-17 and the premier U.S. Air Force Thunderbirds.  
Sarah continues, "This is the first time Keesler has hosted an airshow since 2015, and it's also been four years since the Thunderbirds visited the Gulf Coast. Opportunities to see the precision, professionalism and skill of these talented Air Force pilots perform doesn't come along often. so take advantage of this amazing chance. This is a wonderful, family friendly event takes place in two locations - on Keesler AFB with STEM activities, military aircraft static displays, aerial performances, ground performances and a kids zone, and along beautiful Coastal Mississippi, with a second round of aerial performances culminating in the Thunderbirds. There is so much to see and do between the two locations; we encourage everyone to make a family weekend out of the event and come learn about your Air Force and what we do at Keesler." 
Schedules, performers, static displays, parking and traffic details have recently been updated on the airshow website. Maps detailing the viewing area and parking options can be found below.