Gear up for the great outdoors: consistently warm weather and perpetually beautiful scenery mean outdoor adventure is a year-round option for Coastal Mississippi explorers. There is nothing better than a day at the beach, and The Secret Coast is just the place to kick off your shoes, put your feet in the sand and relax awhile while enjoying the view of our gorgeous white sandy beaches.
Nature & Wildlife
With 62 miles of scenic shoreline, it's easy to find a perfect place to set up for a day in the sun. Whether you take an eco-tour, rent a kayak to paddle through the bayou, or have a sunset picnic, you'll be able to experience nature at its purest. Get up close and personal with hundreds of species of birds, reptiles, and other wildlife, including very rare endangered species you'll only see on the Secret Coast. As an added bonus, you could head down to the Pascagoula River Audubon Center to learn all about our wildlife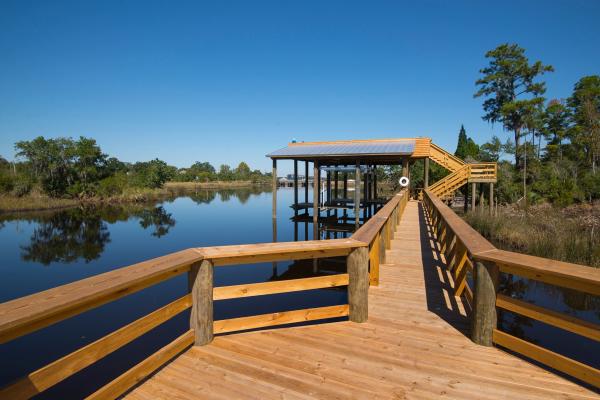 Pascagoula River Audubon Center
Mississippi paddling trails allow visitors to enjoy short trips along Wolf River bayous to Bay St. Louis or through the emergent marshlands of the Grand Bay National Estuarine Research Reserve. For a longer adventure, explore routes from the upper Pascagoula River – the longest free-flowing river in the nation– to the coast, or kayak to the pristine barrier islands for overnight camping under the stars. Set up camp at a campground or state park. Hike, bike along our scenic trails, or just take it all in along our breathtaking manmade beaches and waterways.
Ship Island
Care to switch up the sand you're on? Hop on a Ship Island Excursion from the Gulfport Small Craft Harbor to Ship Island. Twelve miles offshore from Gulfport, Ship Island offers gorgeous gulf waters for swimming, sunbathing, shelling, and so much more. In fact, a chain of Gulf Coast islands, including Ship Island, limits the number of strong waves that reach the mainland beaches, creating calm, gentle waters across Coastal Mississippi, making Ship Island the perfect Coastal Mississippi getaway.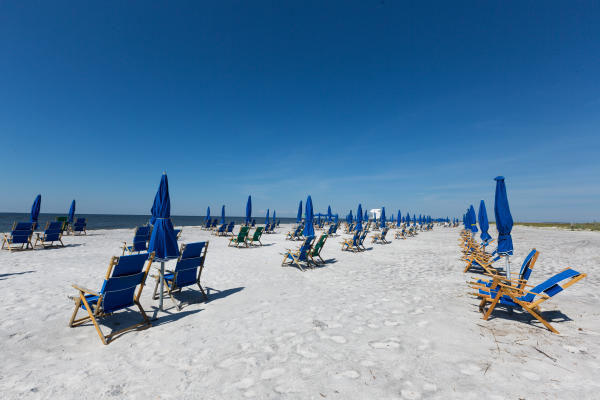 Ship Island
Fishing
Some trophies go nicely with a squeeze of lemon. At least that's what you'll find on the Mississippi Gulf Coast, where the fishing opportunities are big and the fish you catch are, well, bigger! Our peaceful, warm waters offer everything from freshwater to saltwater fishing. There are 200 species of fish up for grabs, so you never know what you're going to pull up on your line. Fish inshore. Fish off our piers. Spend your day wade fishing or deep-sea fishing – or both.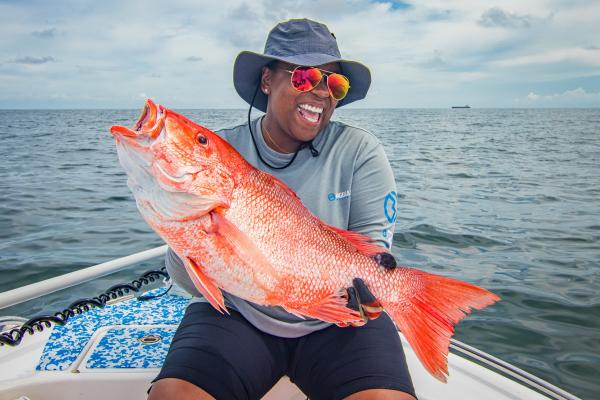 Fishing in Coastal Mississippi
And if you're new to these parts, and by "parts" we mean waters, you should know that Mississippi Gulf Coast fishing requires a fishing license. For more on getting a license, see the Department of Marine Resources. Oh, but if you're chartering a boat for the day, your captain will take care of all licensing, bait, and tackle. It's a win-win!
Camping
When your day is done, you can curl up by a campfire and continue to enjoy the natural beauty that the Gulf Coast has to offer. Park your RV, pitch your tent minutes from the Gulf's biggest attractions, or camp in style at Tentrr, Buccaneer State Park's enhanced camping experience.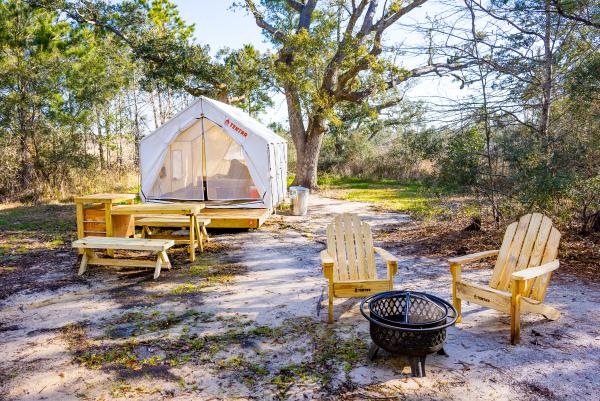 Tentrr at Buccaneer State Park
And don't forget to pack binoculars and a camera. You're in for a wild ride here on The Secret Coast!