When vacation-goers visit Coastal Mississippi, they come for the scenic shorelines and stay for the relaxed lifestyle - and the same can be said about Hollywood filmmakers!
For generations, The Secret Coast has provided a picture-perfect backdrop to some of Hollywood's biggest stars. We all know you're always looking for the next thing to watch, so pop that popcorn, fire up your favorite streaming device, and dive on in to the Binge-Watcher's Guide to Coastal Mississippi!
Biloxi Blues (1988)
Led by a star-studded cast featuring Tony Award winner Matthew Broderick and Academy Award winner Christopher Walken, this box office smash-hit follows 20-year-old Eugene Jerome (Broderick) as he is drafted into the United States Army during the last year of World War II. Leaving his hometown of Brooklyn for Biloxi to begin basic training, Jerome learns about life and love in surprising ways, all while dealing with an eccentric drill sergeant (Walker).
"Biloxi Blues" is available to stream on Hulu with Cinemax Add-On or rent on Amazon Prime Video. 
 
Mississippi Grind (2015)
In "Mississippi Grind," two hard-luck poker players, played by Ryan Reynolds and Ben Mendelsohn, take a road trip through the American South looking to change their fortunes - including a stop in Coastal Mississippi! Different parts of IP Casino Resort and Spa can be seen throughout the movie - so can a number of casino employees who were chosen to be extras.
"Mississippi Grind" is available to stream on Netflix or rent on Amazon Prime Video.
Fun fact: Ryan Reynolds must have loved his time here on The Secret Coast, as Biloxi gets a quick nod in his 2018 superhero comedy "Deadpool 2!"
 
Urban Country (2018)
Coastal Mississippi takes center-stage in this family-friendly drama!
Faith (played by Brighton Sharbino of "Walking Dead" fame) is an eighteen-year-old with a bit of a rebellious streak. A series of misadventures - including a failed attempt to spray-paint graffiti in MGM Park - eventually lead her to a stay in juvenile hall. However, after reconnecting with her estranged, dying mother Anna (Candice Michele Barley), Faith visits her Coastal Mississippi ranch and discovers she may want more than the city can provide. 
Watch other Secret Coast locations such as Fishbone Alley, Hancock High School, and K & C Stables shine on screen in "Urban Country," available to stream on Hulu or rent on Amazon Prime Video. 
 
Mississippi Masala (1991)
The Secret Coast is known for being a peaceful, romantic getaway - just ask Denzel Washington!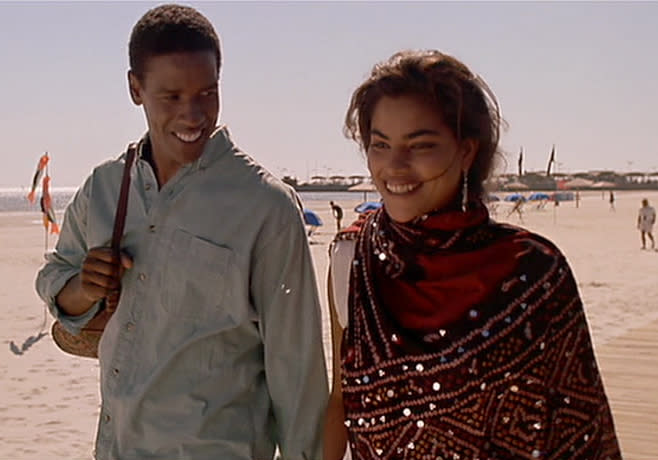 Denzel Washington and Sarita Choudurry walk along Biloxi Beach in Mississippi Masala (courtesy: Sony Pictures)
In "Mississippi Masala," the Academy Award-winning actor enjoys an on-screen romantic weekend in Biloxi with his co-star Mina (Sarita Choudhurry). However, the pair quickly discovers that their cultural backgrounds may clash more than expected - including opposition from Mina's parents, themselves refugees from Uganda following the 1972 expulsion of Asians from the country. 
This romantic drama, which also features scenes shot on location in Ocean Springs, is available for purchase on Amazon. 
 
Christmas in Mississippi (2017)
One Coastal Mississippi community steals the spotlight in "Christmas in Mississippi!"
Filmed entirely on location in Gulfport, this Lifetime movie follows photographer Holly Logan (Jana Kramer) as she returns home for the holidays and the Gulfport Harbor Winter Lights Festival. Featuring Coastal Mississippi locations like Island View Casino Resort, Fishbone Alley and Jones Park, "Christmas in Mississippi" is a genuine representation of how The Secret Coast celebrates the holiday season. In fact, Gulfport's real-life Mayor Billy Hewes not only makes a cameo appearance, but his song "Mississippi Christmas" also plays over the opening and closing credits of the film! 
You can rent "Christmas in Mississippi" on Amazon Prime Video, and it is always a mainstay in Lifetime's programming lineup around the holidays.  
 
This Property is Condemned (1966)
"For a brief, magical, Hollywood moment, the town of Bay St. Louis became Dodson, Mississippi." - Bay St. Louis Little Theatre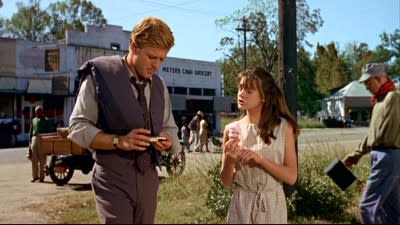 Robert Redford and Natalie Wood walk through Bay St. Louis' Depot District in This Property is Condemned (courtesy: Paramount Pictures)
Featuring locations such as the Bay St. Louis Little Theatre, the city's Historic L&N Train Depot and Depot Row, "This Property is Condemned" was shot almost entirely in Bay St. Louis. The film was inspired by a one-act play by Tennessee Williams and stars some of the biggest names in cinema of the time, as Robert Redford and Natalie Wood play two strangers who fall in love in Depression-era Mississippi. For her performance, Natalie received a Golden Globe nomination for Best Actress in a Motion Picture!
You can rent "This Property is Condemned" on Amazon Prime Video and YouTube.
 
Still looking for more coastal cinema? Check out these additional selections: