Have you heard of Buccaneer State Park's newest way to enhance your camping experience? Tentrr offers platform tent setups, complete with a picnic table, Adirondack chairs, and a fire pit. It makes camping as easy as packing your bag!

A Memorable Night Out in Nature
Guests will enjoy a peaceful night secluded in the sights and sounds of nature. The propane heater will keep you warm as you cozy up together in the spacious canvas abode, atop the memory foam mattress. Or, take the opportunity to light a campfire and roast some s'mores. Either way, a night under the oak-lined, starry skies will be sure to ease you into relaxation.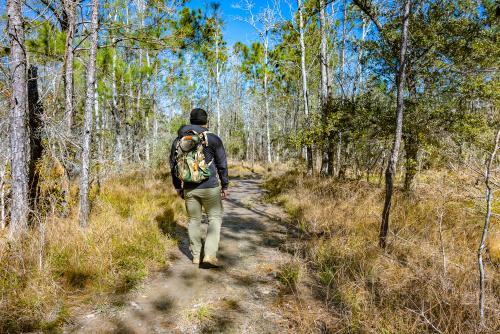 Within the park, guests have access to the 1.8-mile Pirate's Alley Nature Trail, a playground, disc golf course, pavilions, and Buccaneer Bay Waterpark (opens May 30, 2022; day passes required). If you're wanting to do some shopping and downtown exploring as well, Waveland's city center and Old Town Bay St. Louis are about a ten-minute drive away. Rum Kitchen and Thorny Oyster are just a couple of great restaurants nearby that will have you ending the night satiated.
Did we mention that Buccaneer State Park is located right off the Gulf of Mexico? Be prepared for unlimited beachfront views and a refreshing saltwater breeze. Spend the day soaking up the sun on Waveland Beach – the only community on the Gulf Coast that prohibits commercial buildings on its beachfront. For even more fun, guests can book a canoe or kayak tour with Wolf River Canoe & Kayak, or rent bikes at Bodega Adventure Rentals & Sales to cycle the Waveland-Bay St. Louis bike trail.
FAQs
How do I book my stay with Tentrr?
You can find the listings on Tentrr.com; there are options for single and double camps available in Buccaneer State Park.
Do I have to pay the park admission fee on top of the Tentrr reservation?
No, the park admission fee is included when you book with Tentrr.
Is there a bathroom?
Tentrr visitors can use the bathroom located in the nearby Activity Building. Click here to view the park map.
What should I bring?
Food, water, firewood, bedding, lanterns, sunscreen, and insect repellent for starters. Tentrr will provide you with a thorough packing list a few days out from your reservation.
Is there cell phone coverage at the campsite?
Yes, the Tentrr campsites are well-serviced, but we promise you won't even want to look at your phone!
What if I need to cancel or reschedule my stay?
Contact the CampKeeper as soon as possible. Tentrr has a 72-hour cancellation policy.

In Conclusion
Tentrr is a great option for last-minute weekend plans for couples, families, groups, or even solo adventurers. Guests can relax in the untouched nature of Buccaneer State Park and cool off in the wave pool. Make the experience as rugged or as luxurious as you want – Tentrr campsites are fully equipped for your camping needs, but shopping and dining are also within reach. Don't isolate yourself in the park, though, there is plenty of fun to be had exploring Waveland and Bay St. Louis.
Book your stay with Tentrr soon for an unforgettable camping experience on the Secret Coast!