One of the best things we love about life on The Secret Coast is the mild climate that our region enjoys during the fall and winter months. There will still be plenty of beach and boating outings, but as the days become shorter there will be no shortage of cool evenings filled with great events and things to do during your Coastal Mississippi vacation. On the days when you find yourself sporting your favorite college team's sweatshirt or bundled in your favorite comfy sweater, you might find yourself craving a steaming bowl filled with delicious offerings of the freshest ingredients you can find. We have that and more here in Coastal Mississippi. Come check it out!
BOUILLABAISSE Thorny Oyster, Bay St. Louis - A go-to favorite among residents and visitors, Thorny Oyster is a dining must when visiting The Secret Coast. Owner and Chef Jeff Hansell cooks up many specialties every day, but among these dishes, you'll find his exquisite bouillabaisse. A recipe honed throughout his career and adapted to each location, it is a seafood-lovers dream of fresh fish, Gulf shrimp, crab, and muscles with fry bread for soaking up every drop of the rich juices in the dish. The level of flavors combined with all the assorted fresh seafood make it a perfect dish any time of the year, especially on a cool autumn evening.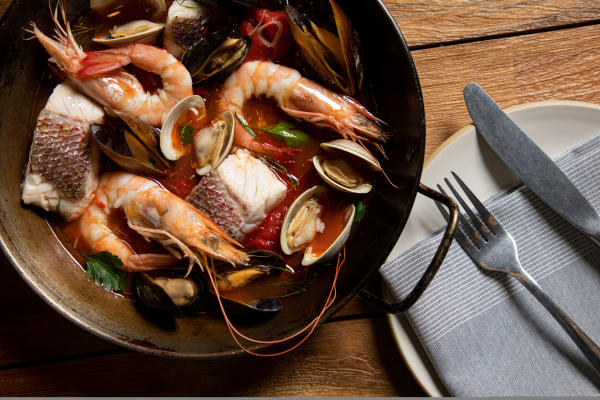 Thorny Oyster's Bouillabaisse
FIELD'S FRENCH ONION SOUP Field's Steak & Seafood, Biloxi and Bay St. Louis - The infamous Field's French Onion Soup is inspired by Chef Field Nicaud and is a staple dish at both Field locations, in Bay St. Louis and their newest place in Biloxi. This soup has the perfect blend of flavors with lump blue crab, Vidalia onions, and velvety gruyere perfect - a perfect starter to warm your belly on a crisp fall evening. Once you have their soup, we assure you you'll want to stay for their steak and oysters. You may not be able to resist their delicious dessert!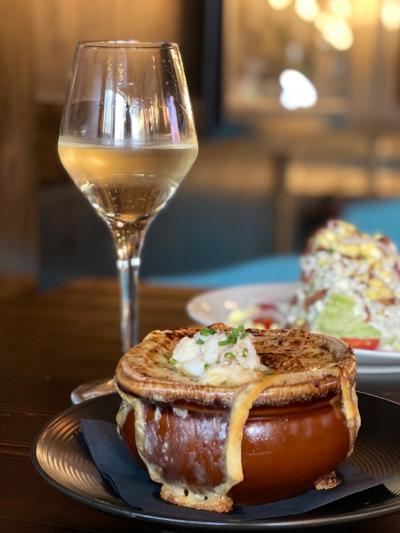 Field's French Onion Soup
WHITE CHICKEN CHILI Fallon's, Gulfport - If the end of the day finds you longing for board games and football in your vacation rental without the hassle of cooking, we have got you covered. Family-owned and operated since 2013, Fallon's Gourmet has a robust lineup of take-and-bake items that will appease even the pickiest eater in your group. With soups, vegetables, salads, main courses, and fan-favorite casseroles, you can find something for everyone at Fallon's. Pro-tip: make sure to grab a container of their delicious White Chicken Chili. This thick stew is made with tender chicken, hearty beans, and lots of cheese, and is best served with crunchy tortilla chips and a dollop of sour cream.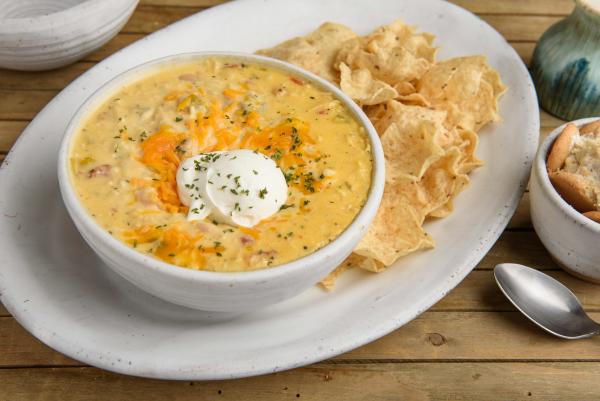 Fallon's White Chicken Chili
WHAT ABOUT THAT GULF COAST GUMBO?
Of course, you can't spend time on The Secret Coast without sampling our delicious gumbos. With so many takes on this coastal dietary staple, we couldn't pick just one!
Here are a few of our favorites:
Mary Mahoney's Old French House, Biloxi
Hook, Davis Avenue, Pass Christian
Shaggy's, Biloxi, Gulfport, Pass Christian
Brady's Steaks and Seafood, Pascagoula
Sully's, Gulfport
Aunt Jenny's Catfish Restaurant, Ocean Springs