When visiting this monstrous 500+ year old oak tree on the Gulf Park campus of the University of Southern Mississippi in Long Beach, visitors will see a quote reading "I am called the Friendship Oak. Those who enter my shadow will remain friends through all their lifetime." on a plaque nearby. For years, college students, locals and visitors alike have traveled to the tree with friends to confirm a life-long friendship.
To say this tree is massive is a complete understatement. According to the University of Southern Mississippi, the tree's current measurements show a 59-foot height. The diameter of the trunk is 5 feet 9 inches; circumference of the trunk is 19 feet 9 1/2 inches; spread of foliage is 155 feet. That's huge!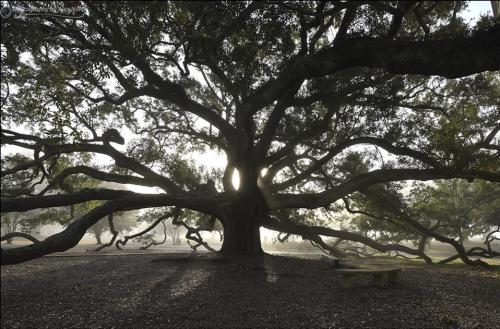 Enduring multiple storms and hurricanes throughout the centuries, the tree still stands tall, its branches overflowing in every direction filled with green leaves and wildlife.
The enormous tree really is a site to see! It's one of the most popular free things to do on the Mississippi Gulf Coast. Whether you want to relax under the trees 16,000 square feet of shelter, snap a photo of this giant oak or seal a special friendship, visiting the Friendship Oaks is a must-do when visiting the Mississippi Gulf Coast.
On your next trip to South Mississippi, make sure to add the Friendship Oak at shrimp sign 17 to your itinerary. To see what there is to see and do at surrounding shrimp signs, check out our dining and attractions guide. 
Photo: Alex North