Schooner the Seagull is known for entertaining thousands every summer at MGM Park, but even mascots need a day off once in a while! See where the face of the Biloxi Shuckers likes to spread his wings in Coastal Mississippi and visit for yourself!
---
Golf cart rentals
Sure, any seagull loves a good bird's-eye-view of Coastal Mississippi - but even Schooner enjoys zooming around The Secret Coast in style by renting a golf cart!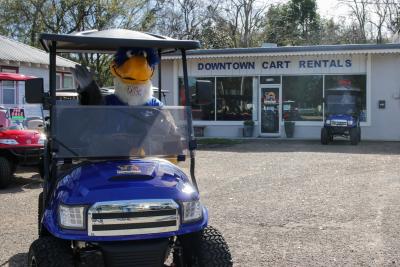 Downtown Cart Rentals in Ocean Springs
Our coastal communities of Bay St. Louis, Waveland, Pass Christian, Diamondhead, Ocean Springs and Pascagoula all allow licensed drivers to operate golf carts on city streets at under 25 miles per hour. Try renting a cart at Bodega Adventure Rentals & Sales and putt your way around Old Town Bay St. Louis, or stop by Downtown Cart Rentals for quick access to enjoying everything Historic Downtown Ocean Springs has to offer.
Lynn Meadows Discovery Center
The Lynn Meadows Discovery Center in Gulfport offers plenty of space for imaginations to run wild. The old school building turned interactive museum offers multiple floors of fun and hands-on activities. Mississippi's first children's museum offers a History Hotel, teleporting you back to Mississippi in the 1890's, The Port for your little fishermen and little fisher ladies, arts and crafts, science exhibits and more. You may even find Schooner getting into character at a tea party from time to time! 
Walter Anderson Museum of Art
See the beauty of Mississippi's past, captured by watercolors and displayed on ceramics and woodcarvings. Walter Anderson's art is a window into the early 20th century and features the plants, animals and people of the time. The mission of the Walter Anderson Museum of Art is to empower curiosity and connection to the natural world, and it may have even connected Schooner with some long-lost relatives...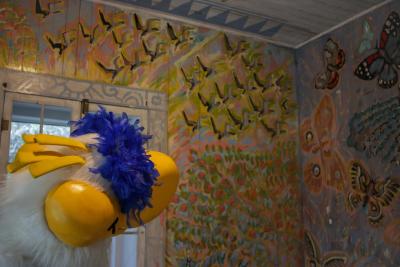 "...Dad?" - Schooner, probably
The Blind Tiger
After a full morning of galavanting across our gulf shores, Schooner is ready to chow down! One of his favorite coastal eateries is The Blind Tiger, a fun waterfront restaurant bar and grill with locations in Biloxi and Bay St. Louis. You can fill up on burgers, tacos, shrimp and seafood all while enjoying beautiful views of the Mississippi Sound. Schooner's personal favorite dish is the Royal Red Shrimp, complete with corn and potatoes - just don't tell his crawfish boil friends!
Big Play Entertainment Center
Speaking of Crawford, Colonel Cob and Spud, Big Play Entertainment Center in Biloxi is a perfect place for the four mascots to get together and enjoy a day outside of the ballpark! This state-of-the-art premier entertainment complex offers bowling, arcade games, laser tag, a full service restaurant complete with a fully stocked bar and more.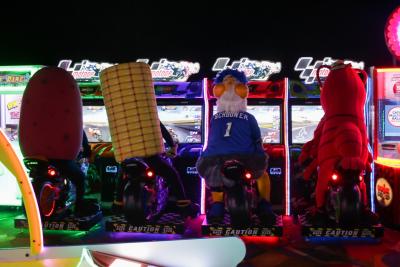 Aaaaand they're off!
White sand beaches
There's nothing better than a day at the beach, and Coastal Mississippi is just the place to kick off your shoes, put your feet in the sand and relax awhile. With sixty-two miles of scenic shoreline, it's easy to find a perfect place to set up for a day in the sun. Just ask Schooner and his friends!
Ship Island Excursions
Every now and then, Schooner likes to switch up the sand he's on, so he hops on a Ship Island Excursion! These outdoor adventures depart from Gulfport Small Craft Harbor to Ship Island, part of Gulf Islands National Seashore.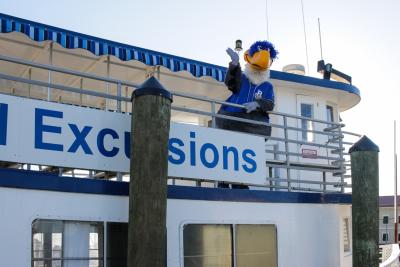 Anchors away!
12 miles offshore from Gulfport, Ship Island offers gorgeous Gulf waters for swimming, sunbathing, shelling and more. In fact, a chain of Gulf Coast islands, including Ship Island, limits the amount of strong waves reaching the mainland beaches, creating calm, gentle waters across The Secret Coast.
Biloxi Shuckers at MGM Park
No matter how far Schooner and his friends may roam, MGM Park will always be their home! You can catch the four mascots at any home game cheering on their Biloxi Shuckers, the Double-A affiliate of the Milwaukee Brewers. The season spans from April through September, and single game tickets are on sale now!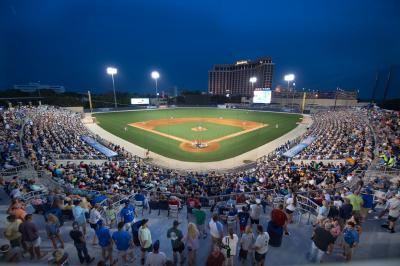 Catch the Biloxi Shuckers all season long at MGM Park!