Coastal Mississippi is full of secrets. The kind you want to share with others. 
Care to paddle down the largest free-flowing river in the lower 48 states? Take a swing at golf courses designed by the greats? Or cash in at our world-renowned casinos and raise the stakes? Along every step of our 62-mile coastline, hidden adventure awaits. 
High-limit action, no-limit fun
When you're visiting Coastal Mississippi, the good times roll and roll and roll. With 93 table games, 2,100 slot machines and a 16-table, two-tiered poker room, Beau Rivage Resort & Casino offers high-limit action and no-limit fun. Test your luck at the luxurious high-limit salon, while round-the-clock concierge services keep the party going with your drink of choice from a fully stocked lounge. Take a break from the action with a visit to The Shopping Promenade at Beau Rivage, home to elegant retail stores perfect for finding that high-end addition to your wardrobe.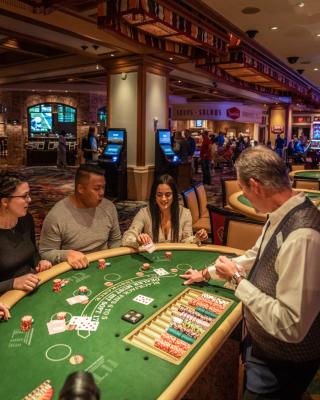 Clay creations
Hidden beneath seemingly endless foliage at the end of a winding, secluded pathway, a world of discovery and art await at Shearwater Pottery. Eclectic clay creations line the walls of this nearly century-old pottery business, established in 1928 by Peter Anderson and carried on by his family throughout generations to this day. Art pottery, utilitarian ware, figurines, decorative tiles and other ceramic objects are just a few of the fabulous "lost art" pieces created inside this Ocean Springs staple. Surviving damage from Hurricane Camille in 1969 and near decimation from Hurricane Katrina in 2005, a visit to Shearwater Pottery is an immersion into both the creativity and resiliency of Coastal Mississippi.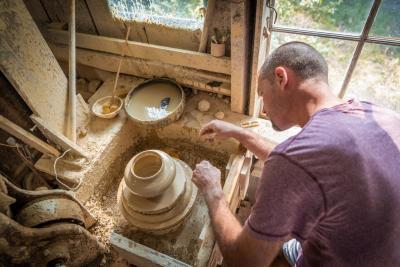 Sea shore? For shore. 
Consistently warm weather and perpetually beautiful scenery mean outdoor adventure is a year-round option in Coastal Mississippi. Connecting with nature on The Secret Coast can be as simple as a scenic drive through Gulf Islands National Seashore, but a truly authentic experience requires a longer stay. The Davis Bayou Area offers endless opportunities for an outdoor immersion, such as fishing, biking, camping, bird watching, picnicking or hiking on the Davis Bayou Trail. Plus, a quick selfie in front of the Gulf Islands National Seashore sign is a must-have!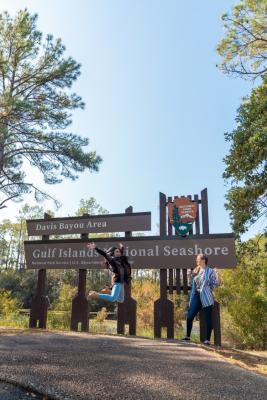 Come sail away
With dozens of charter services offered out of any of our coastal communities, there are endless opportunities to board a boat and discover the mysteries of our shores. Soak in sunsets more scenic than a picture could do justice. Hop on a Ship Island Excursion and unwind on our most exclusive beaches. Catch a big one fresh from the Gulf and have our coastal restaurants prepare it for you any way you would like. No matter the outing of your choice, a day on the water is a day well spent in Coastal Mississippi.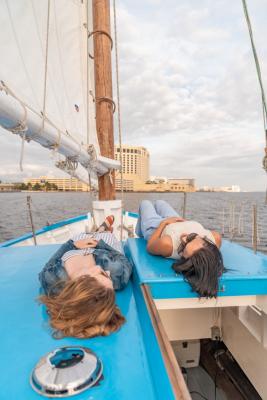 Coastline for miles, endless smiles. Play your way in Coastal Mississippi.

This ad was prepared by Coastal Mississippi using Federal funds under award 04-79-07589 from the EDA, U.S. Department of Commerce. The statements, findings, conclusions, and recommendations are those of the authors and do not necessarily reflect the views of the EDA or the U.S. Department of Commerce.