Some of the greatest golfers in the history of the sport will soon be returning to The Secret Coast for the 11th Annual Rapiscan Systems Classic Presented by Coastal Mississippi!
Every March, the iconic Fallen Oak golf course plays host to the three-day PGA TOUR Champions event as big names such as Bernhard Langer, John Daly, Vijay Singh and more hit the links in Saucier to compete for a $1.6 million purse.
Taking place March 23-29, the eleventh edition of the Rapiscan Systems Classic will again shine the spotlight on Coastal Mississippi, as The Golf Channel will be airing the tournament to a national television audience. This year's event is sure to deliver another memorable finish, as Kevin Sutherland brought home the 2019 championship by outlasting Scott Parel in a dramatic seven-hole playoff, the longest championship playoff in tournament history!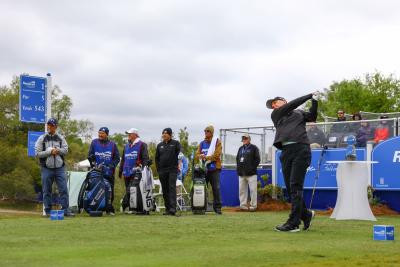 Kevin Sutherland tees off, courtesy Rapiscan Systems Classic
Each year, the tournament draws large crowds, offering something for golfing connoisseurs and newcomers alike! Admission to the three-day competition is free compliments of Coca-Cola, and you can elevate your experience with options like the Half Shell Oyster Lounge, an upscale hospitality venue on the 9th green featuring tee-to-green views, freshly shucked oysters and other Coastal Mississippi seafood dishes catered by Half Shell. 
It is estimated that the tournament annually provides $16 million in economic impact to the area, but the scope of the week-long event goes well beyond just dollars and cents. Thriving in a community that has a strong base in military affairs, the Rapiscan Systems Classic Presented by Coastal Mississippi strives to honor those who protect us every day. For that reason, they have many amenities at the golf tournament to thank those who have served our country, including an exclusive Patriots' Pavilion for members of Homeland Security, First Responders, and U.S. Military, active, reserve and retired. The Birdies for the Brave Military Caddie Program also provides select active duty Military members from our U.S. Armed Forces with the opportunity to caddie for PGA TOUR Champions Players for one hole during the official Thursday Pro-Am.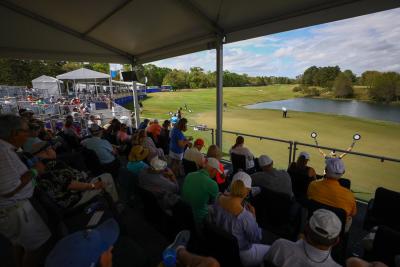 A large crowd overlooks the 18th hole, courtesy Rapiscan Systems Classic
 
Before the three-day competition tees off on Friday, the golfing world and culinary industry is set to collide at White Pillars Restaurant in Biloxi for an all-new event! Chip & Chop is the first and only culinary experience that provides intimate access to five regional award-winning chefs, including White Pillars' own Austin Sumrall and fellow Biloxi native Kelly English, as well as PGA TOUR Champions Players. On Thursday, March 26, VIP guests will be treated to an upscale five-course meal produced with local ingredients showcasing our signature Secret Coast flavors. Tables are going fast! Contact Vincent Hastings at vhastings@brunoeventteam.com for more information.
Proceeds will benefit local charities through Birdies for Charity, a program that raised over $445,176 for participating charities in 2019. All in all, since 2010, the Rapiscan Systems Classic (formerly the Mississippi Gulf Resort Classic) has raised more than $2.7 million for local charities in Coastal Mississippi. It's not too late to sign up for Birdies for Charity! All 501(c)(3) organizations and schools in the lower six counties of Mississippi are eligible to participate. Contact Mary Wesche at mwesche@brunoeventteam.com for more information.
General admission tickets for the three-day tournament, as well as tickets for the Oyster Lounge and Chip & Chop, are available at this link!