Photos: Julian Brunt
My first experience at Greenhouse on Porter included a concert on the lawn, tasting "mystery beers" (craft brews that lost their labels along the way), and meeting new people from the Mississippi Gulf Coast and beyond.
Since then, I've brought colleagues, friends, media and more to visit the quaint shop, filled with amazing smells and interesting people. When explaining the Greenhouse, I usually tell people it's an "incubator for great ideas." Meaning initial conversations quickly transpire into brainstorms, leading to an increased desire to do better.
Between Mr. Sprinkles, the house cat, roaming around for leftovers, local artwork surrounding each place setting and an unrivaled communal feel, you won't just be back for the delicious biscuits and pour-over coffee.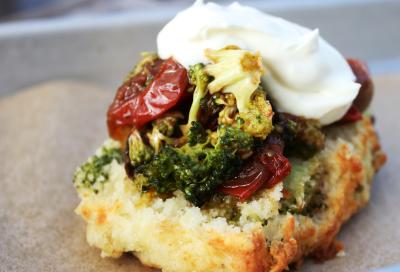 The business model Kait and Jessie have developed is a simple one: to prove (and share) that helping others in the community leads to success. Don't just take my word for it, though. The Bitter Southerner spotlighted the Greenhouse as a Gathering Place for Ocean Springs.
Now onto the serious stuff – biscuits. They might call it simple, but I think they're being too modest about the house staple, a Simple Biscuit. Order with some house-made Pimento Cheese and you've got a serious meal. I can't forget to mention their biscuits of the day. The last Special Biscuit I tried was an amazing cheesy guajillo biscuit with caramelized onion fluff. It was savory, sumptuous and perfect. 
Back to the culture of the place. It's welcoming, charming, cheerful and inspiring. Just stop by for Hot House Yoga, Bingo Night, live music or Opp Shop every second Friday of the month, and you'll learn why it's not just about the biscuits and coffee.