The Secret Coast is home to an abundance of hidden gems, rich culture, and an incredibly diverse natural world just waiting to be uncovered. If you're looking to discover a place where nature, art, and history converge to offer a deep dive into what makes Coastal Mississippi such a special part of the world, look no further than the Walter Anderson Museum of Art (WAMA) in Ocean Springs.
Celebrating its 30th anniversary this year, WAMA has announced the opening of a new exhibition, titled "The South's Most Elusive Artist", which will run from March 15, 2021 through January 31, 2022. Reexamining Anderson's lasting legacy and showcasing more than 85 works by Walter Inglis Anderson from the museum's permanent collection and that of the Family of Walter Anderson, "The South's Most Elusive Artist" will allow visitors to enjoy some of Anderson's most iconic works, as well as rarely seen watercolors, block prints, wood carvings, ceramics, and sketches. For Anderson, art was a way to understand and interact with the world around him, using space, form, color, and shape as tools to realize a connection to nature.
Walter Anderson Museum of Art maintains a twelve-point COVID Safety Pledge to ensure the health and safety of their visitors and staff. Coastal Mississippi is working diligently with our partners to ensure your safety and health is the top priority. Find out how in our Destination Promise of health and safety. 
SPACE
True art consists of spreading wide the intervals so that imagination may fill the space between the trees. – Walter Inglis Anderson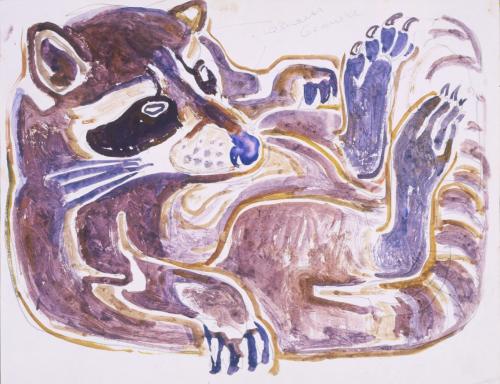 Walter Inglis Anderson (1903-1965), Contented Coon, c. 1960. Watercolor on Paper.
Permanent Collection, John S. and James L. Knight Foundation Purchase.
Walter Anderson explored space through his physical materials, such as the 8 ½ x 11-inch typing paper that he regularly used for watercolors, especially those he made in the barrier island wilderness of Horn Island. Often, Anderson would bend and shape his forms to fit his canvas. An example is the watercolor, Contented Coon, where the animal appears to be lounging within the confines of the page. Anderson also mastered the use of positive and negative space, using the technique to draw the viewer's attention to certain aspects of his subjects. This technique was also central to the process of linoleum block printing, where the artist carves out the negative space to reveal the positive. Anderson's block prints were propagated widely. These works were intended to be accessible; created, said Anderson, for "people who cannot afford to pay a great deal for works of art, but still have an appetite for beauty."
FORM
The realization of form and space is through feeling. When I feel the beauty of a flower on the trunk of a tree, I am at one inducted into a world of three dimensions and have a sense of form which is opposite of artificial forms and conventions. – Walter Inglis Anderson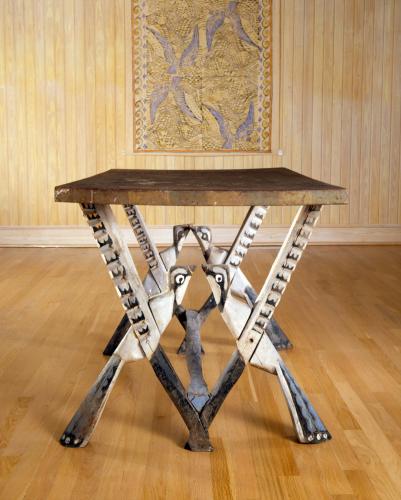 Walter Inglis Anderson (1903-1965), Blue Jay Table, c. 1933.
Polychromed Wood. Gift of the Family of Walter Anderson.
Even in his two-dimensional works, Walter Anderson sought to create a sense of a fully articulated three-dimensional world. But he also created large-scale murals, carvings, puppets, textiles, and furniture that physically occupied three-dimensional space. Anderson integrated these works into daily and civic life, reinforcing the idea that art was not meant solely for visual stimulation, but also as a tool and companion for living.
COLOR
It is approaching the magic hour before sunset, when all things are related, and are organized through color. – Walter Inglis Anderson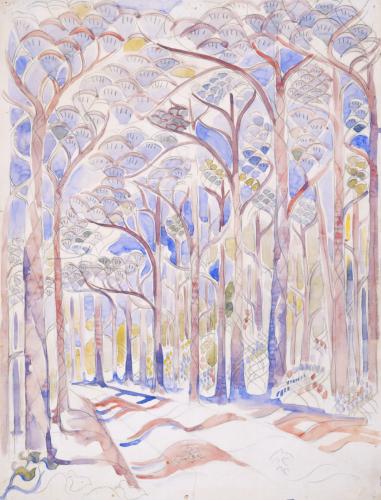 Walter Inglis Anderson (1903-1965), Road to Oldfields, c. 1945, Watercolor on Paper.
Permanent Collection, Gift of Mary Stone Brister.
Anderson deployed to great effect the science of color theory, juxtaposing and mixing primary and secondary colors. His exploration of color was influenced by his time spent in nature, and he would often enhance naturally occurring colors to create a mood or to elevate the drama of a scene. In Road to Oldfields, included in the exhibition, Anderson uses blue and yellow in the tree limbs, giving an impression of green leaves.
SHAPE
Walter Anderson famously employed "the seven motifs," basic shapes he read about in Mexican art theorist Adolfo Best-Maugard's 1930s book, A Method for Creative Design. These seven shapes are present in all ancient art forms and can be used as building blocks to render complex compositions. Anderson relied heavily on the seven motifs in the 1940s after he left the mental hospital, using them to "reteach" himself how to draw. Anderson's mastery of line allowed him to quickly and expertly render expressive shapes that he saw in the world around him, including a variety of biomorphic shapes such as the organic curves of flora and fauna.
WAMA opened in 1991 in historic Ocean Springs and is accredited by the American Alliance of Museums. WAMA's mission is to empower lifelong curiosity and connection to the natural world through the art of Walter Anderson and kindred artists. WAMA is dedicated to the celebration of the works of Walter Inglis Anderson (1903-1965), American master; and to his brothers, Peter Anderson (1901-1984), master potter and founder of Shearwater Pottery; and James McConnell Anderson (1907-1998), noted painter and ceramist. Learn more at www.walterandersonmuseum.org.