March Madness is upon us! And if you're a fan of basketball, chances are that you've assembled your bracket of 68 teams and placed bets amongst friends, family, and coworkers. Your methodology could be practical: assessing record-based statistics and weighing in favor of top seeded schools. If you're new to March Madness and want to join in on the fun, use a casual strategy and support your alma mater, team mascots, or even your favorite colors. Regardless of your approach, you will savor in this opportunity to place bets amongst friends, family, and coworkers with hopes of winning big…But what if we told you that your chances of winning were improved by betting another way? Enter: sports betting.
Discover the world of sports betting in Coastal Mississippi, offered at each of our twelve casinos. Unlike typical bracket betting, sports betting provides instantaneous reward for your bet. You bet against the casino, or the book, versus betting against other people, thereby increasing your odds of winning. In fact, sports betting provides the best odds for the customer in overall casino gaming, in some instances with 50/50 odds.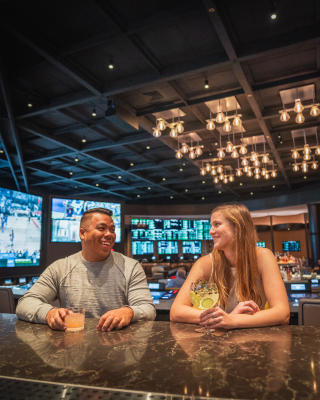 TAP Book, Bar & Bistreaux at Beau Rivage Resort & Casino
Moreover, at sports betting venues, the atmosphere on game days is infectious. You enter one of the twelve casinos' sports book areas, grab your betting sheet, and immediately feed off the energy of the room. For sports books, these first four days at the beginning of March Madness are busier than the Super Bowl. And with a million different ways to bet, the frenzy is real. Even if you are content with simply sitting back and enjoying the action, the atmosphere and amenities at any of our twelve coastal sports books are a wonderful way to experience the madness of March!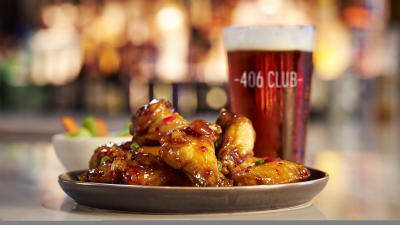 406 Club at Harrah's Gulf Coast
If you're hesitant to visit a sports book, don't be.
Remember one thing: don't bet more than you're willing to lose. As with all gaming, sports betting rests on the premise of entertainment. Don't approach March Madness seeking to make your fortune. Bet on games that you can watch in real time, so that you can enjoy the entire experience. And unlike bracket betting, sports betting provides in-game wagering. So, when you're in the heat of the moment, with the second quarter counting down, you can change your mind and bet against your preferred pick. What if you're in town only for a night? You can still play! As a visitor, you can place your bets in advance, enjoy your scheduled coastal activities, and upon winning, the casino will mail your reward.
So, don't place all your money in the office bracket betting, and don't hold your breath until April 4's championship game – get to a sports book today and enjoy the madness!