There's no question that this year's Mardi Gras will look different than most, but the spirit of Carnival lives on in Coastal Mississippi! From cultural exploration to unique culinary delights and more, there are still so many ways for residents and visitors to let the good times KEEP rolling on The Secret Coast - safely!
---
As of 1/15/21, masks are currently required in each of our three coastal counties. Before visiting, we encourage you to check with individual businesses on any potential changes to their availability and/or hours, but rest assured Coastal Mississippi is working diligently with our partners to ensure your safety and health is the top priority. Find out how in our Destination Promise of health and safety. 
Indulge

Coastal Mississippi has no shortage of mouthwatering Mardi Gras treats!
Images courtesy The Shed (L), Greenhouse on Porter (R)
Mardi Gras is a time to indulge, and a king cake is the absolute best way to get into the spirit of the season. Like a delicious slice full of your favorite king cake filling, Coastal Mississippi is filled with delicious bakeries and eateries serving some the most mouthwatering Mardi Gras goodies available. Whether you're looking for hometown favorites like Paul's Pastry Shop in Picayune, a dairy-free option from Makin' Groceries in Biloxi or even a Biscuit King Cake from Greenhouse on Porter in Ocean Springs, The Secret Coast is sure to offer a tasty treat fit for every King and Queen this Carnival season!
Looking for more coastal Carnival cravings? Start your day with a Mardi Gras Latte at Jacked Up Coffee Bar in Biloxi. Enjoy a pint of Chandeleur Island Brewing Company's King Cake Ale in Gulfport, or savor a King Cake Martini at Half Shell Oyster House inside Hard Rock Hotel & Casino in Biloxi. Visit our blog for a full rundown of All Things King Cake in Coastal Mississippi!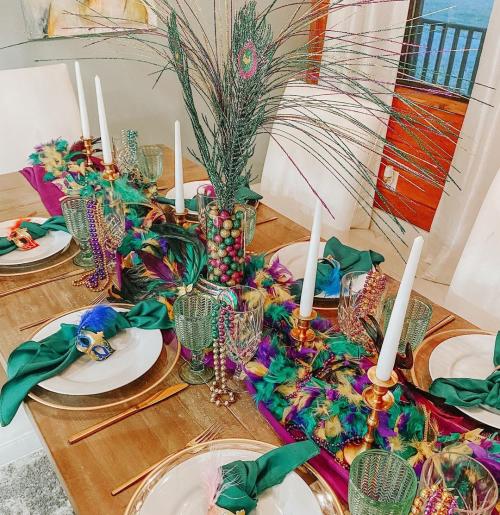 Celebrate Carnival safely with a Mardi Gras Picnic from Coastal Picnic & Company!
Image courtesy Coastal Picnic & Company
Want to let the good times roll while soaking in some of the best views The Secret Coast has to offer? Book a Mardi Gras picnic through Coastal Picnic & Company! Pick your preferred picnic style from one of four options, choose your add-on options such as gourmet cupcakes or a boho lace teepee, pick your spot and let their talented team do the rest! A luxury picnic experience will pop up before your very eyes. Escape with an activity perfect for small groups and social distancing, and safely celebrate Carnival in style. Check out their website to get started!
In addition, The Friends of Arts, Culture and Education will be hosting virtual Make Your Own Moon Pie (February 2) and Make Your Own King Cake (February 3) classes on Facebook live - perfect for letting the good times roll from the comfort and safety of your own home! Visit their Facebook page for more information. 
Educate

This Carnival season, add visits to our region's two Mardi Gras museums to your itinerary.
Left image courtesy Trevor Reid
Ever since the Gulf Coast Carnival Association hosted Biloxi's first parade in 1908, Mardi Gras has become an iconic part of the culture of Coastal Mississippi. Relive the excitement  with a visit to the Coastal Mississippi Mardi Gras Museum in Biloxi! Featuring costumes, photographs and memorabilia from our 113 years of Mardi Gras celebrations, you're sure to leave with a greater appreciation for how we let the good times roll here on The Secret Coast.
In fact, Coastal Mississippi Mardi Gras Museum is currently offering a Laissez Les Bon Temps To-Geaux Box. From a king cake to home decorations and more, the box is a must-have for safely celebrating a Coastal Mississippi Mardi Gras this year! Learn more by visiting the museum on historic Howard Avenue.
Learn more about the history of the Gulf Coast Carnival Assocation, boasting the
longest-running Mardi Gras parade in Coastal Mississippi!
While you're at it, be sure to add a trip to the Bay Saint Louis Mardi Gras Museum to your itinerary! Rated the Best Free Attraction in Mississippi by Love Exploring, the museum is located inside the Bay Saint Louis Historic L&N Train Depot and explores the history of Mardi Gras celebrations in Hancock County. Be sure to check out the beautiful display of rotating costumes from over the years, largely featuring the all-female mystic society Krewe of Nereids!
If you are looking for exciting educational opportunities for the little ones, look no further than Lynn Meadows Discovery Center in Gulfport! Lynn Meadows will be open on Lundi Gras and Mardi Gras, offering Carnival-themed activities such as mask-making in the Artist Studio. Admission is free for members, $10 per person for adults and children, $8 per person for seniors and military - and each child will receive a Mardi Gras goody bag of beads!
Explore

Trapani's in Bay Saint Louis is getting into the spirit!
Instead of the usual parades rolling through Ocean Springs, this year the City of Discovery is offering a new way to discover Mardi Gras! The Krewe of Porches has Ocean Springs residents and businesses decking out their porches and storefronts with festive Mardi Gras decorations for all to safely enjoy. Participating "porches" will be marked with a yard sign and listed on a map for easy navigation, allowing visitors and residents alike to create their own "parade."
The public will select favorites by voting through social media, with proceeds going  to support summer camp art scholarships through the Walter Anderson Museum of Art and The Friends of Art, Culture & Education (FACE). If you live in Ocean Springs, you can register your own house or business with a suggested $25 donation at this link.
There are similar porch-front Mardi Gras celebrations happening throughout The Secret Coast! The Coastal Mississippi Mardi Gras Museum is hosting a Yardi Party Decoration Contest for residents of all three coastal counties, and Hancock House Floats is offering prizes to residents and businesses of Hancock County with the best Carnival decorations (register here).
If you live in Gautier, Pascagoula or Moss Point, you can even send your loved ones a Mardi Gras special by 'Rouler'-ing their front yard! Find out how at this link.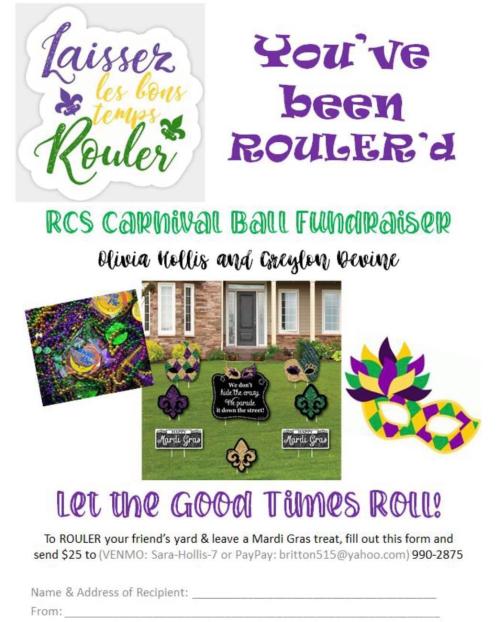 Follow the instructions on this form to ROULER your friends and family!
Shop

Images courtesy of Fleurty Girl (L) and MommyGyrl (R)
Looking to spruce up your Mardi Gras decor? Fleurty Girl in Bay St. Louis offers everything from a Mardi Gras Parade Yard Set to shirts, socks, candles and more!
You can order a specialty Mardi Gras wreath from Sadie Jane's Famous Wreaths and Gifts in Gulfport, or make your own by ordering a Mardi Gras Wreath Kit from MommyGyrl Custom Creations!
With adorable boutiques, numerous outlets and souvenir shops galore, you're sure to shop all things Mardi Gras in Coastal Mississippi!