Buy me some peanuts and cracker jacks, Biloxi Shuckers baseball is back!
Fresh off a second consecutive trip to the Southern League Championship Series, the Shuckers are ready to bring another unforgettable season of professional baseball to Coastal Mississippi! Serving as the Double-A affiliate of the Milwaukee Brewers, the Shuckers offer high-quality baseball and endless family fun in equal measure every time you set foot in MGM Park. 
As the Shuckers enjoy their fifth season of play here on The Secret Coast, we asked members of the front office to share what they like most about Coastal Mississippi, as well as insider tips to maximize your night out at the ballpark! 
---
What has surprised you most about The Secret Coast?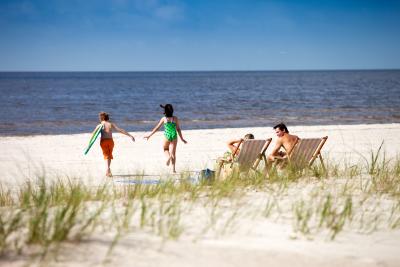 "Just the overall feel of the Coast. It's laid back, the people are incredibly friendly and the beach is gorgeous," said Shuckers Media Relations Manager and Broadcaster Garrett Greene. 
"Definitely the hospitality!" Sales and Marketing Coordinator Dustin Fishman said. "Everywhere that I've been to so far, I've been greeted by warm souls and people who are proud to represent this area."
"How much there is to do!" Community Relations and Promotions Manager Kelsey Thompson said. "Before moving here, people told me there was always something happening every weekend but I didn't believe them until I got down here. Whether it's a parade, craft fair, concert, or something else going on, you can't say you're ever bored."
 
What would you recommend for a fun day in Coastal Mississippi?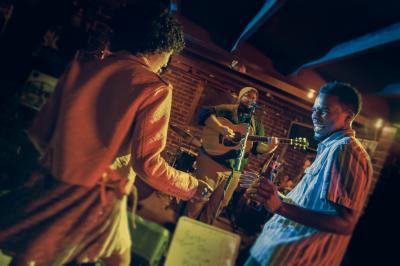 Dance the night away at The Julep Room in Ocean Springs
Allan Lusk, Director of Ticket Operations, suggested spending the afternoon with your family on Ship Island. Garrett recommended visiting Lynn Meadows Discovery Center for the kids, and Kelsey mentioned downtown Ocean Springs as a great location for bar-hopping after hours. But everyone agreed on their favorite way to spend a fun day on The Secret Coast - attending a Shuckers game!
"Our family friendly environment is unsurpassed and kids can run the bases after every home game!" Dustin said. 
 
What is your favorite aspect of a Biloxi Shuckers home game?

"The transformation of the field from sunset to a summer night. I don't know if people realize that even though our ballpark faces southeast, we have some of the most beautiful sunset skies during the summer," Garrett said.
"The people who attend the games," Allan said. "Everybody gets to know each other and gets to share their passion of Shuckers baseball with each other."
Kelsey said her favorite part is the atmosphere. "Whether you know anything about baseball or not, there's something fun for everyone. It's just a great place to hang out, watch the game, spend time with friends, eat and drink."


Cheer on your Biloxi Shuckers at MGM Park
 
What's an insider secret about how to best enjoy a Shuckers game?

Dustin recommended fans visiting MGM Park should "have an appetite before the game! The seafood options and barbecue nachos are unsurpassed."
On top of delicious dining, Allan pointed out that the Shuckers offer a great ticket package for those interested in local libations. "Get a ticket in the Beer Garden Bullpen Seats," he said. "You will get to sample multiple local beers and have a seat in a nice, breezy area of the ballpark" all for just $15 per ticket. 
But above all else, there is still high-stakes baseball to be played. 
"Get invested in the team," Kelsey said. "This is a chance to see players before they make it to the Big Leagues. Finding a player or two who you can root for gives you something to really buy in to, and seeing them advance in their career is such a cool thing to be able to do. There are few other sports like the Minor Leagues where you can be part of that experience."
Single game tickets for the 2020 Biloxi Shuckers season are now on sale!