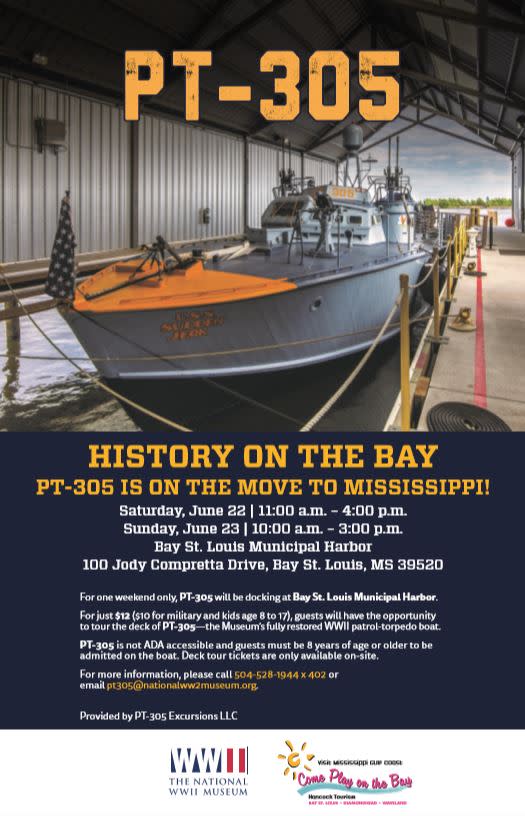 Join in on the excitement as The National WWII Museum launches rides aboard the restored, operational Higgins patrol-torpedo boat in Bay St. Louis on June 22-23, 2019! Starting April 1, 2019, The National WWII Museum began offering the public the opportunity to tour and ride the restored patrol-torpedo (PT) boat 305 on her home waters of Lake Pontchartrain, where she was originally tested by Higgins Industries more than 70 years ago.
For the first time ever, visitors will be able to see and feel the PT boat experience and learn about the service of the men who called this incredible vessel home. The public launch of PT-305 is the culmination of the Museum's decade-long effort to restore her, as well as more than 130,000 hours of work from a dedicated corps of over 200 volunteers. Coastal Mississippi is excited to welcome her to the shores of Bay St. Louis! 

For one weekend only, PT-305 will be docking at Bay St. Louis Municipal Harbor. For just $12 ($10 for military and kids age 8 to 17), guests will have the opportunity to tour the deck of PT-305—the Museum's fully restored WWII patrol-torpedo boat. PT-305 is not ADA accessible and guests must be 8 years of age or older to be admitted on the boat. Deck tour tickets are only available on-site. For more information, please call 504-528-1944 x 402 or email pt305@nationalww2museum.org. Learn more about the PT-305 within this fact sheet.