From March 23-29, the eyes of the professional golfing world will fall on The Secret Coast, as Fallen Oak plays host to the 11th annual Rapiscan Systems Classic presented by Coastal Mississippi.
The three-day PGA Tour Champions event is a must-see competition (featuring FREE admission compliments of Coca-Cola), as some of the greatest golfers in the history of the sport battle it out in our own backyard! For those avid golfers looking to play where the pros play, you can take a swing at any of our world-renowned courses designed by the greats, but there are endless opportunities to go golfing off the green in Coastal Mississippi as well.
Swing away
The newest addition to Beau Rivage Resort & Casino is a hole-in-one for golfing connoisseurs and newcomers alike! The Topgolf Swing Suite offers the exciting competition of any Topgolf location, but all from the comfort of a cozy, fully-stocked lounge located inside a world-class casino property. With multiple massive virtual screens and a wide selection of exciting arcade games paired with 10 HDTVs and food and beverage service from the adjacent Black Clover Lounge, the Swing Suite delivers a one-of-a-kind experience for any visitor. Picture yourself playing in the Rapiscan Systems Classic and try your hand at the virtual driving range, or gather your friends and give Zombie Dodgeball or Quarterback Challenge your best shot at any of the three simulator bays!
Mini golfing is also a "fairway" to have an unforgettable experience in Coastal Mississippi! Putt your way past an erupting volcano at Lava Links Golf Club, located just steps away from the entrance of Scarlet Pearl Casino Resort in D'Iberville.  Enjoy beautiful views of our coastline while navigating the two 18 hole mini golf courses at Big Play in Biloxi. Take a swing at Banana's Mini Golf & Arcade in Gulfport, and cool off afterwards at Feel The Freeze Treats Shop.
They see me rolling
Let's be honest. The pros at the Rapiscan Systems Classic might have as much fun racing around Fallen Oak on their golf carts as they do playing in the actual tournament! Even if your golf game isn't quite up to par for professional competition, you can still get in on all the fun zooming around Coastal Mississippi in a cart of your own.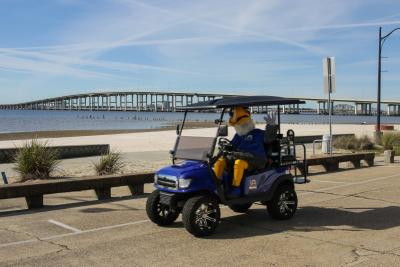 Schooner the Seagull loves a good golf cart ride around The Secret Coast!
Our coastal communities of Bay St. Louis, Waveland, Pass Christian, Diamondhead, Ocean Springs and Pascagoula all allow licensed drivers to operate golf carts on city streets at under 25 miles per hour. Try renting a cart at Bodega Adventure Rentals & Sales and putt your way around Old Town Bay St. Louis, or stop by Downtown Cart Rentals for quick access to enjoying everything Historic Downtown Ocean Springs has to offer.
Birdie-watching
Celebrations are in order anytime a golfer scores a birdie or an eagle, and the same can be said when birdwatching in Coastal Mississippi! The Secret Coast is expansive, with 62 miles of shoreline, bays, bayous, marshes and barrier islands perfect for birdwatching more than 400 native and migratory species.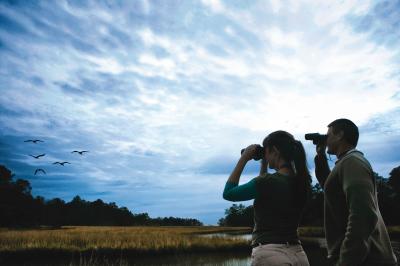 Coastal Mississippi offers endless birdwatching opportunities!
Get started by mapping out your visit with the Mississippi Coast Birding Trail. Some of the most popular sites include the Grand Bay National Estuarine Research Reserve, the Mississippi Sandhill Crane National Wildlife Refuge, the Pascagoula River Audubon Center and Gulf Islands National Seashore.
For more information on where to go and what to see, visit our Insider's Guide to Birding in Coastal Mississippi!
Victory cigars
Rapiscan Systems Classic regulars like John Daly and two-time champion Miguel Ángel Jiménez are known to enjoy a celebratory cigar after a long day on the links, but the victory libations are welcome to all in Coastal Mississippi. The Cigar Shop in Biloxi has an outstanding selection, a staff that is more than helpful, and a great common area upstairs to enjoy your cigar and relax. With two large humidors, darts, a poker table and more, you might just lose track of the time in this shop. Cigars in the Pass also offers a unique atmosphere and a huge selection (with local craft beer).
Start planning your trip to Rapiscan Systems Classic today and enjoy all that The Secret Coast has to offer on – and off – the greens.