My first First Friday at Lazy Magnolia definitely won't be my last. From the minute I pulled up I was already impressed by the event. It was packed!
I walked in to find people all of all ages enjoying music, food, games and of course beer!
With admission each person receives a free pint class, a punch card allowing you to have three beers, and a whole lot of fun.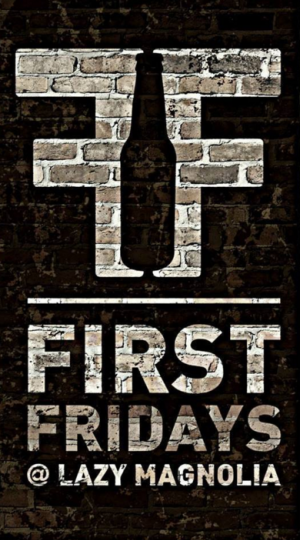 The beer selection was a lot more diverse than I was expecting. If you aren't sure which beer you want, you can taste without using any punches on your card. After a few tastes, you are sure to find one you like!
After I filled up my drink, we found a spot to listen to the Rochelle Harper Band. They were great! They played a few Mississippi favorites, and had the crowd dancing and singing along.
I was also surprised by the amount of dogs & children at the event! The kids (and adults) played giant Jenga and Cornhole.  
Even if you didn't bring your dog to this event, you had the chance to bring one home! Each First Friday event partners with a local nonprofit. An animal shelter was present at this specific First Friday, and attendees had the chance to adopt a dog on the spot (and quite a few of them did)!
This come & go style event truly has something for everyone. Spend your next Friday evening on the Mississippi Gulf Coast at Lazy Magnolia.
Not a drinker? No problem! If you don't want to enjoy Lazy Magnolia's beer selection, you can enjoy the music and atmosphere.