It's National Park Week & we're celebrating at the Mississippi Gulf Coast's very own National Park—Gulf Islands National Seashore.
The following areas are all part of the national seashore and they all offer something a little different.
Ship Island— Seasonal ferries take visitors out to Ship Island where you can spend your day swimming, fishing, picnicking, birdwatching or exploring Fort Massachusetts. Showers, restrooms and a snack bar can be found on this island making it ideal for visitors.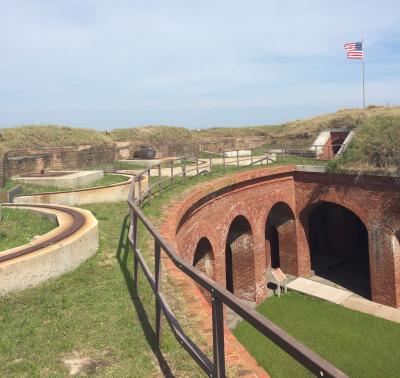 Fort Massachusetts— Historic Fort Massachusetts was built on West Ship Island beginning in 1859 for national defense. The structure still stands and is a must-see on the Mississippi Gulf Coast!
Cat Island— Cat Island is made up of a dense forest making it the perfect place for wildlife viewing and birdwatching. Let out your inner explorer and discover the many wonders of Cat Island.
Petit Bois & Horn Island— These islands are only accessible by private boat. If you don't have one, no worries! You can easily rent one at Biloxi Boardwalk Marina. The serenity of Petit Bois or Horn Islands is perfect if you are looking to enjoy a more secluded area.
Davis Bayou— Don't want to go to the islands? No problem! You can still enjoy the National Park! Davis Bayou is the only part of the Mississippi's Gulf Island National Seashore accessible by car. At Davis Bayou you can enjoy fishing, hiking, biking, bird watching & much more.
This week admission to any of America's national parks is free. It's the perfect time to get outside and explore! Which one will you be visiting?