Coastal Mississippi may enjoy summer-like temperatures for much of the year, but that doesn't mean we don't love a few months of fall as much as anyone else! In fact, The Secret Coast offers a bundle of seasonal options fit for any pumpkin spice enthusiast, so break out the boots and flannel and start planning your Coastal Mississippi fall getaway today.
Before visiting, we encourage you to check with individual businesses on any potential changes to their availability and/or hours, but rest assured Coastal Mississippi is working diligently with our partners to ensure your safety and health is the top priority. Find out how in our Destination Promise of health and safety. 
Thursday – Jackson County
As the leaves start to change color, so do the temperatures start to cool, making fall the perfect time to get outside and explore all the wondrous scenery our 62-mile coastline has to offer. Start off your extended weekend in beautiful Jackson County with McCoy's River & Marsh Tours at the Pascagoula River Audubon Center. Running every Thursday at 10 a.m. and 2 p.m., let Capt. Benny & Lynn McCoy take you along one of the most pristine river swamps in America and the last unimpeded waterway of its size in the lower United States. After your trip, enjoy a quick bite at Bozo's Seafood Market & Deli or take more time for an amazing meal with views of the Pascagoula River at Brady's Steaks and Seafood.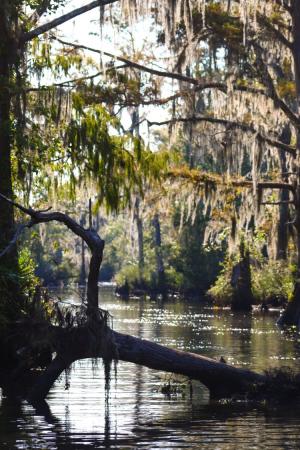 Settle in for the night at The Roost Ocean Springs, named the Most Beautiful Hotel in Mississippi by Architectural Digest. This one-of-a-kind coastal gem sits in a beautifully restored historic building within walking distance of the beach and all that downtown Ocean Springs has to offer, including dining, entertainment and even golf cart rentals!
Friday – Biloxi
There aren't many things more synonymous with autumn than coffee with a dash of pumpkin spice! As your stay on The Secret Coast heads west on Highway 90, stop by Jacked Up Coffee Bar on historic Howard Avenue to get your fall fix and your Friday started. If you're feeling adventurous, be sure to try the Japanese-style Oji Drip Iced Coffee — the three-foot-tall brewing device alone is enough to stir up some interest!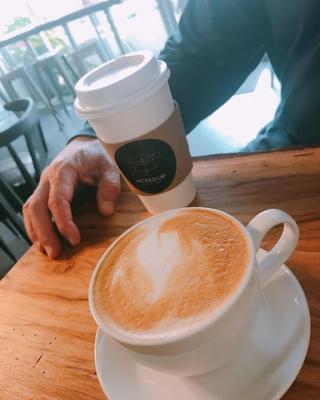 Photo courtesy Jacked Up Coffee Bar
Once you get that extra pep in your step, there are so many exciting attractions to explore in Biloxi. Test your luck at any of our world-class casinos. Get lost discovering over 300 years of history, heritage and culture at the Maritime & Seafood Industry Museum. Take in a beautiful view of the Mississippi Sound atop the Biloxi Lighthouse, believed to be the only working lighthouse in the middle of a major highway. Spend some time exploring eateries ranging from casual to upscale.
No matter how you spend the day enjoying your stay, don't forget to pack your boogie shoes for the Biloxi Sunset Music Cruise! Running every Friday night through October 25, let our breathtaking Secret Coast sunsets give way to dancing the night away to all your favorite tunes while enjoying a beautiful night on the water.
Saturday – Gulfport
If you didn't spend at least one day fishing, did you really visit Coastal Mississippi? Gulfport offers no shortage of fishing charters who handle all of the licensing, bait and tackle for you, so all you have to worry about is having a good time! The cooler fall temperatures make a peaceful day on the water that much more enjoyable – but even though summer has come and gone, don't forget to pack some sunscreen. Check out our Ultimate Guide to Fall Fishing in Coastal Mississippi for more!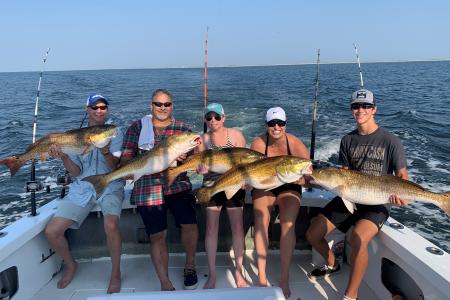 Photo courtesy of Chance Seymour
After a full day of reeling in that big catch, a relaxing evening exploring downtown Gulfport is the perfect way to cap off a busy Saturday. Enjoy a leisurely stroll down the eclectic Fishbone Alley, named by New York Post as one of 8 Amazing American Streets You've Never Heard Of. Dive in to delicious dining fit for any palette, from oysters to barbecue and everything in between. Cap off the night with a local brew from Chandeleur Brewing Company. Explore at your own pace on foot, or up the ante with assistance from Mississippi Party Bike or Magnolia City Rides. With so much unique culture packed into such an accessible area, downtown Gulfport is truly a hidden gem you can't miss in Coastal Mississippi.
If you haven't had enough of Harrison County, we also recommend exploring Downtown Pass Christian and Downtown Long Beach for shopping, dining and entertainment opportunities!
Sunday – Hancock County
No fall celebration is complete without a trip to a pumpkin patch! Open from 10 a.m. to sunset on Sundays in September and October, Coastal Ridge Farm in Picayune lets you grab your choice of freshly-picked giant white pumpkins! If you bring a garden cutter and a clean container, you can also cut your own picture-perfect sunflowers, all making for plenty of instagrammable moments for the entire family.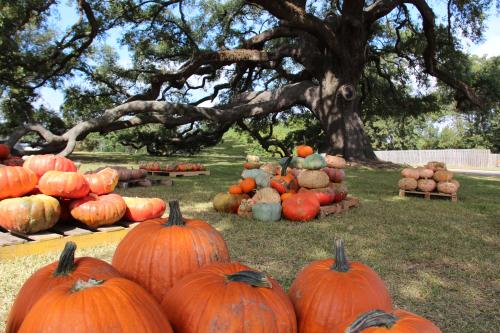 Make your way back to Old Town Bay St. Louis for a delicious lunch and for some retail therapy. The eclectic, artistic wares are perfect souvenirs for your fall getaway.  
Finally, an evening in The Porch at Lazy Magnolia is the perfect way to cap off an eventful fall weekend in Coastal Mississippi. Mississippi's oldest packaging brewery, and the first one since prohibition was enacted in 1907, Lazy Magnolia offers a brew for every season – but any flannel-wearing fall enthusiast is sure to love the Southern Pecan ale!