Discover a world of natural wonders, right in your backyard! With the grand opening of Mississippi Aquarium in downtown Gulfport, immersing yourself in the incredible story of our state's aquatic resources has never been more accessible or more fun. Located directly across from Jones Park on Beach Boulevard, the Aquarium offers an entertaining and educational experience for Coastal Mississippi residents and visitors alike!
What will I see at the Aquarium?
The experiences offered at Mississippi Aquarium are as vast as they are enlightening! Stretched out across 5.8 acres of campus, the Aquarium contains over 80,000 square feet of exhibits featuring species from the water, land and air.
The three-story Aquatic Wonders exhibit offers an immersive, hands-on experience. From the ray and shark touch experience to a 360-degree suspended walking tunnel, the Aquarium's Aquatic Wonders gives guests an opportunity to view marine life from every angle.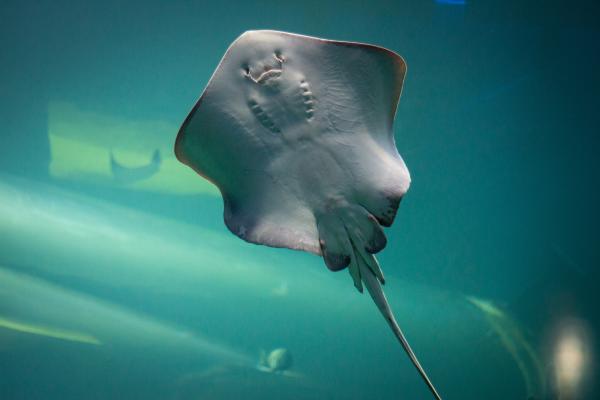 Sting rays are just one of many types of marine life you can see at Mississippi Aquarium!
But the fun continues throughout the campus! Mississippi Aquarium features incredible outdoor exhibits, ranging from an aviary to habitats for river otters and dolphins. And when you're strolling along the outdoor boardwalk, don't forget to keep an eye out for alligators and river fishes! You can find the Aquarium's detailed animal guide on their website.
Be sure to plan your visit around the Aquarium's daily programs! Experience the Close Encounters of the Aquatic Kind every day at 10:30 a.m. or 3:30 p.m. on the third floor of Aquatic Wonders, or enjoy the Rulers of the Sky daily at 1:30 p.m. inside the Aviary.
Don't forget to stop by the Pelican Point Café for a tasty treat or The Gulf Shop for a fun souvenir on your way out!
What safety precautions have been put in place?
The Mississippi Aquarium staff has implemented policies and procedures to create a safe, healthy experience for guests, staff and animals alike. Although not required as of 3/5/21, the Aquarium recommends all guests to wear proper face coverings while inside the buildings on campus, and will ensure visitation levels remain safe through timed ticketing and social distancing. Aquarium staff will also be wearing face coverings, and additional sanitizing stations have been installed throughout the campus.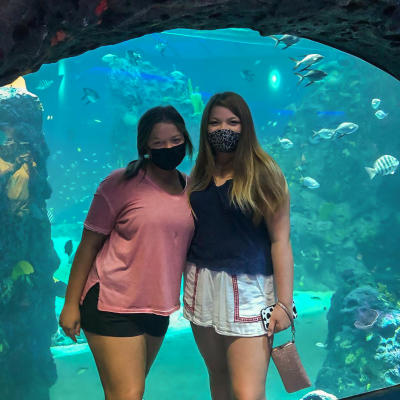 Image courtesy of Instagram user @melissa2sue_
For more information on how the Aquarium staff is prioritizing your health and safety, please visit their website. 
Time to plan your visit!
Mississippi Aquarium is open seven days a week, and tickets are available to purchase at this link! As the Aquarium will be limiting the number of guests allowed to visit each day, buying your tickets online is strongly recommended. Parking is available at the Coast Transit Authority public parking garage located next to the campus on 15th Street.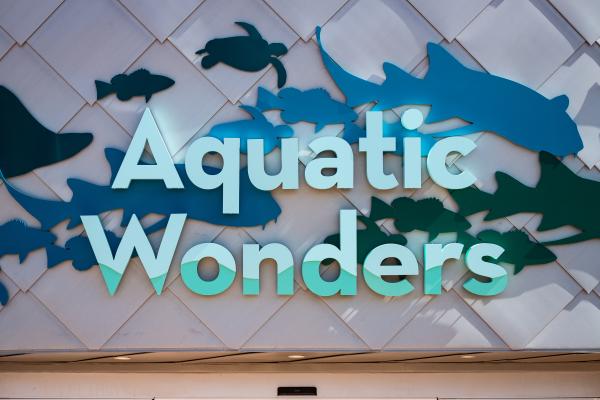 Also, Coast Transit Authority is offering two new routes to help maximize your Mississippi Aquarium experience! The Sunshine Express is a straight shot route that connects visitors from the CTA Parking Garage to the Biloxi Transit Center, while the Downtown Dolphin takes visitors from the Aquarium to all the best shops, dining options and gaming opportunities downtown Gulfport has to offer.
Dive In
Before opening, Mississippi Aquarium was hard at work in many different facets including a unique partnership with alumni students from Berklee College of Music. While visiting Mississippi Aquarium, listen closely. Ambient musical tracks take the visitor on a journey of awe and wonder. The original music was written by Pablo Delgado, Charles Westphal and Nicholas Austin.
Counting the days until your first visit to Mississippi Aquarium? Or maybe you enjoyed your experience so much, you're wanting to recapture some of the magic at home? Lucky for you, you can now immerse yourself with Mississippi Aquarium's breathtaking soundtrack on Spotify!