Much like a bite of our delicious local seafood is packed with flavor, every inch of Coastal Mississippi's 62-mile shoreline is rich with history.
With iconic structures dating back to the 1800s, a step into any one of our coastal establishments can feel like a step back in time, while local entrepreneurs continue to breathe new life and new experiences into these historic buildings.
Centennial Plaza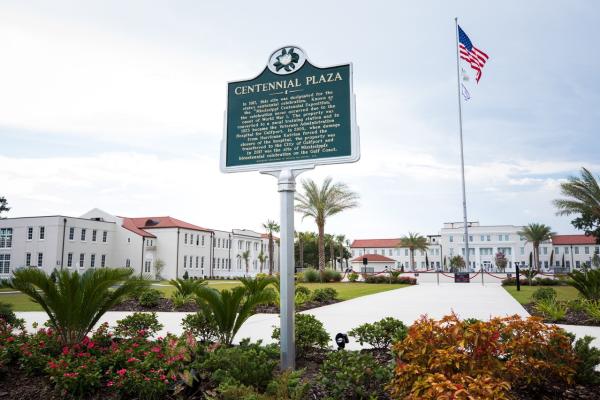 Photo courtesy of Centennial Plaza
What was once an abandoned Veterans Affairs hospital is now considered one of the "crown jewels of Coastal Mississippi." Thanks to a $100 million-plus renovation, the 11-building, 48-acre Centennial Plaza now offers a premier beachfront experience in Gulfport. With a history harkening back over 100 years, this former military installation now offers two luxurious hotels, a water park, restaurants, a chapel, business accommodations and more! 
White House Hotel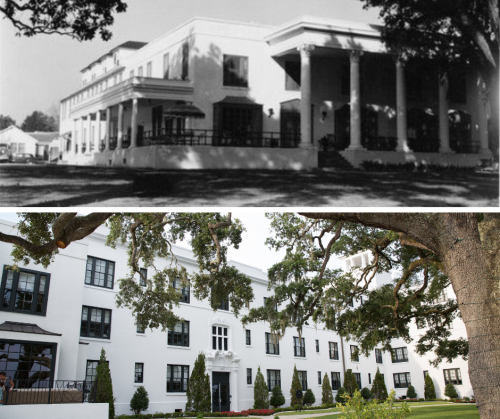 Photos courtesy of White House Hotel 
Back in the 1890s, Walter and Cora White began accepting boarders into their beautiful home on the Biloxi beach. Who could have known that their decision would still be benefitting the Secret Coast some 130 years later? The White House Hotel still stands tall over Beach Boulevard to this day. Restored in 2014, the historic boutique hotel now offers 76 rooms for customers to enjoy, as well as a premier venue for weddings and other special events.
Cora's namesake lives on in both an on-site restaurant and bar. You can also enjoy your drinks upstairs on the rooftop lounge, where the views of the Mississippi Sound are only equaled by the seven magnificent live oak trees that envelop the campus - planted by Walter all those years ago.
Bankhouse Coffee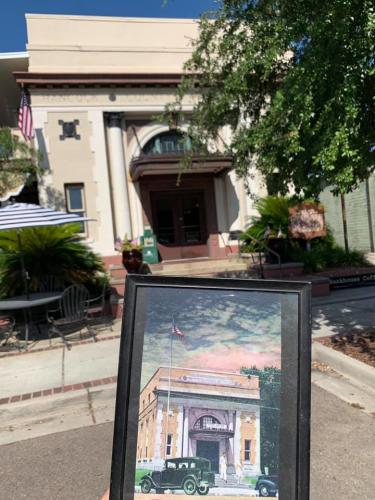 Photo courtesy of Bankhouse Coffee
Ever wanted to enjoy a fresh cup of coffee from a member of the National Registry of Historical Buildings? Then Bankhouse Coffee has your order ready to be enjoyed!
Originally built in 1924 as the second-ever branch location of Hancock Bank, this iconic Long Beach establishment packs nearly a century of history into every drop of coffee they serve. The original bank vault sits front and center on the bottom floor. Pictures from the first Long Beach Post Office home delivery in 1947 hang on the walls. But best of all, Bankhouse Coffee uses roasters built in the 1910s, boasting some of the largest turn-of-the-century roasting production in the United States.
What makes experiencing this history even more significant? The knowledge that not even Hurricane Katrina could wash it away. Despite losing their roof in the storm, Bankhouse Coffee – and the 95 years of life emanating from those walls – largely survived Katrina and is one of only a handful of historic buildings left on Jeff Davis Avenue from before.
Bankhouse serves Coast Roast coffee, which can be enjoyed in three other locations under that name across the Gulf South, but why not start with a side order of Long Beach yesteryear?
100 Men D.B.A Hall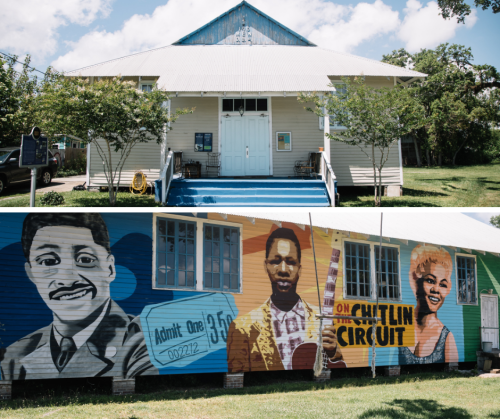 Irma Thomas. Ray Charles. Chuck Berry. Muddy Waters. Fats Domino. Just a handful of incredible musical legends said to have graced the stage at the historic 100 Men D.B.A. Hall in Bay St. Louis. One step into this iconic stop on the Mississippi Blues Trail, and you can almost hear the sounds of some of the greatest artists of the last 100 years still reverberating through the air.
Originally constructed in 1922 by the Hundred Members Debating Benevolent Association, the Hall "quickly became an energy center for Black life along the Coast, hosting music and any life event that happened in the African American community." That history survived and thrived over the years, even withstanding the blow of Hurricane Katrina.
In 2019, current owner Rachel Dangermond commissioned the painting of murals on the side of the building, giving the rich history of the Hall new life in the form of public art that everyone can enjoy.
The Roost Hotel Ocean Springs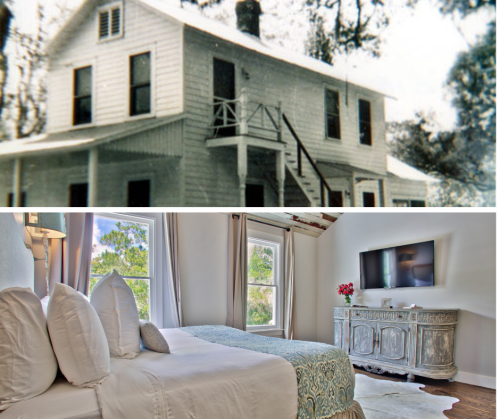 Photos courtesy of The Roost
The Roost Hotel is where both old and new come to life. Accented by salvaged pieces of wood still standing from when the property was first constructed in 1894, if these walls could talk, they would tell quite the story. According to The Roost's website, this Porter Avenue property has been "a private residence, a hotel, a brothel, (don't get too excited), a motor court, a restaurant, a gym, an office, a place of worship, and retail stores of various kinds," before settling in as a hotel in 1952.  
Surrounded by oak trees, this idyllic establishment is just a short walk from both the beach and a lively downtown experience. In fact, The Roost was recently named the most beautiful hotel in Mississippi by Architectural Digest.
Inside, eleven individually decorated suites provide the picture-perfect stay for a Coastal Mississippi getaway. And don't forget to sneak on over to The Wilbur Bar, a beautiful speakeasy offering "an innovative drink and dinner menu, as well as an extensive bourbon and wine selection."
Bay St. Louis Historic L&N Train Depot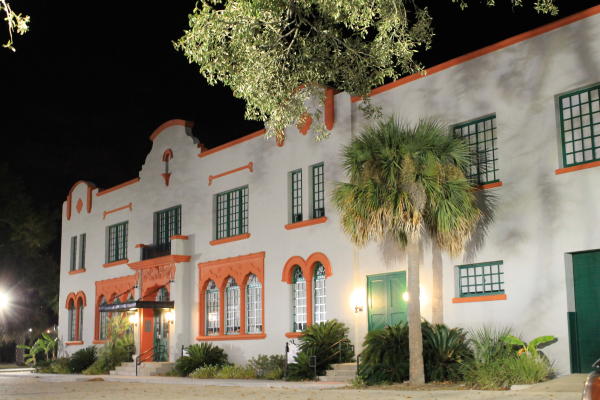 The L&N Train Depot (stands for "Louisville & Nashville") in Bay St. Louis is designated a "Mississippi Landmark," and offers a remarkable amount of history to back up that claim. What was built as an Amtrak intercity train station in 1929 now houses the Hancock County Tourism Development, the Bay St. Louis Mardi Gras Museum and the Alice Moseley Folk Art Museum.
The picturesque, mission-style building offers a beautiful backdrop for local festivals, as well as frequent and private events. In fact, the "depot" once served as the centerpiece of the 1966 film "This Property Is Condemned" starring Robert Redford and Natalie Wood.
Just across the street, you can find "Depot Row" which houses an assortment of adorable shops and restaurants. All in all, the "depot" offers a tranquil place to contemplate and enjoy the history of Bay St. Louis.
Scranton's

Photos courtesy of Scranton's 
City Hall. Firehouse. Old town vault. The original jail cell.
A tour of 1920s downtown Pascagoula? No, just a night out at Scranton's!
Since 1982, this cozy restaurant on Delmas Avenue has combined a unique, casual dining atmosphere with a snapshot into Pascagoula's past, as patrons are encouraged to experience the remnants of the town's history throughout the building that "remain a distinctive part of the dining experience."
Come enjoy a delicious menu featuring steak, seafood and southern fare while dining in the spot where the mayor once conducted business. Wind down with Happy Hour (4-7 p.m. Monday through Friday) and a peek inside the old town vault. A night out at Scranton's is a great way to experience a small slice of Coastal Mississippi's past and present!