It's the 25th anniversary of Cruisin' the Coast, and they've prepared quite the celebration for lovers of all things antique, classic, and hot rod vehicles.
An abundance of activities from autocross racing to car auctions, live music performances, block parties, celebrity appearances, and more will take place throughout the Mississippi Gulf Coast from October 3rd through the 10th.
Cruisin' the Coast is one of the biggest events in Mississippi, spanning over 11 cities and 40 miles of the coast. Over 8,000 vehicles have registered this year, from 45 different states and Canada. Cruisin' the Coast was even named the recipient of the "Shining Example Award" for Best Festival/Event of the year by the Southeast Tourism Society, and voted #1 in USA TODAY for Best Car Show Competition in 2018 and 2020.
It's a truly exciting experience that you can't afford to miss. Which event are you most excited for?
Keep reading for a quick rundown, or check out the Cruisin' Schedule for a more comprehensive list of Cruisin' the Coast daily activities. You can also find site locations and maps here.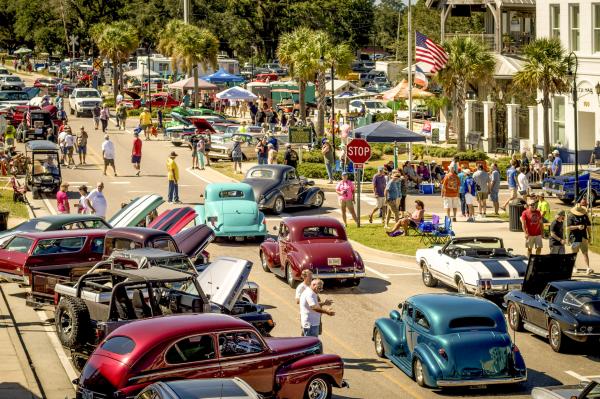 Autocross
Registered drivers will compete against the clock as they drive through an obstacle course of traffic cones.
Long Beach Kick-Off Parade
Up to 600 registered cruisers will showcase their vehicles — from 1989 and later — in this parade. 
Music Performances
Bands will be rocking out at almost all Cruisin' the Coast locations October 7-9. In addition, Coastal Mississippi casinos will be featuring artists at some of their restaurants for cruisers to enjoy. Tickets for the KISS "End of the Road World Tour" and Beach Boys are also available. 
Vicari Auto Auction
This is a 4-day live auction of cars and memorabilia items. Buy or consign your ride here! 
Swap Meet
Approximately 250 vendors will be selling a wide-variety of items – even things unrelated to cars. There is a $10 entry fee. Click here to see the Swap Meet Directory and map. 
Celebrity Appearances
You can expect to see appearances from these famous names: Joe and Amanda Martin (from TV show Iron Resurrection), Cristy Lee (TV show host of All Girls Garage), Courtney Hansen (TV show host of The Ride That Got Away), and Dennis Gage (TV show host of My Classic Car). Check the Cruisin' Schedule (linked above) for exact times. 
Block Parties
The Biloxi Block Party will take place on October 6th. Then, celebrations for Fantastic Friday, October 8th will occur in seven locations including Bay St. Louis, Pass Christian, Gulfport (Cruise Central), Edgewater Mall, D'Iberville, downtown Ocean Springs, and Pascagoula. The Ocean Springs Sock Hop & Street Party will also take place the same day. To finish, the 14-member cast of The Legends of Motown show band will perform look-alike/sound-alike tributes to some of the best Motown groups.
Car Corral
See all the cruisers that came from near and far as they line up to show off the hard work they've put into their rides. 
Country Cruisin' Breakfast
Network with fellow car enthusiasts over breakfast at the Long Beach Yacht Club. 
Cash Drawings
Registered participants can visit all six stamping block party locations to fill up their stamp cards, and enter for a $500 cash drawing. Forty stamp cards and ten early bird registrant cards will be chosen as winners. That's $25,000 total in giveaways for this special 25th anniversary. 
Make-A-Wish Raffle
This year's Make-A-Wish raffle car is the silver 1957 Chevrolet Bel Air convertible built by Woody's Hot Rodz for the 2017 Street Rodder Road Tour. Raffle tickets can be purchased at $10 each, or 3 for $25. All proceeds benefit the Make-A-Wish Foundation and Cruisin' the Coast. 
Electric Car Guest Drive
Mississippi Power is hosting this event, which will feature electric cars including the Tesla Model 3 and Model 3, along with electric vehicles from other manufacturers to view and drive.

Early registration to show your vehicle has already closed, but you can still register at Cruise Central in Centennial Plaza in Gulfport, October 4-9. 
All other events/activities (besides the Swap Meet) are free and open to the public. However, keep in mind that spectators must park and walk from an off-site location.
Be sure to tag Coastal Mississippi in your favorite festival photos using #MSCoastLife for a chance to be featured in our social media. 
If you're interested in learning about more things to do on the Secret Coast, check out this page for ideas.
Can't wait to see you there!