This time of year along The Secret Coast is simply magical. While you may have had to change your plans on how to celebrate the holiday season, we hope that you will enjoy our fun challenge of exploring Coastal Mississippi in a new way! 
Whether you're looking to relax and enjoy The Secret Coast's temperate climate in the great outdoors, explore our beautiful coastal communities and their seasonal offerings, or celebrate from the comfort of your own home, there are numerous ways to safely experience coastal holiday cheer with family members of all ages!
Before visiting, we encourage you to check with individual businesses on any potential changes to their availability and/or hours, but rest assured Coastal Mississippi is working diligently with our partners to ensure your safety and health is the top priority. Find out how in our Destination Promise of health and safety. 
---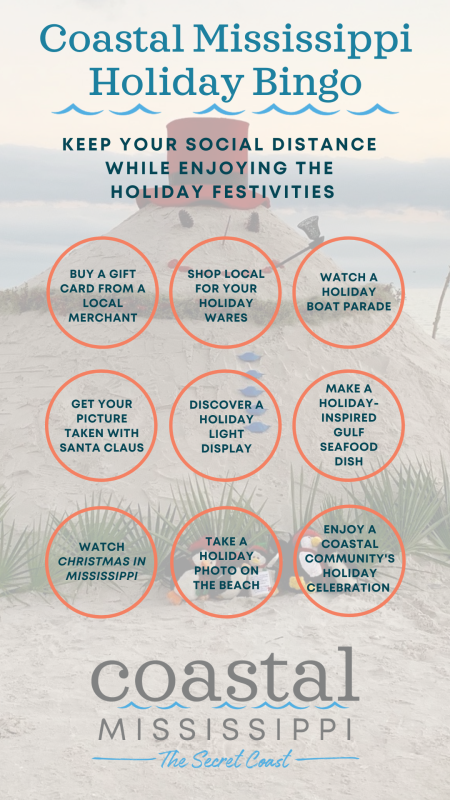 The holidays are quickly approaching! Don't panic if you haven't gotten that perfect gift. The Secret Coast has Christmas gift solutions that will make you look like you planned for months. Check out our Holiday Shopping Guide here! 
There is always something to celebrate on The Secret Coast, and when it comes to holiday festivities, our 12 coastal communities know how to put on a great party. This season, enjoy safe and joyful holiday-themed events for every age and budget across the region, and make memories that will last a lifetime.
Make a holiday-inspired Gulf seafood dish or experience a festive meal at one of our restaurants 
Endless culinary adventures await when using some of our Gulf-fresh fare or by enjoying an incredible meal at one of the region's restaurants! There truly is something to satisfy every taste bud on The Secret Coast this holiday season.
Filmed on location in Gulfport, the movie follows photographer Holly Logan (Jana Kramer) as she returns home for the holidays. Along the way, she rediscovers her love for Gulfport and her high school sweetheart, Mike (Wes Brown). Immerse yourself in the movie with our dedicated film trail here. 
The holidays may look a little different this year, but there are still plenty of ways for you and your family to get into the festive spirit right here in Coastal Mississippi!