No plans for Spring Break just yet? No problem! Coastal Mississippi is a family's paradise, providing pristine beaches, interactive attractions, and thrilling outdoor excursions the entire family can enjoy. Enjoy the week off from work and school exploring our 62 miles of scenic coastline.  
---
One Stop Shop

If you're looking for a one-stop vacation spot, look no further than Margaritaville Resort in Biloxi. This property has it all: a luxurious hotel, a rooftop waterpark, a huge family entertainment center, restaurants, bars, and a gorgeous view of the Mississippi Sound. And to top it off, Wednesdays offer 1/2 priced games all day at ESCAPE! There's so much fun to be had at Margaritaville, you won't want to miss it.
More Accommodations
The tri-county region is full of family-friendly accommodations that would be perfect for your Spring Break stay. Consider the Oasis Resort at Centennial Plaza. Enjoy the 3-acre water playground, complete with a splash-pad and lazy river overlooking the beautiful Mississippi Gulf and on-site dining options the kids are sure to enjoy. Plus, you can book a specially-designed Kid Suites featuring bunk beds for your littles. For a walkable downtown environment, consider The Beatnik in Ocean Springs featuring four modern, floating cabins. This unique property is in walking distance of both the beach and heart of the city with bike rentals nearby for easy travel around town. With both a plunge pool and cabins offering bunk beds, your family will feel cool and cozy as you unplug from life's responsibilities. Want to feel like you're at home? Browse our vacation rentals for options with more privacy. Regardless of preference or budget, Coastal Mississippi has accommodations suited for your family. 
---
Ways to Play


 
Outdoor Activities:
There's so much to discover in Coastal Mississippi, and one of our most exciting attractions is the great outdoors! We have plenty of ways for families to take advantage of experiencing the #mscoastlife. Whether it's biking our downtown districts, booking a charter to fish or crab in our beautiful Gulf, enjoying an eco-tour to learn about our diverse wildlife, or spending hours of non-stop fun at Gulfs Islands Waterpark and Zip'N Fun Adventure Park, we encourage you to explore our 62 miles of scenic coastline.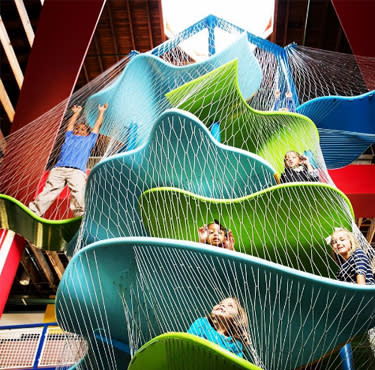 Indoor Activities:
In addition to our thrilling outdoors, Coastal Mississippi boasts several indoor attractions that will hold everyone's attention. The Lynn Meadows Discovery Center in Gulfport offers plenty of space for imaginations to run wild. The old school building turned interactive museum offers multiple floors of fun and hands-on activities. For a truly wild time, visit Ocean Adventures Marine Park, offering guests an up-close experience with dolphins, sea lions, stingrays, sharks, and birds! And for even more science fun, INFINITY Science Center provides hands-on activities as well as 35,000 square feet of scientific exhibit space that allows guests to explore the biodiversity of the region, the ocean's depths and the farthest reaches of outer space. ​If your family enjoys a healthy dose of competition, head to the races at Finishline Performance Karting, featuring a 1,120 foot junior track and junior karts with speeds up to 25 MPH. Regardless of your itinerary, there's fun to be had for every member of the family. 
---
Where to Eat

In Coastal Mississippi, food is a cornerstone of our culture. Many of our restaurants are a perfect place to bring the whole family, with entertainment options and wide open dining spaces that will be fun to experience as a group. Our wide selection of beachside eateries like Shaggy's and The Blind Tiger provide kid-friendly menus coupled with outstanding views of the Gulf. Some restaurants even provide games like Jenga to keep the kids entertained after their meal. If pizza is the name of your game, Sal and Mookie's provides endless options for toppings to suit even the pickiest of eaters. And some downtown restaurants like Glory Bound Gyro Co. are in walking distance of shopping, parks, and other activities to explore after your meal. 
---
You're sure to have a great time no matter how you choose to spend Spring Break in Coastal Mississippi! We promise you'll be back again soon.