From our dazzling light displays to headline holiday entertainment at our casino resort properties, Christmas celebrations in Coastal Mississippi are quite unlike any other. In fact, our Secret Coast seasonal festivities made their way to the small screen in the 2017 Lifetime holiday hit Christmas in Mississippi!
Filmed on location in Gulfport, the movie follows photographer Holly Logan (Jana Kramer) as she returns home for the holidays. Along the way, she rediscovers her love for Gulfport and her high school sweetheart, Mike (Wes Brown).
Also starring household names like Faith Ford, Barry Bostwick and Richard Karn, Christmas in Mississippi offers an authentic Gulfport holiday celebration for all to see, and now you can experience it for yourself! Re-live the magic of Holly and Mike's holiday adventures with our Christmas in Mississippi Film Trail.
---
Island View Casino Resort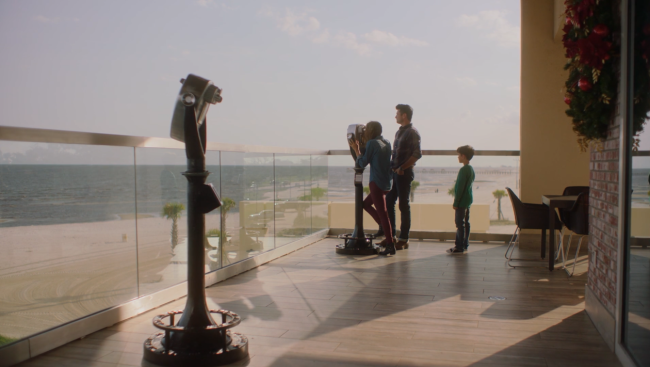 Courtesy Lifetime Network
With just days to go until the Gulfport Harbor Lights Winter Festival, Holly accompanies Mike to Island View Casino Resort to help pick up supplies, but she leaves with much more than just lights for a festival.
Re-live this magical moment and soak in one of the best views The Secret Coast has to offer on the Island View's Beach Tower lookout deck. Make your visit an extended stay in one of the resort's 970 luxurious rooms and suites while enjoying nearly 2,700 of the hottest slots, 49 table games and more promotions than any other gulf coast casino!
Fishbone Alley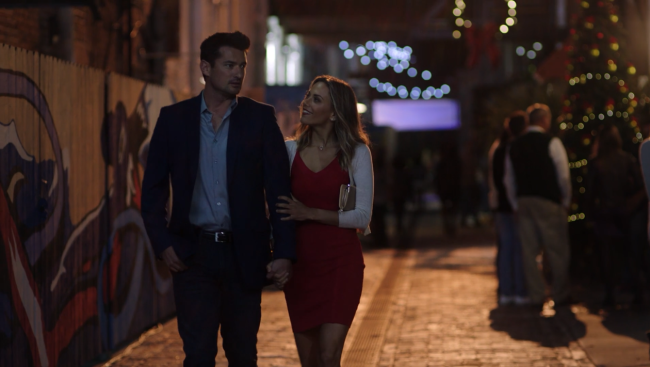 Courtesy Lifetime Network
Fishbone Alley provides a picture-perfect backdrop for Holly and Mike's date night in Christmas in Mississippi, and it can do the same for any fun night out on The Secret Coast!
Once recognized by the New York Post as one of "eight amazing American streets you've never heard of," this Gulfport alleyway is a funky little destination that backs up to a number of restaurants and bars located around the alley, featuring original local art and the occasional live musical performance! For those Instagram enthusiasts who love a good public mural photo, Fishbone Alley is a must-see, open-air experience.
 
Triplett-Day Drug Co.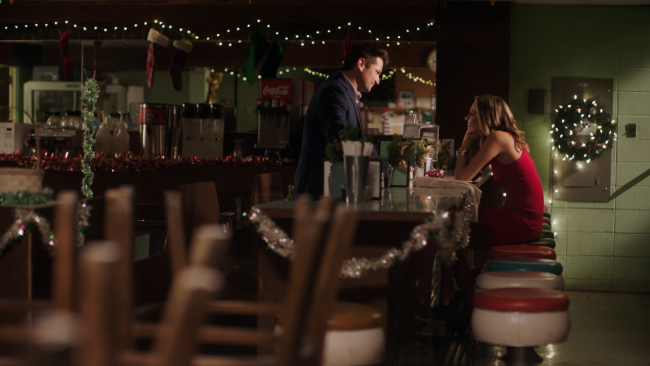 Courtesy Lifetime Network
In Christmas in Mississippi, this 1950's style old-fashioned soda fountain steals the show! In the movie, Triplett-Day Drug Co. helps reconnect Holly to her past as she discovers her photography of Gulfport displayed throughout the building, and it later sets the scene for her romantic reunion with Mike.
Who could blame them for frequenting this Gulfport staple? Triplett-Day Drug Co. was a favorite spot for coffee and conversation among locals for decades, and Food Network once named their beignets the Tastiest Breakfast in Mississippi!
Sadly, Triplett-Day closed their doors for the final time in March 2020, but the legacy of the business lives on in the hearts of Coastal Mississippians. Take a picture by the iconic Triplett-Day wordmark as you stroll through downtown Gulfport, and you may just be able to get a long-lost whiff of those delicious fresh beignets!
Jones Park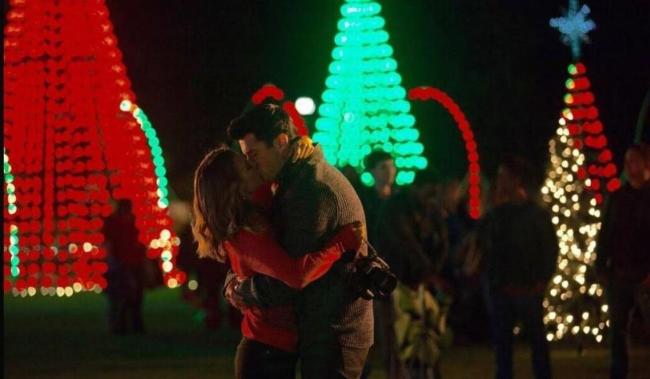 Courtesy Lifetime Network
Christmas in Mississippi culminates at the Gulfport Harbor Lights Winter Festival, the very festival that inspired the creation of the movie!
Beginning in 2015, The Island View Casino Resort and the City of Gulfport partnered to begin a holiday festival unlike any other in the state of Mississippi. Featuring over 1.5 million lights canvassing Jones Park, a visit to the Gulfport Harbor Lights Winter Festival guarantees an incredible holiday experience you and your family will not forget.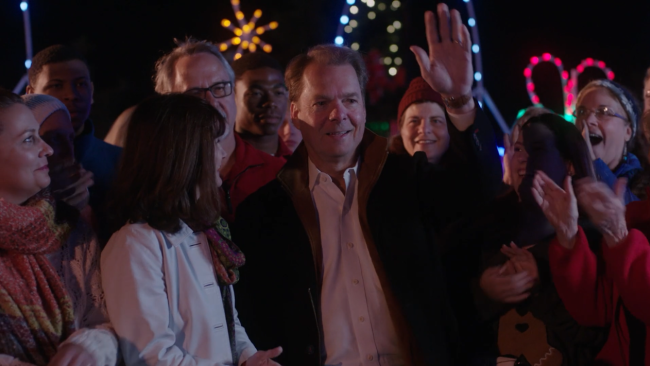 Courtesy Lifetime Network
From showcasing authentic Coastal Mississippi locations to highlighting the resiliency of our wonderful region, Christmas in Mississippi is a genuine representation of how The Secret Coast celebrates the holiday season. In fact, Gulfport's real-life Mayor Billy Hewes not only has a cameo in Christmas in Mississippi, but his song "Mississippi Christmas" also plays over the opening and closing credits of the film!
Snuggle up with a warm cup of cocoa and a copy of Christmas in Mississippi this holiday season, then get out and experience an authentic Coastal Mississippi Christmas for yourself! Check out our interactive map below to find where to discover these locations and others mentioned in the movie.