National Shrimp Day is May 10, and what better way to celebrate this bountiful delicacy than with a visit to what was once known as the seafood capital of the world! Coastal Mississippi's history, culture, and communities truly revolve around the Gulf of Mexico and its maritime and seafood industry. The Gulf Coast region produces 69% of the nation's domestic shrimp, and 90% of species in the Gulf of Mexico nest in the Mississippi Sound. Where once stood rows of seafood processing plants and boat building facilities surrounded by endless mountains of oyster shells, you will now see attractions, excursions, and restaurants offering an opportunity to discover and devour The Secret Coast's deep-rooted history with seafood.
For a hands-on experience like no other, jump aboard the Biloxi Shrimping Trip, one of the most unique excursions in Coastal Mississippi that exposes guests to the spectacular world of sea life - caught on a real shrimping expedition. Head to the Maritime and Seafood Industry Museum to learn more about the shrimping industry's vital role in Coastal Mississippi and marvel at the first-ever automatic shrimp peeling machine! Once you've worked up an appetite, indulge in The Secret Coast's most bountiful delicacy at one of our seafood markets or phenomenal seafood restaurants for Gulf-fresh shrimp with a view.
Biloxi Shrimp Co. delivers Gulf-fresh shrimp nationwide, so why not try your hand at one of our coastal chefs' secret recipes that incorporate one of our generous Gulf's most popular catches:
---
KELLY ENGLISH - Executive Chef, Magnolia House at Harrah's Gulf Coast
Grilled Jack with Gulf Shrimp, Local Tomatoes, and a Harissa "Café Au Lait"
This was the first dish I made that made me think about the combinations of histories that made it up. Shrimp can do that, they bring people and thoughts together. - Chef Kelly English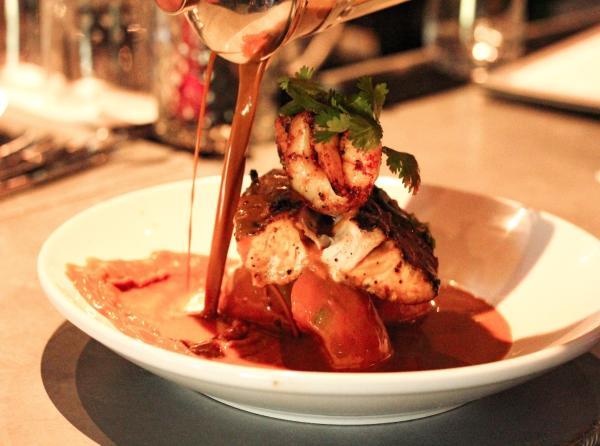 Serves: 8
Prep time: Minutes
Cook time: One Hour 
For the Café au Lait:
1 qt. of shrimp stock
2 ea pasillas, seeded and stemmed
1 lime, juice and zest of
1 tbsp whole cumin
1 tbsp whole coriander
1 can coconut milk
1 bay leaf
2 toes garlic
Salt and sugar to taste
For the Seafood:
Eight 6 oz. portions of amberjack (skin off)

Salt and ground cumin to taste

16 shrimp (peeled and deveined)

Salt and favorite creole seasoning to taste
For the Tomato Salad:
Eight peeled and quartered tomatoes

Marinated in 1 part sherry vinegar and three parts olive oil to cover

Salt and pepper to taste
Let sit for one hour
For Jalapeno and Cilantro Salad:
Two jalapeños, sliced with seeds still intact
Thirty-two cilantro leaves
Instructions: 
Simmer all ingredients in a pot and blend in a blender, pass through a chinois. Serve in a coffee press with fresh coriander and cumin. Pour over 6 oz. grilled skin-off amberjack (seasoned with salt and cumin), two shrimp sautéed in creole spices, a peeled tomato salad marinated in sherry vinaigrette, and topped with a fresh salad of cilantro (four leaves) and jalapeño (three slices). Plating should be as follows: In a bowl, arrange tomatoes in the center, top with the amberjack. Stack the shrimp on top of the fish with the jalapenos and cilantro daintily placed on the very top. Pour the harissa café au lait around the side.
---
CHAD HENSON – General Manager, Half Shell Oyster House Biloxi
Voodoo Shrimp
The Voodoo Shrimp is an incredible blend of sweet and spicy Cajun flavors. This dish makes for an ideal representation of Southern cuisine infused with a New Orleans flavor. - Chad Henson General Manager Half Shell Oyster House, Biloxi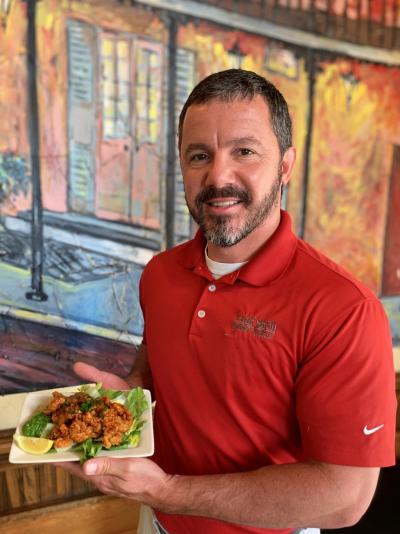 Seafood Batter Instructions (makes 1/2 gallon):
6 cups milk
2 TBSP yellow mustard
1 TBSP creole mustard
2 TBSP old bay
1 TBSP baking powder
1.25 lb white flour
Seafood Flour Instructions (makes around 1/2 gallon):
2 lb corn flour
1/4 cup creole seasoning
Voodoo Shrimp Cooking Instructions:
Heat your cooking oil to 350 degrees.
Batter the shrimp in your seafood batter.
Put them into seafood flour and fry for 2 minutes.
Drain the grease and toss in our signature Voodoo Sauce to preference.
---
MILES GULLETT – General Manager, Rack House Steaks and Seafood Gulfport
Rack House Style Shrimp Topper
Who doesn't love a white wine cream sauce with sautéed shrimp? The best thing about this combo is not just the flavor, but you can put it on top of everything. - Miles Gullett, Rack House Steaks & Spirits General Manager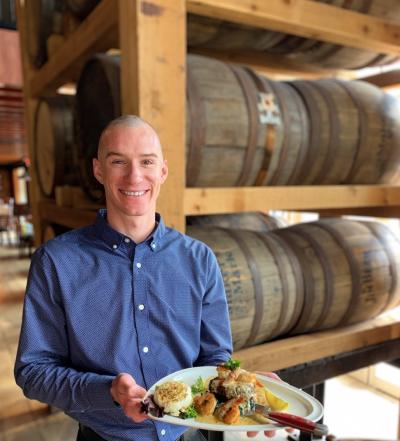 Ingredients:
1 cup melted butter
1.5 cups white wine
3 TBSP cups lemon juice
1/4 tsp white pepper
3/4 tsp italian seasoning
1/4 tsp ground red pepper
1/4 tsp onion powder
3/4 tsp creole seasoning
2 TBSP minced garlic
First, place butter into the bottom of your bowl, then add the remaining ingredients and mix on high for 15 minutes.
Shrimp Topper Cooking Instructions:
Put oil into your skillet until it lightly covers the bottom, add your shrimp and season with your favorite seafood seasoning.
Cook until the shrimp are pink and cooked through.
Place 1/2 cup heavy cream, 1/2 cup white wine sauce and 2 TBSP grated parmesan into a sauce pot on medium - high heat.
Reduce about halfway (until sauce thickens).
---
MILTON JOACHIM – Executive Chef, Charred: A Steak & Oyster Bar
Fried green tomatoes with spicy boiled gulf shrimp, pickled slaw creole remoulade baby arugula 
I grew up cooking at my dad's seafood shop called Jefferson Seafood Shack in New Orleans. I was probably 7-8 years old just boiling shrimp, crawfish, and crabs, and as years went by, I got into cooking more. I made my way into some awesome kitchens with Wolfgang Puck, Emeril Lagasse, and at Commanders Palace, then I opened up Charred. This is one of our signature dishes that has been on the menu since day one when we opened in 2016. - Executive Chef Milton Joachim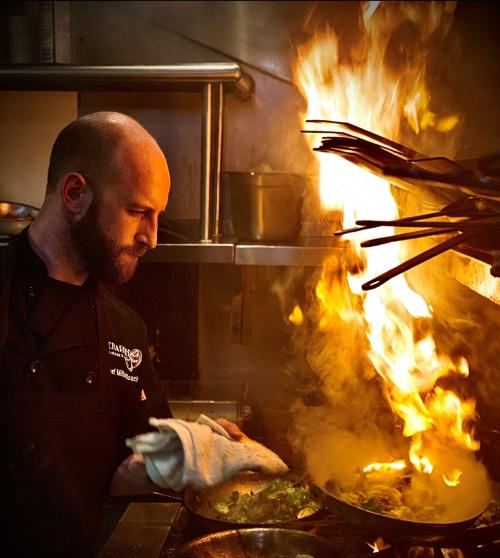 Fried green tomatoes 
2 cups Japanese Panko
2 cups of milk
Four eggs
2 cups of flour 
Six green tomatoes
Creole remoulade
1 quart of mayonnaise
Two pinches of Cayenne pepper
2 cups of catch-up
One cup of creole mustard
One cup of diced celery
2 tablespoons of horseradish
One cup of green onions
Shrimp
5 pounds of 21/25 Shrimp
A quart of spicy boil
2 gallons of water 
---
AUSTIN SUMRALL – Chef/Owner, White Pillars (2020 James Beard Foundation Nominee)
Shrimp & Grits
Learn how to make the dish at home with this instructional video from Chef Austin Sumrall! ​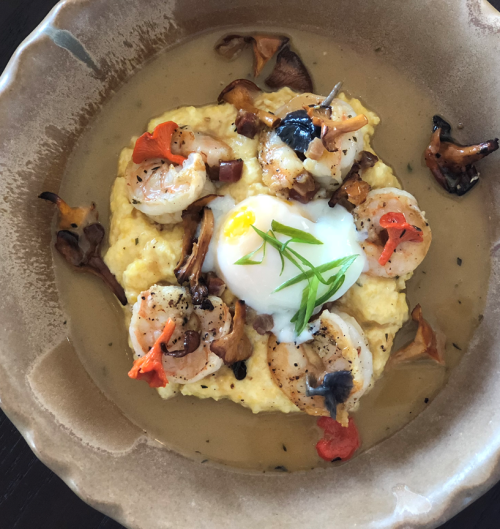 Grits
2 cups half & half
2 cups water
1 cup grits
thyme #1
salt & pepper #1
Instructions: 
Bring liquid ingredients to a boil.
Whisk in dry ingredients.
Cook at simmer, whisking until tender.
Shrimp & Sauce
½ cup butter, cold divided
Diced bacon
Local mushrooms
Thyme #2
2 shallots chopped
1 clove garlic sliced
Peeled & deveined shrimp
1.5 cup chicken stock
2 tablespoons worcestershire
Juice of 1 lemon
Salt & pepper #2
Chopped parsley
Instructions: 
Add spoonful of butter to pan over med-high heat
Add bacon & render
Add mushrooms, thyme and shallots and sauté briefly
Add shrimp to pan
Deglaze with liquid ingredients
Reduce liquid by 1/3
Add in butter slowly
Season with salt & pepper and garnish with parsley
---
MICHAEL PAOLETTI Jr. – Co-Owner, Food Booze & Hiccups
Grilled Shrimp "Elotes Style"
My summertime job in 9th & 10th grade was unloading shrimp boats in Back Bay Biloxi. It was intense work, but I thoroughly enjoyed it. I got to see things and meet people that I wouldn't have met doing something else. We had a little grill that we would spark up under the pier after the day was done. So coming up with this dish, there are two things that taste like summertime to me: shrimp and a grill. The corn comes in from my beautiful wife, which makes it a perfect way to go. - Michael Paoletti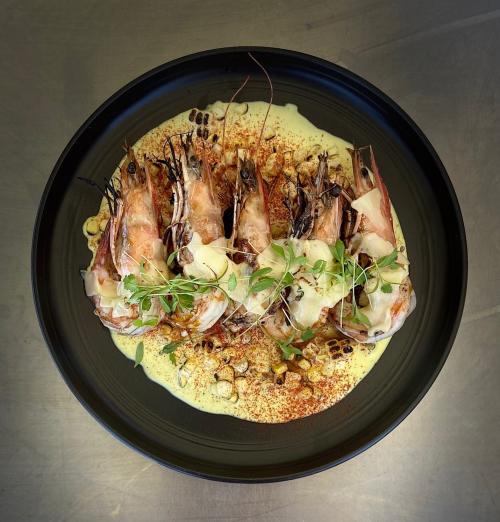 Ingredients:
Jumbo Gulf Shrimp (body peeled) - 10 each
Fresh Alabama Corn - 2 ears
Ground Cumin - 1 tsp
Ground Mustard - 1 tsp
Ground Turmeric - ½ tsp
Butter - 1 tbsp
Heavy Cream - 1 cup
Mayo - 1 cup
Smoked Paprika - 1 tbsp
Cayenne pepper - 1 tsp
Harbor Hill Micro Cilantro - ¼ oz
Parmesan (peeled) as needed
Salt & Pepper to taste
Instructions: 
Shuck 1 ear of corn. Save husks. Place shucked corn into small saucepan w/ butter, heavy cream, cumin, mustard, and turmeric. Heat over medium until corn is softened. Puree in blender and strain thru chinois, or strainer. Let cool then add mayo. Season to taste.
Take 2nd ear of corn and remove husks. Torch or grill ear over high heat till it becomes a little black. Let cool then shuck.
Place cornhusks in oven at 425* until burned. Once burned remove from oven and let cool. Once cooled blend into powder in spice grinder.
Peel just the body of the shrimp leaving the head and tail on. Season with oil, salt, and pepper. Grill over high heat maybe 2 minutes on each side.
To plate:
Smear corn puree in a circle over plate.
Sprinkle charred corn over puree.
Sprinkle paprika, cayenne, and cornhusk powder over top.
Place 5 shrimp per plate in the same direction across puree.
Top with micro cilantro and peeled parmesan.
---
STEPHEN GODFREY – GM, Half Shell Oyster House Gulfport
Shrimp Orleans
Our Orleans sauce goes well on anything, but especially Gulf shrimp. - Stephen Godfrey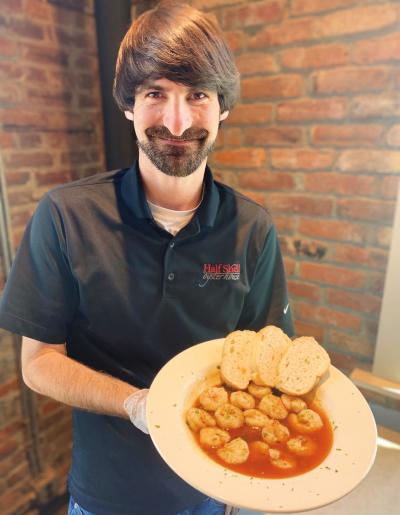 Cooking Instructions:
Heat a skillet with vegetable oil (just enough to cover the bottom of the skillet) on high. 
Add your shrimp and cook until shrimp are cooked through (about 3-5 minutes).
Add Half Shell's signature Orleans sauce to preference and toss until shrimp are covered in sauce.
Enjoy with your favorite French bread.
---
JULIAN BRUNT – Food and Travel Writer
Jambalaya
I adore shrimp of all kinds and could come up with a dozen delicious ways to prepare them, but jambalaya is my favorite. There is just something about the combination of Conecuh sausage (yes, it has got to be Conecuh), white rice that has been cooked in stock, the holy trinity of course (onions, bell peppers and celery), and sweet, fat Mississippi shrimp that have been just seared in a very hot cast iron pan that is as good a comfort food as you will ever find.

Jambalaya is good by itself, but a cold beer is a good accompaniment. If you take one of my cooking classes at the Maritime and Seafood Industry Museum, I'll show you exactly how to make it! - Julian Brunt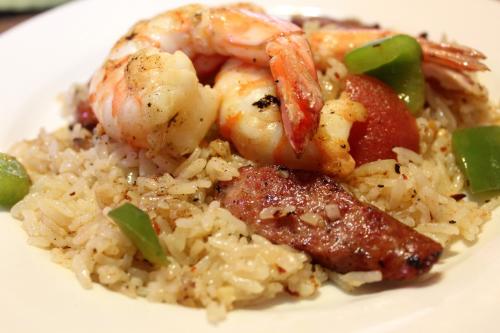 Ingredients:
2 cup white rice (Delta Blues Rice)
6 cups chicken broth
2 cup sliced Conecuh smoked sausage
2 cup roasted chicken
2 diced onion
2 diced bell pepper
1 cup chopped celery
oil as needed
Tony Chachere's Creole seasoning and red pepper flakes.
Instructions: 
Start with the chicken. You can buy a rotisserie chicken of roast off several thighs. If you are cooking the chicken yourself, season the chicken with lots of Tony's then roast at 400 until the skin is golden brown. Let cool and debone. Save the pan drippings. Place the bones in a stock pot and cover with store bought chicken stock and simmer for at least 45 minutes. This improves the flavor of the stock tremendously.
Sauté the sliced sausage till brown, take your time and get it right. Remove and set aside. In the same pan, add the pan drippings from the chicken, and all the vegetables. Add more oil as needed. Season aggressively, then sauté until the veggies are reduced by 40%, just like in the gumbo recipe. Add the rice and toast for a bit, then add the stock, cover and cook halfway thru, about 10 minutes. Now, add the chicken and sausage, cover and finish cooking.
---
ALEX PERRY – Chef/Owner, Vestige (2019 James Beard Foundation Nominee)
Surf and Turf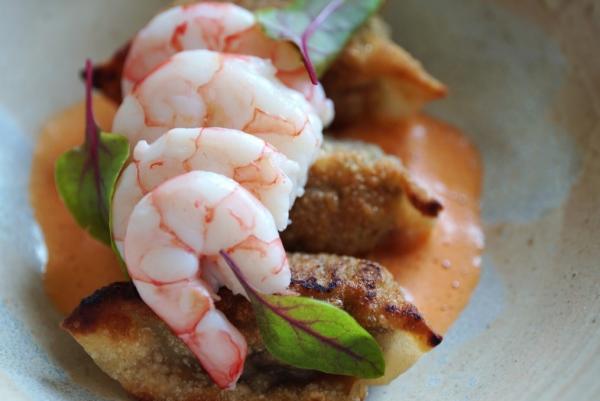 Dumpling dough:
160g water
300 grams AP flour
.1g salt
2g kansui
Rice flour
Place all ingredients into stand mixer fitted with a dough hook. Mix on low speed until dough comes together. Turn out onto work surface and knead by hand until dough is evenly incorporated. Let rest 5 minutes. Roll the dough through a pasta machine, gradually decreasing size until you have a thin sheet. Punch out circles with a ring or biscuit cutter, dust with a little rice flour, wrap in plastic wrap, then set aside.
Beef cheek filling:
2lb beef cheek meat
2 tsp shrimp garum
60g minced ginger
30g sliced scallion
5g minced garlic
Preheat a water bath to 80C. Trim the beef cheeks of excess fat and sliver skin on the surface of the meat. Lightly season with salt, seal under high vacuum, and cook sous vide for 12 hours. Remove the cheeks from the water bath, let rest at room temperature for 10 minutes, then place in an ice bath for 1 hour to completely chill the meat. Replace ice as necessary.
Cut the chilled cheek into small dice, then place in a mixing bowl along with the rest of the ingredients. Mix thoroughly and adjust seasoning with salt or more shrimp garum.
Dumplings:
Wrappers
Beef cheek filling
Water
Place a small amount of filling in the middle of each wrapper. Dip your finger in the water and lightly brush once side of the dough with it. Bring both pieces of the dough together, making sure there are no air pockets, then gently form pleats by folding the joined end pieces over onto themselves. Placed finished dumplings on a sheet tray and refrigerate.
Shrimp:
1dz 16-20 Gulf White shrimp, whole.
Peel the shrimp saving the head and shells for the garum. Using your thumb and pointer finger, flatten the shrimp out and using your other hand, gently remove the digestive track from each shrimp. Wrap shrimp in a mixing bowl and refrigerate.
Beurre Citron:
100g white wine
150g orange juice
100g grapefruit juice
20g lime juice
350g butter, cubed
5g salt
4.5g xanthan gum
Place wine and fruit juices into a sauce pot and reduce by half. Place the mixture in a thermomix and add the salt and xanthan. Process on Speed 5 for 2 minutes. Set the temperature for 55C and Speed 2. Slowly add the cubed butter until fully incorporated. Place the sauce back into the saucepan, place on a temperature-controlled induction burner, set to 59C until ready to poach.
Jimmy Nardello Pepper emulsion:
10 Jimmy Nardello Peppers
.5 tsp red yuzu kosho
30g apple cider vinegar
1g xanthan gum
90g butter, cubed
Juice the peppers and strain into a sauce pot through a chinois. Add the vinegar, yuzu kosho, and reduce by half. Using an immersion blender, blitz in the xanthan gum on low speed for 1 minute. Slowly blend in the butter while still on low speed. Season with salt and keep sauce warm.
Assembly:
Shrimp
Dumplings
Shrimp garum
Swiss chard "true leaves."
Maldon salt
1. Place shrimp in the beurre citron and hold at 59C for 15 minutes, swirling the mixture gently every 5 minutes.
2. While the shrimp are poaching, place a sauté pan over medium high heat, adding enough canola oil to cover the bottom. Once the oil ripples, add the dumplings and pan fry until all sides are golden brown. Drain on paper.
3. Place the shrimp garum in an atomizer and lightly spritz the dumplings with the garum. Place the dumplings into serving bowls.
4. Remove shrimp from the beurre citron,  arrange over the dumplings, and lightly sprinkle with Maldon.
5. Heat the pepper sauce slightly, then blitz with an immersion blender for 10 seconds. Gently spoon the sauce around the dumplings.
6. Garnish with the Swiss chard true leaves.
Shrimp Garum:
1kg shrimp shells and heads
225g koji
800g water
240g salt
Place the shrimp heads and shells in a food process and blitz till a chunky paste begins to form. Place the mixture into a large glass jar, add the remaining ingredients and mix thoroughly. Lay a piece of plastic wrap directly on top of the mixture and seal. Ferment at 60C for 2 months. Strain through chinois into another vessel and refrigerate for up to a year.
---
STEPHANIE PAOLETTI – Co-Owner, Sweet Enchantments Cakes
Key West Shrimp Ceviche
I love Shrimp! As the saying goes, "Shrimp is the fruit of the sea. You can barbecue it, boil it, broil it..." - Bubba.  Being from south Florida, shrimp is a huge part of our culture. My father and grandpa taught me how to cook shrimp, but my fondest memory was when we took a family trip to Capraia, Italy. I was off the seawall with a snorkel & net. I caught one shrimp, and it's a memory I will never forget. - Stephanie Paoletti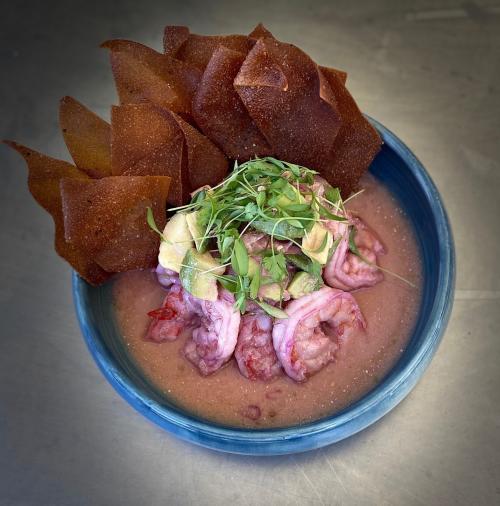 Ingredients:
Jumbo Gulf Shrimp - 8 each (peeled and deveined)
Key Lime Juice - 1 cup
Blood Oranges (or navel), juiced - 1 cup
Red Onion, thin sliced - ¼ each
Thai Chilies (or jalapeno), thin sliced 1-2 tsp
Evaporated Milk - ¼ cup
Avocado, diced - ½ each
Harbor Hill Micro Cilantro - ½ ounce (or cilantro, chopped)
Wonton Wrappers - 10 sheets
Instructions: 
Blanch shrimp for 1-2 minutes until mostly cooked. Remove and drain.
Sliced shrimp in half, lengthwise.
In a bowl, combine key lime juice, blood orange juice, red onion, Thai chilies, and evaporated milk. The mixture will be very sour and acidic.
Add shrimp and make sure the liquid covers the shrimp. If it does not, transfer the mixture to a shallower bowl or vessel.
Stir in avocado and half of the cilantro. Set aside.
Cut wonton wrappers in half on a diagonal, creating a triangle.
In a medium saucepot, heat canola oil to 375 degrees Fahrenheit.
Fry wonton wrappers until golden and crisp.
Remove wrappers and put in a bowl. Toss with salt and pepper.
To serve- In a serving bowl, gently stack shrimp. With a fork or slotted spoon, remove onions, avocado, and cilantro and place on top of the shrimp. With a tablespoon, add ceviche liquid to the bottom of the bowl as needed.
Top with remaining micro cilantro and serve with fried wonton chips for dipping.
---
CHRIS MCLUCKIE – GM, Half Shell Oyster House Hard Rock
Royal Reds
The Royal Reds are deep sea Gulf shrimp that have a lobster like flavor - it's mouthwatering. It's simply prepared and packs an amazing flavor. - Chris McLuckie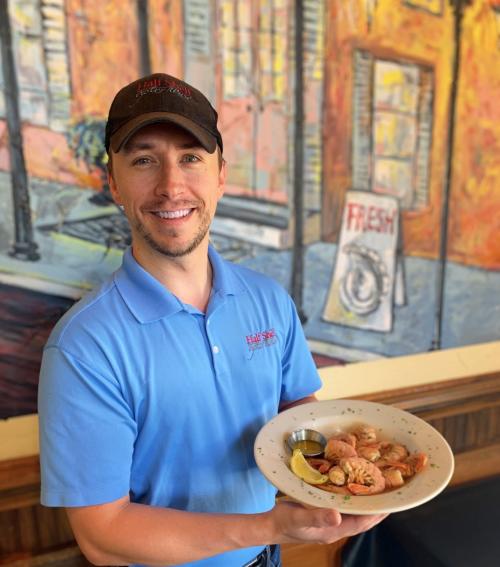 Cooking Instructions: 
In a pot, add 1 cup Proboil and 1/4 cup lemon juice per gallon of water. 
Bring to a boil.
Add shrimp and cook for 4-6 minutes until shrimp are firm.
Peel and enjoy with your favorite drawn butter.