A Tasty Tradition
We have a saying in Coastal Mississippi during Mardi Gras: "King Cake calories don't count!" It's just science, folks. Mardi Gras is a time to indulge, and a King Cake is the absolute best way to get into the spirit of the season.
If you've never heard of a King Cake, let us give you a little background. The French celebration of Mardi Gras made its way to the Gulf Coast way back in 1699 when French explorers landed along the banks of the Mississippi River. Since then, there have been old traditions celebrated and tons of new traditions added to the holiday each year.
The tastiest tradition was the King Cake, a pastry-like sweet cake shaped like an oval and topped with icing and sugar. Traditionally, the icing is three different colors; purple for justice, green for faith, and gold for power. The origin of these colors can be traced back to the night celebrating the birth of Jesus Christ. The colors are in honor of the jewels worn on the crowns of the three wise men. The King Cake's Christian ties also explains the tradition of putting small gifts in and around the cake, including a tiny plastic baby to represent Jesus himself.
The typical rule for eating King Cake is that if you find the plastic baby in your piece, you are tasked with providing the King Cake for the next Mardi Gras party. So, we put together a great list of some of the best places to get freshly baked King Cakes along Coastal Mississippi. 
We've even included some fun takes on the tradition that put a little twist on the tasty Mardi Gras confection. So, get out there, have your King Cake and eat it too!
Before visiting, we encourage you to check with individual businesses on any potential changes to their availability and/or hours, but rest assured Coastal Mississippi is working diligently with our partners to ensure your safety and health is the top priority. Find out how in our Destination Promise of health and safety. 
Get Your King Cake On
We'll begin our King Cake crawl at one of the most well-known spots  in South Mississippi: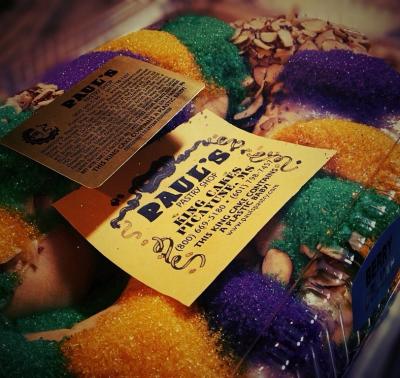 Paul's Pastry Shop
1 Sycamore Road, Suite A, Picayune, MS 39466
Moving down the road to the beautiful city of Bay Saint Louis, there's a specialty bakery who lives up to its name: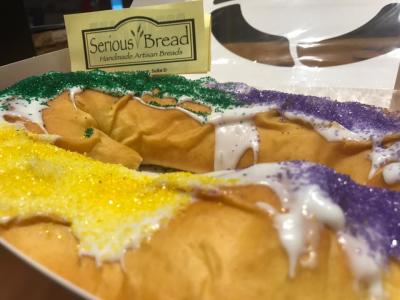 Serious Bread
131 Main Street, Suite D, Bay Saint Louis, MS 39520
Next up is a baker in Gulfport who puts as much love in her King Cakes as she does her wedding cakes: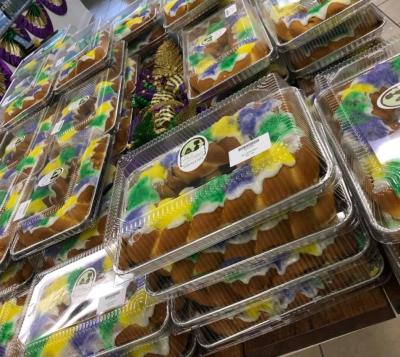 Melissa's Bakery
15335 Dedeaux Road, Suite 3, Gulfport, MS 39503
Let's travel over to Biloxi, where one location has been baking for nearly 100 years, and others are starting new King Cake traditions: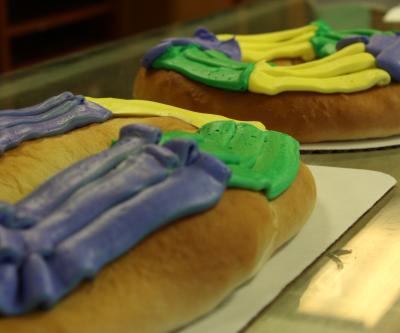 Electrik Maid Bake Shop (began baking in 1924)
1833 Pass Road, Biloxi, MS 39531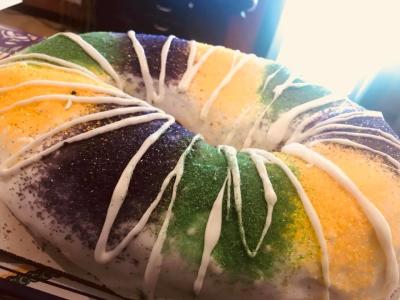 Le Bakery
280 Oak Street, Biloxi, MS 39530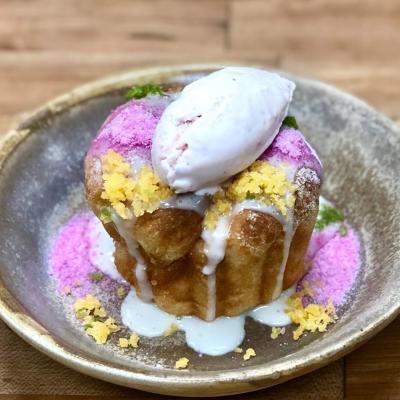 White Pillars
1696 Beach Boulevard, Biloxi, MS 39531
From Biloxi, it's just a short drive over the bridge to the next stop in Ocean Springs, featuring a bakery that specializes in vegan culinary adventures: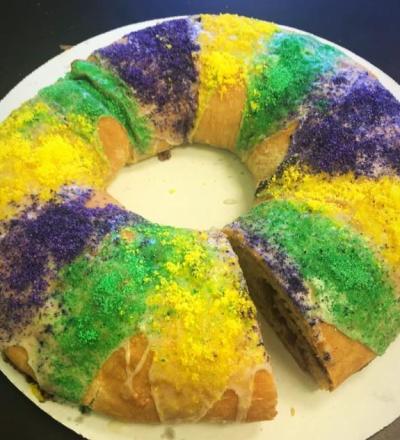 Apron Strings
434 Porter Avenue, Ocean Springs, MS 39564
Pascagoula is the closest city in Coastal Mississippi that claims to have celebrated the first Mardi Gras; Mobile, AL. That means it's got to have some tasty King Cakes, right?
Crazy B's
1759 Market Street, Pascagoula, MS 39567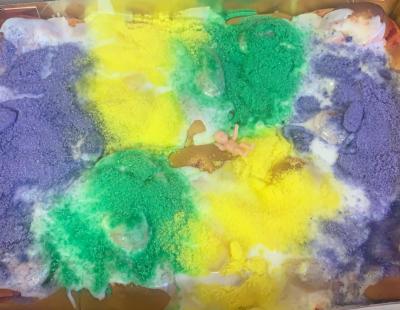 Anderson's Bakery
2033 Market Street, Pascagoula, MS 39567
A short drive up to Dixie Depot will be worth it when you take a bite of their delicious King Cake and other treats.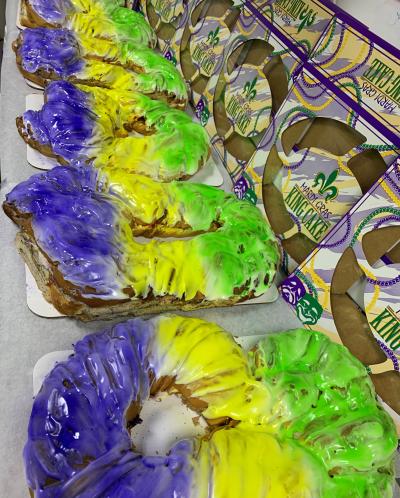 Dixie Depot
21000 MS-613, Moss Point, MS 39562
King Cake Iterations
Some of the tastiest King Cakes in Coastal Mississippi are actually twists on the traditional treat. Check out some of these delicious takes on the classic Mardi Gras delicacy that will deliver your fill of carnival goodness.
Check out even more of the unique takes on the King Cake below and where to get them: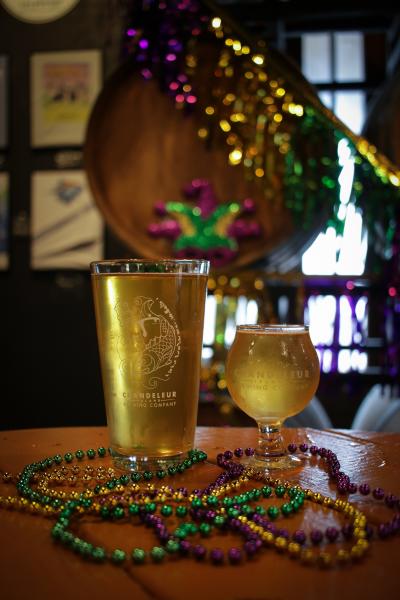 King Cake Beer
Chandeleur Brewing
2711 14th Street, Gulfport, MS 39501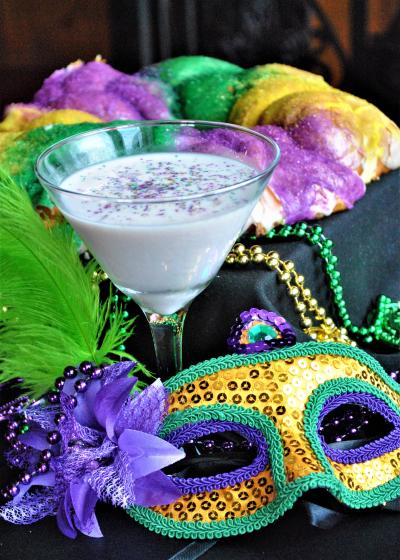 King Cake Martini
Half Shell Oyster House Gulfport
Half Shell Oyster House Biloxi
Half Shell Oyster House at Hard Rock Casino
Various locations - click each link to learn more.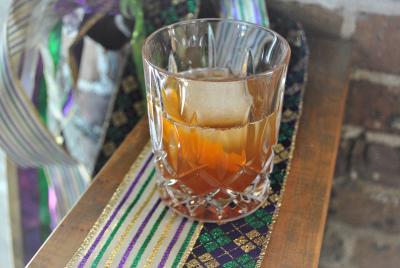 King Cake Old Fashioned 
The Rack House Steaks & Spirits
1301 26th Avenue Gulfport, MS 39501
Crafted with Mississippi-made Old Soul Bourbon, Peach Pecan Whiskey, Frangelico, Hickory pecan bitters, cinnamon simple syrup, this cocktail is Mardi Gras in a glass!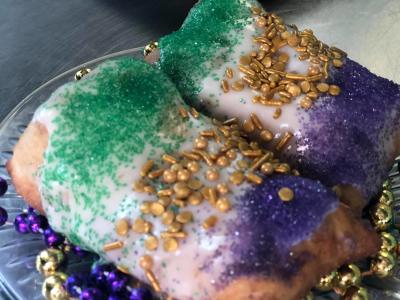 King Cake Beignet
Le Cafe Beignet
124 Lameuse Street, Biloxi, MS 39530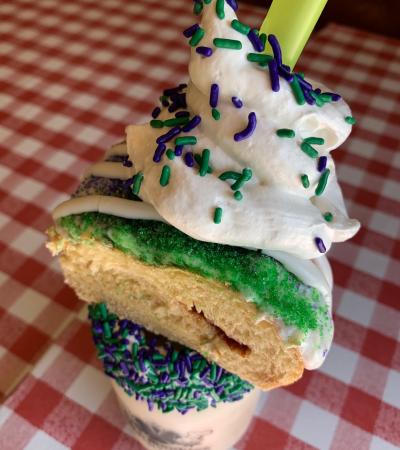 King Cake Shake
Sal & Mookie's
110 Lameuse St, Biloxi, MS 39530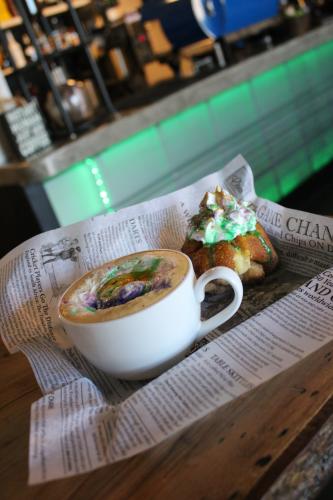 King Cake Monkey Bread and Mardi Gas Latte
Jacked Up Coffee
999 Howard Avenue, #2, Biloxi, MS 39530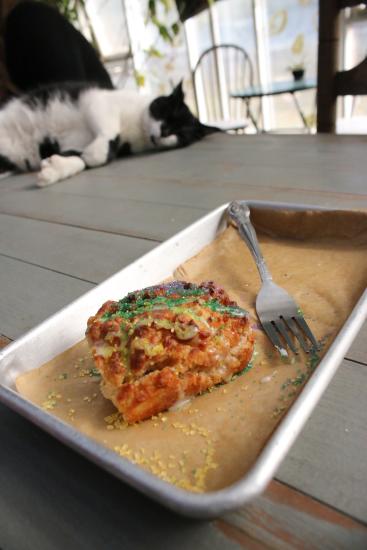 King Cake Biscuit
Greenhouse on Porter
404 Porter Avenue, Ocean Springs, MS 39564

Their large king cakes are also available to ship
anywhere in the continental US! Order here.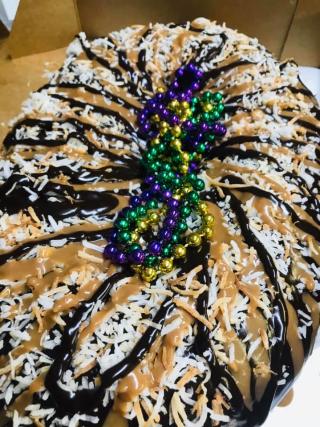 Sue-Moa King Cake
Le Bakery
280 Oak Street, Biloxi, MS 39530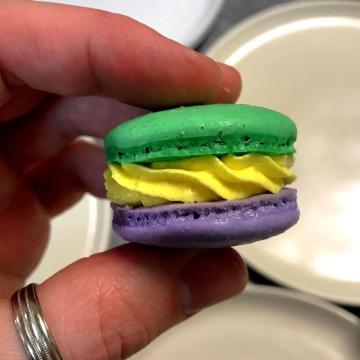 Lemon Buttercream Mardi Gras Macron
Vestige Restaurant
715 Washington Avenue, Ocean Springs, MS 39564