For many of us, boarding the pets we love so much before a getaway simply isn't an option. Whether it's a dog, a cat, or an emotional therapy peacock, the destinations that allow you to bring your beloved animals are often going to be the most appealing choices when deciding where to vacation.
Luckily, Coastal Mississippi offers numerous activities as well as places to stay, all with furry friends in tow. Disclaimer: if you have an exotic animal you wish to bring along to one of these places, it's always a good idea to call ahead and confirm that it's okay!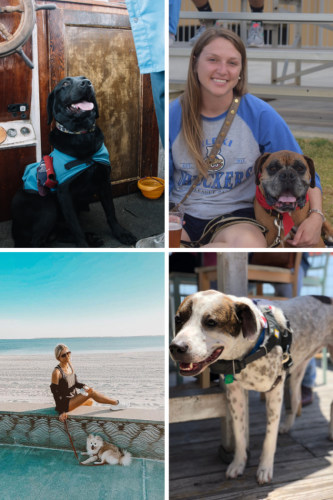 Where to Stay
If your goal is to win some money at the blackjack table while you and your four-legged companion(s) are in town, the elegant and pet-friendly rooms at Harrah's Gulf Coast or Hard Rock Hotel & Casino are great options, and you would be located near the restaurants and attractions in downtown Biloxi! 
If you prefer a boutique property, The Roost in Ocean Springs is always happy to see a pet walk through the door, and it only costs an extra $25 for the duration of your stay. Hotel Pass Christian is also a great option for guests with pets up to 40 pounds, due to the vinyl flooring and large backyard area for walking (with leashes). If you would like a cottage to yourself, Front Beach Cottages offers two cabins that are pet-friendly in the heart of Ocean Springs, within walking distance to restaurants and attractions. 
Additional Pet-Friendly Accommodations:
La Quinta inn & Suites by Wyndham Biloxi 
Carroll House Bed and Breakfast
Where to Indulge 
With the lodging selected, the hard part is over! Now let's find some coastal cuisine for you and your partner in crime! 
The restaurants and bars in downtown Ocean Springs are almost exclusively pet-friendly, and an added bonus is that they're all so close to one another, with Mosaic Tapas and The Love Shack both offering large outdoor patios.
If you're closer to the Long Beach Area, Long Beach Market & Deli has some of the best Asian cuisine on the coast, the largest cold beer selection in the state, and also has a great patio for relaxing with your companion.
Don't forget about all the great breweries, too, as each one is always happy to see a new pet! 
More pet-friendly restaurants: 
Lucy's Retired Surfers Bar & Restaurant
What to Do
The Biloxi Shrimping Trip is always thrilled to have some pups on board to play with T.J., the beverage delivery dog, as you learn all about the shrimping industry in Coastal Mississippi. Take in America's pastime with your four-legged companion with Bark at the Park! At select Biloxi Shuckers games, you can enjoy an unforgettable outing at MGM Park with designated pup-friendly seating along the right-field berm. 
Dogs are always welcome on the beaches in Hancock and Jackson Counties! Located between Ocean Springs Harbor and the Biloxi Bay Bridge, Front Beach offers white sand and shallow water, with fantastic views the whole way. East Beach is more popular with local residents and is dog-friendly, but the dogs have to be leashed. Hancock County is fortunate to have a whole chain of wonderful sandy beaches between the cities of Bay St. Louis and Waveland, with gradually-sloping water perfect for dogs to enjoy a cooling romp in the Mississippi Sound!
You can also bring your best friend along to Wolf River Canoe and Kayak as you discover one of the region's many waterways! 
Stroll through any of the region's downtown districts and grab a Pop Brothers Pooch Pop in Bay St. Louis, Gulfport or Ocean Springs. 
Have fun, and remember to always have a leash with you!