If you live the RV lifestyle, then you are familiar with the feeling of always looking for that next memorable adventure. With 62 miles of scenic coastline, Mississippi's Gulf Coast is the Southern United States' best kept secret.It is less heavily traveled than other states along the Gulf Coast, but full of culture, adventure, and fun. Whether you're a history buff, a thrill seeker, a foodie, or you enjoy a little bit of everything, you are sure to have a good time when visiting this hidden gem. Here are 5 reasons you should make the Mississippi Gulf Coast your next RV road trip destination.
1. It is a Beautiful (And Easy) Drive
Tucked between New Orleans, Louisiana and Mobile, Alabama, the Mississippi Gulf Coast is an easy hour's drive from both. US Highway 90 runs right along the Gulf waters, and is easily accessed from the region's major interstate. If you're looking for beautiful vistas, Mississippi is also the right option for you. It has longer stretches of coastal road than Texas, Florida, or Louisiana.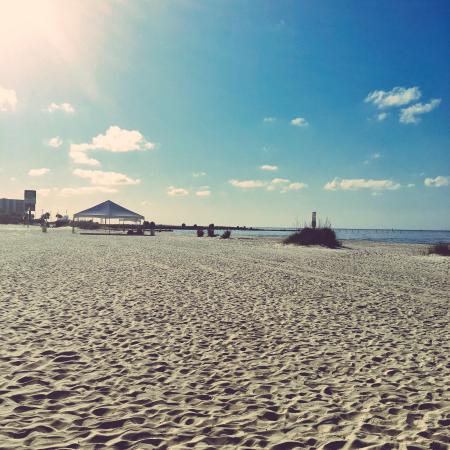 2. The Amazing RV Parks
Once you've made the trek to the Mississippi Gulf Coast you have the pleasure of being able to hitch up your RV in some of the most beautiful RV parks in the United States. Nothing beats the comfort of being able to stay in your own bed and then wake up to the beautiful views on the Mississippi Gulf Coast. Want to be close to the casino? Check out Boomtown Casino RV Park or Cajun RV Park. Prefer the outdoors? You'll like Big Biloxi Recreation Area and the POW Lake Recreation Area. Love a lake view? Airey Lake Recreation Area and Lakeview RV Resort are both great options. If you'd like to be right on the Gulf, Buccaneer State Park, Fox's RV Park or Gulf Haven Campground are all perfect choices.
3. It is Full of History
If history is your thing, you'll love visiting Beauvoir, the last home of Confederate President Jefferson Davis. Beauvoir is located in Biloxi, Mississippi, right on the coast with a stunning view of the Gulf of Mexico. You can tour the home, which has been restored to look as it did in 1889 when Jefferson Davis died. Fort Massachusetts is another can't-miss historical site along the Gulf Coast. Located on West Ship Island, the fort is only accessible by boat or ferry. You can go on a free guided tour and learn about the history of the fort and its role in the Civil War.

4. Outdoor Adventures
You don't take an RV down to the Gulf Coast if you plan on staying inside and watching TV. The Mississippi Gulf Coast has numerous outdoor adventures for any interest and skill level. For fishing enthusiasts, the fishing in the Gulf of Mexico is some of the best in the world. Kayaking and paddle boarding are other popular aquatic-based activities to consider during your trip. More of a land-lover? Bird watching and hiking are among the entertaining outdoor activities to experience while visiting the Gulf Coast. If you're looking for something a little more relaxing, or want to satisfy your competitive side, consider visiting one of the area's renowned golf courses for 18 holes of fun.
5. The Weather
Calling all snowbirds! Want to escape the brutal winter cold in your area? Head south to the Mississippi Gulf Coast, a perfect stop on your winter trip itinerary. The Gulf Coast climate is humid and subtropical, which means hot summers and a short mild winter. Even the coldest month of the year for the Gulf Coast, January, has average highs of 60 degrees. If you're cruising down to the Gulf Coast, make sure you pack your T-shirt and shorts, and a swimsuit too.
The Mississippi Gulf Coast sometimes flies under the radar when it comes to vacation spots, but this area has it all! Beautiful scenery, an easy drive, and an abundance of quality RV parks make it an ideal location for a memorable road trip. Once you've arrived and set up camp, there's no shortage of enthralling activities to keep you busy and entertained. From multiple historical attractions to a plethora of potential outdoor adventures, the Gulf Coast has something for everyone. When it comes time to plan your next trek, the Mississippi Gulf Coast should be at the top of your list.
Guest author: Chris Triplett of Camera Source