Get ready to have an absolute blast celebrating Independence Day along the breathtaking shores of Coastal Mississippi! Our coastal communities come alive with an infectious display of patriotism, exciting festivities leading up to the holiday, and jaw-dropping fireworks. Whether you're a proud local or a curious visitor, the Fourth of July events on the Mississippi Gulf Coast offer a delightful blend of Southern charm, stunning coastal beauty, and a heartfelt appreciation for the historical significance of this momentous day.
So grab your friends and family, and prepare for an unforgettable celebration filled with fun, laughter, and patriotic spirit!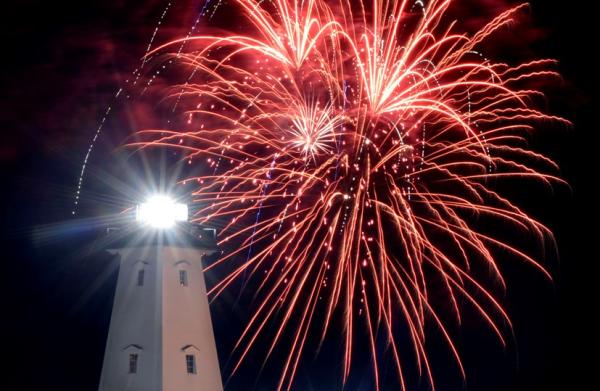 Photo courtesy of Tim Isbell
Friday, June 30, 2023 
Start the Fourth of July weekend festivities with a bang in Ocean Springs! Join the community on Front Beach for a dazzling fireworks display at 9 p.m. Bring your loved ones, gather your friends, and remember your comfy chairs and cozy blankets. Before the fireworks show, there'll be food and live music by the sensational Dr. Zarr's Amazing Funk Master, starting at 6 p.m. at The Fort. 
Saturday, July 1, 2023
Diamondhead is gearing up for its Fourth of July Fireworks celebration on the city's south side. The festivities occur from 5:30-10 p.m. with live music, food and beverage vendors, beer, and snow cones. Don't forget to bring your chairs and blankets as you settle in for the highlight of the evening—a spectacular fireworks show that'll light up the night sky at 9 p.m
Get ready to celebrate the red, white, and blue at the annual jubilee in downtown Long Beach starting at noon! Indulge in delicious food truck cuisine and enjoy the festival activities at the Town Green. Catch the parade, which begins at 1 p.m. along Jeff Davis Avenue. As the sun sets, groove and sing along to fantastic live music performances starting at 6 p.m. on the Town Green. And, of course, the night's grand finale will be the magnificent fireworks show at 8 p.m.
Tuesday, July 4, 2023
Gulfport Fireworks Show
The City of Gulfport is hosting an unforgettable waterfront fireworks show at 9 p.m. at Jones Park.
Step aboard an oyster schooner replica with the Biloxi Schooners for its Fourth of July sail. Call the Maritime & Seafood Industry Museum in advance to purchase your tickets, as this holiday event tends to sell out quickly. The best part? You can bring your own food and drinks, making it a personalized and enjoyable experience for everyone on board. 
These are just a few of the many holiday events. Stay tuned for updates on additional Fourth of July events in Coastal Mississippi.