By: Sharon Mendelaoui
I have to admit that Mississippi was just in the middle of my two bucket list destinations during our Gulf Coast road trip. From New Orleans, we drove through Louisiana NorthShore en route to the Gulf Shores of Alabama. I'm so glad we stopped to explore. In this post, I share things to do in Biloxi and what to discover in the Mississippi Gulf Coast Beaches area.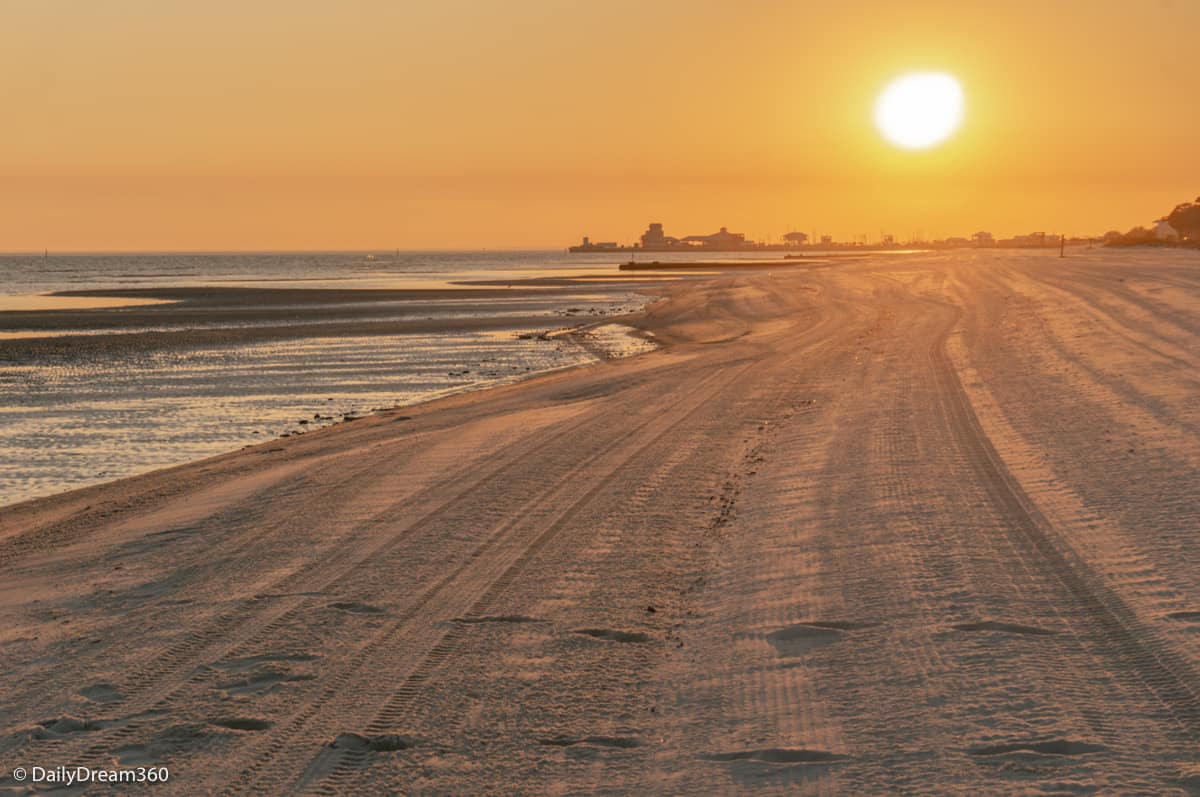 After a half-day of driving, I didn't expect her to stop the car. From the back seat, I was staring out the window at miles and miles of beautiful white-sand beaches. Waves crashed the shores, and behind us, the sun was beginning to set.
A beach with a sunset. My ultimate dream. When she stopped the car at the side of the highway, I leapt out of the back seat. I stood on the white sand beaches taking the sunset in and had to remind myself for a minute I was in the Mississippi Gulf Coast.
Getting to Coastal Mississippi and the Gulf Coast Beaches
Located between New Orleans Louisiana and Mobile, Alabama, you can explore the Mississippi Gulf Coast and Gulf Coast beaches via a road trip or by flying indirectly.
Coastal Mississippi by Air
Fly into Gulfport-Biloxi International Airport from connecting airports, which include Atlanta, Dallas, Houston and Orlando. From there you can drive down to the Gulf Coast Beaches.
Drive To Coastal Mississippi
Take a drive along Highway 90, which is known as Beach Boulevard, to explore the true beauty of Coastal Mississippi. The highway runs east and west along the Gulf Coast Beaches with connections from Mobile Alabama or the Louisiana Northshore.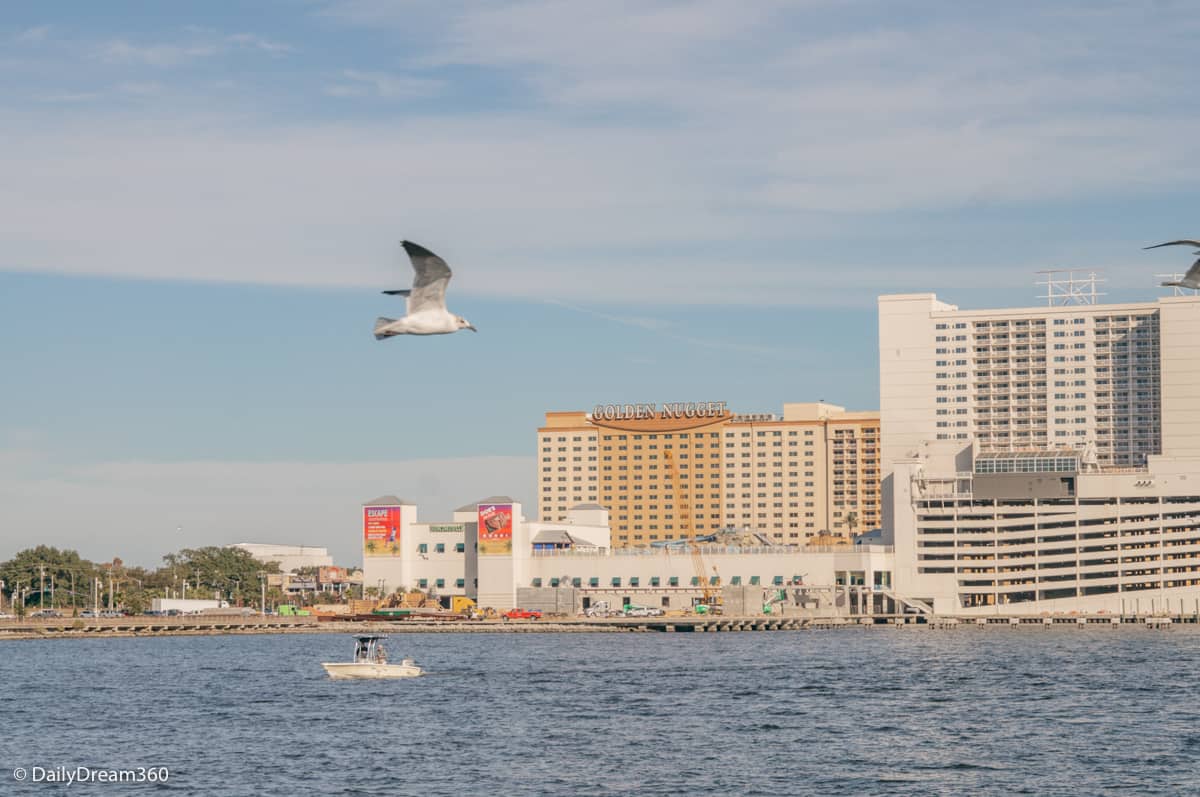 Where to Stay in Coastal Mississippi
Biloxi Casinos
We drove by several big hotel resorts in Biloxi, situated along the beach. These casinos offer full-service hotel accommodations with ocean view rooms, dining and entertainment. You'll find the Hard Rock Hotel, Golden Nugget, Beau Rivage, Margaritaville, and Harrah's amongst the big-name resorts.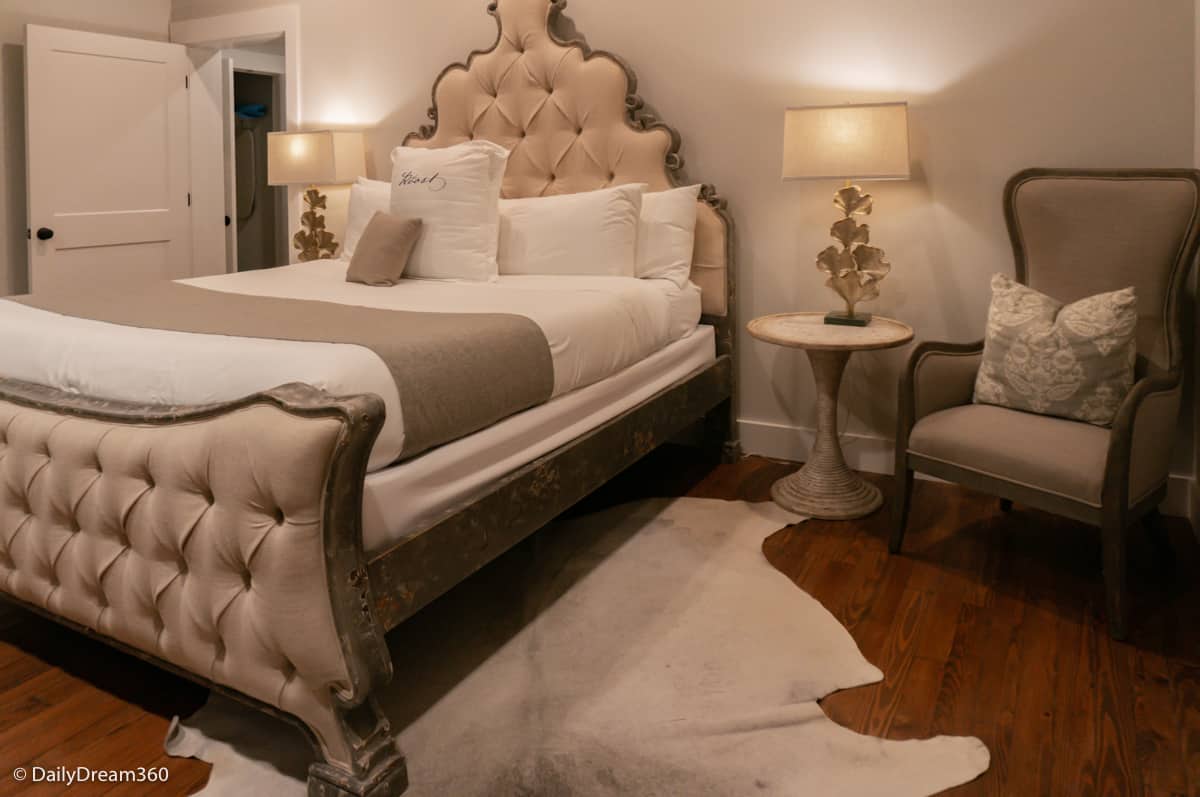 The Roost Boutique Hotel Ocean Springs MS
If you are looking for a more intimate hotel experience, I recommend The Roost Boutique Hotel. Built-in a restored historic building, each room decor featured beautiful cream colors with luxury furnishings and a few refurbished elements from the original historic property.
Located a short 2-minute walk to the beach and downtown Ocean Springs The Roost is in the perfect location to explore the area. The hotel is a short drive across the causeway to Biloxi and its many attractions and restaurants.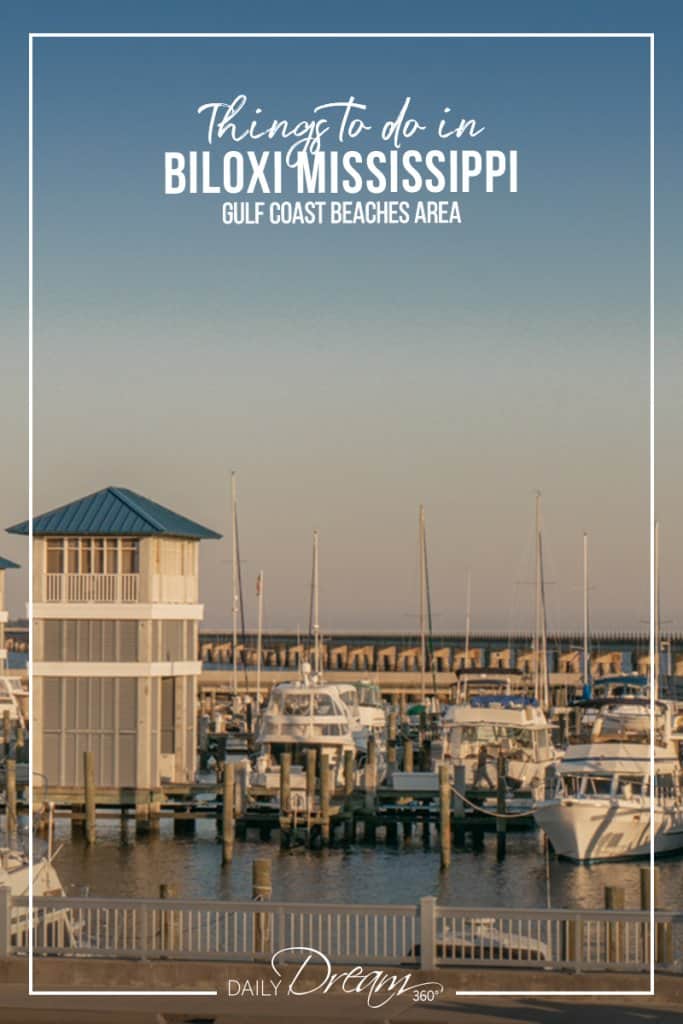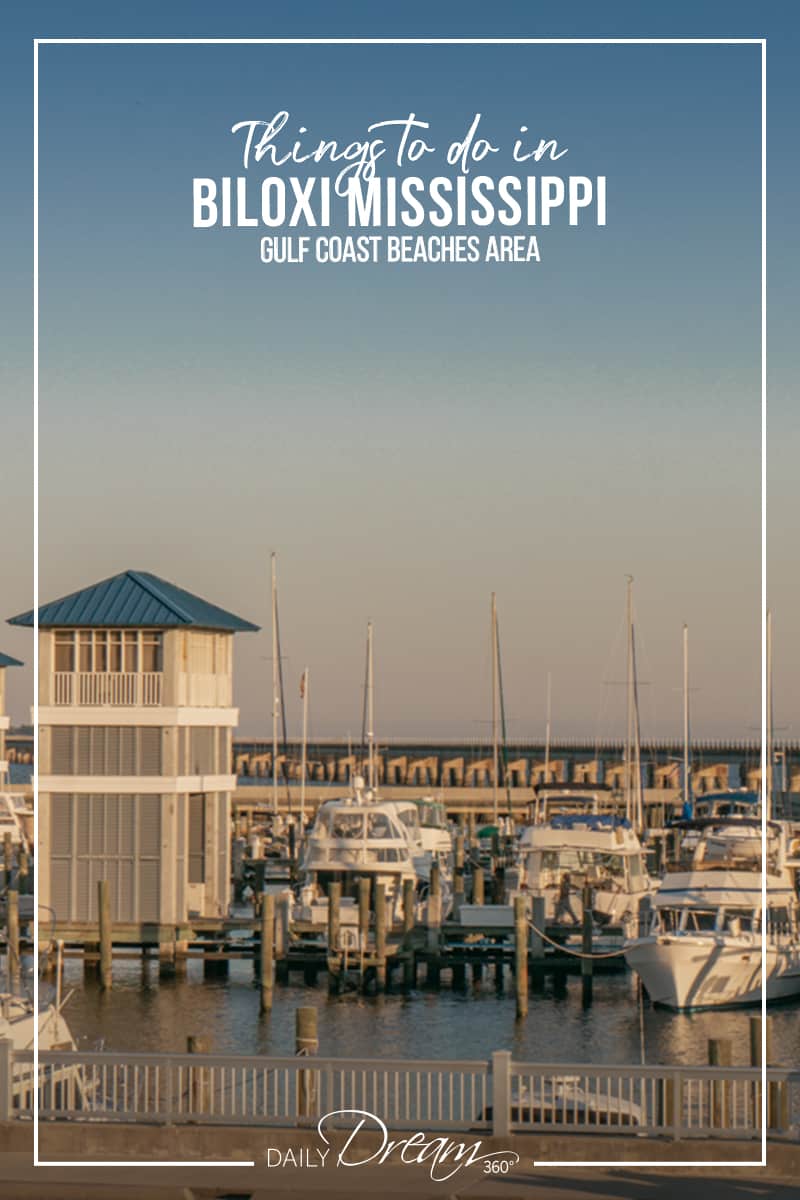 What to Explore in the Mississippi Gulf Coast Beaches Area
We drove through three cities in Coastal Mississippi which include Bay St. Louis, Biloxi and Ocean Springs. We also took a little nature break on our way to Alabama in Moss Point. Here is a detailed list of things to do in the Mississippi Gulf Coast Beaches area by city.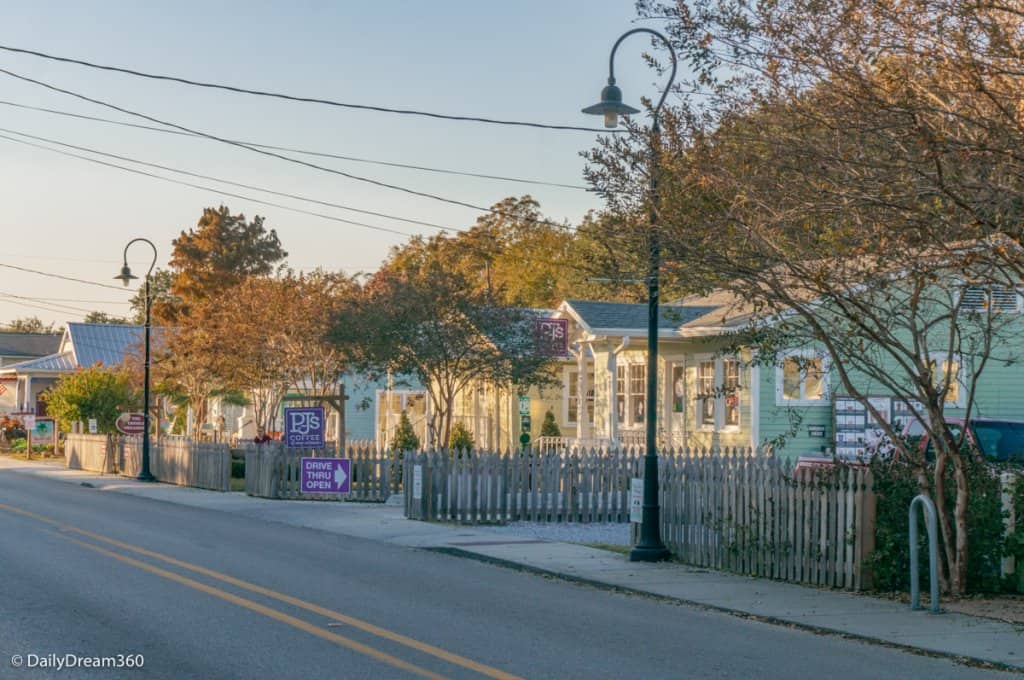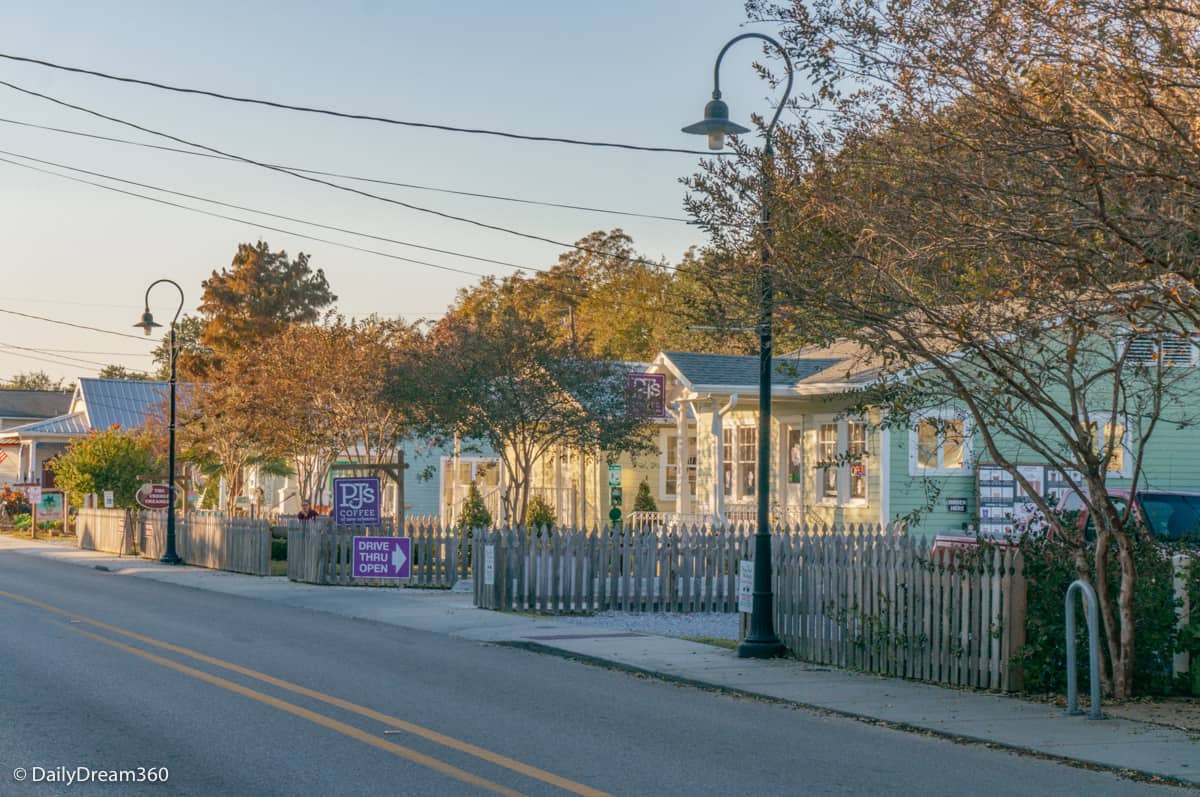 Things to do in Bay St. Louis, MS
This little beach town was our first stop on our road trip from Louisiana's Northshore. Bay Saint Louis sits on the west side of the Bay of St. Louis. The town has recovered from the destruction of Hurricane Katrina, which, aside from the Angel Tree monument on its waterfront, I saw no trace of damage.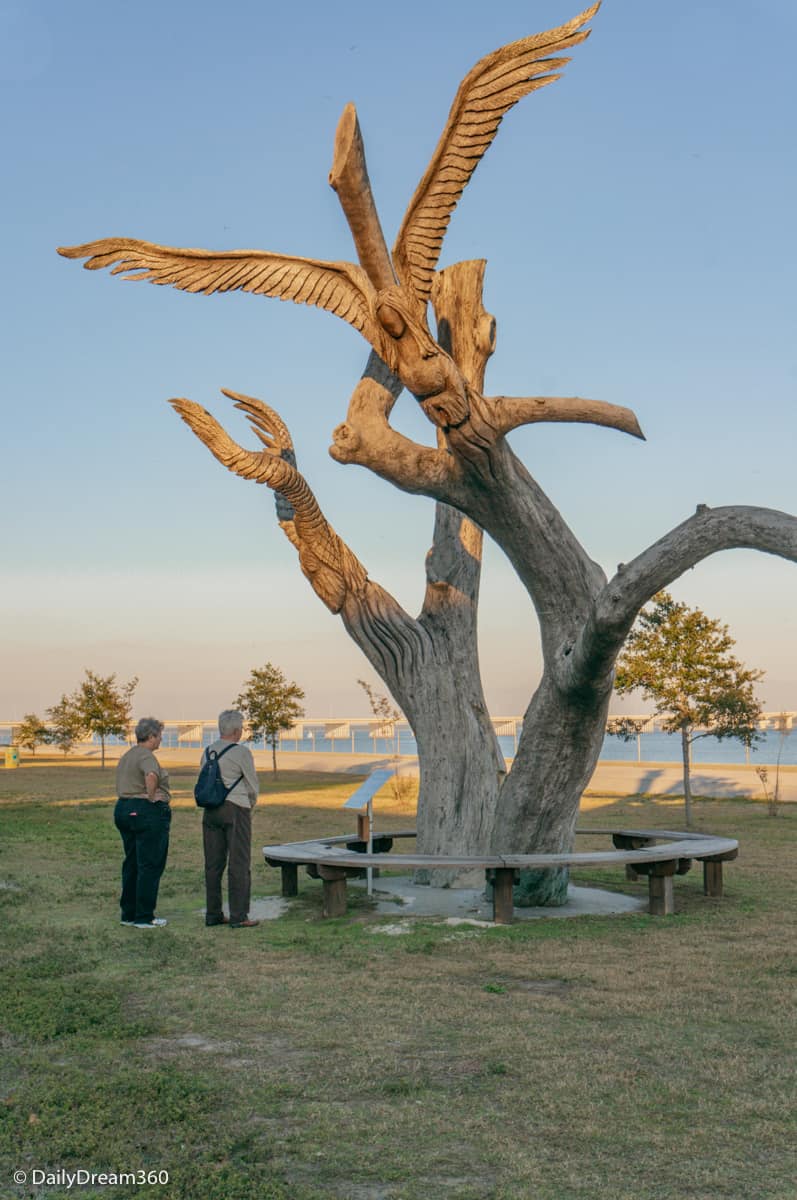 Road Trip Stop: The Angel Tree, Bay St. Louis, MS
The Angel Tree is a beautifully carved oak tree with quite a history. Its owner saved it from a construction crew set on demolishing it. Years later, the family home became a motel, and it stood proudly in front.
As the storm surge from Hurricane Katrina hit, three residents and their dog clung to its branches as they watched the eye of the storm pass. When the water receded, they climbed down to safety.
The remains of the tree were brought to the waterfront in Bay St. Louis and were carved with beautiful angels on its two remaining large branches if you are driving through the area, I recommend a stop to take a look at it and browse through the many lovely shops in town.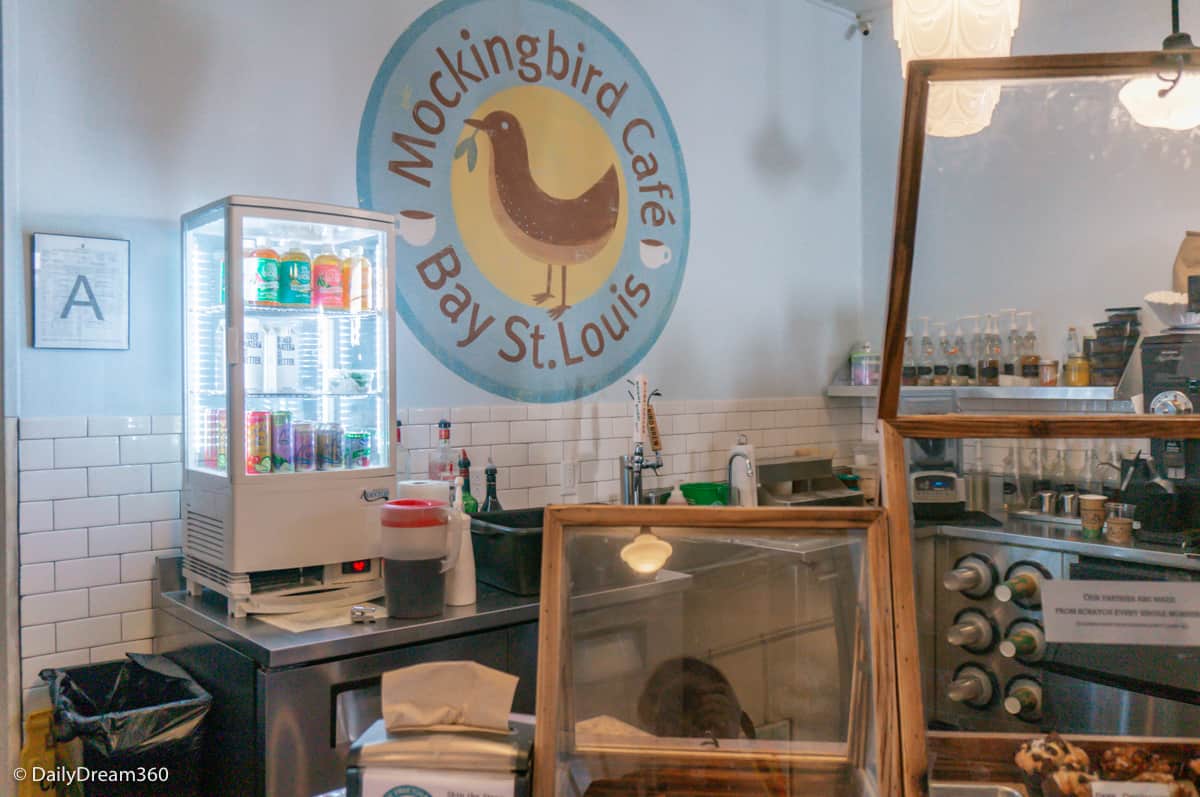 Lunch at Mockingbird Café
For lunch and good coffee, be sure to stop by the charming Mockingbird Café. Known as the living room of the Bay, you'll find many locals at the café reading books and working on their computers.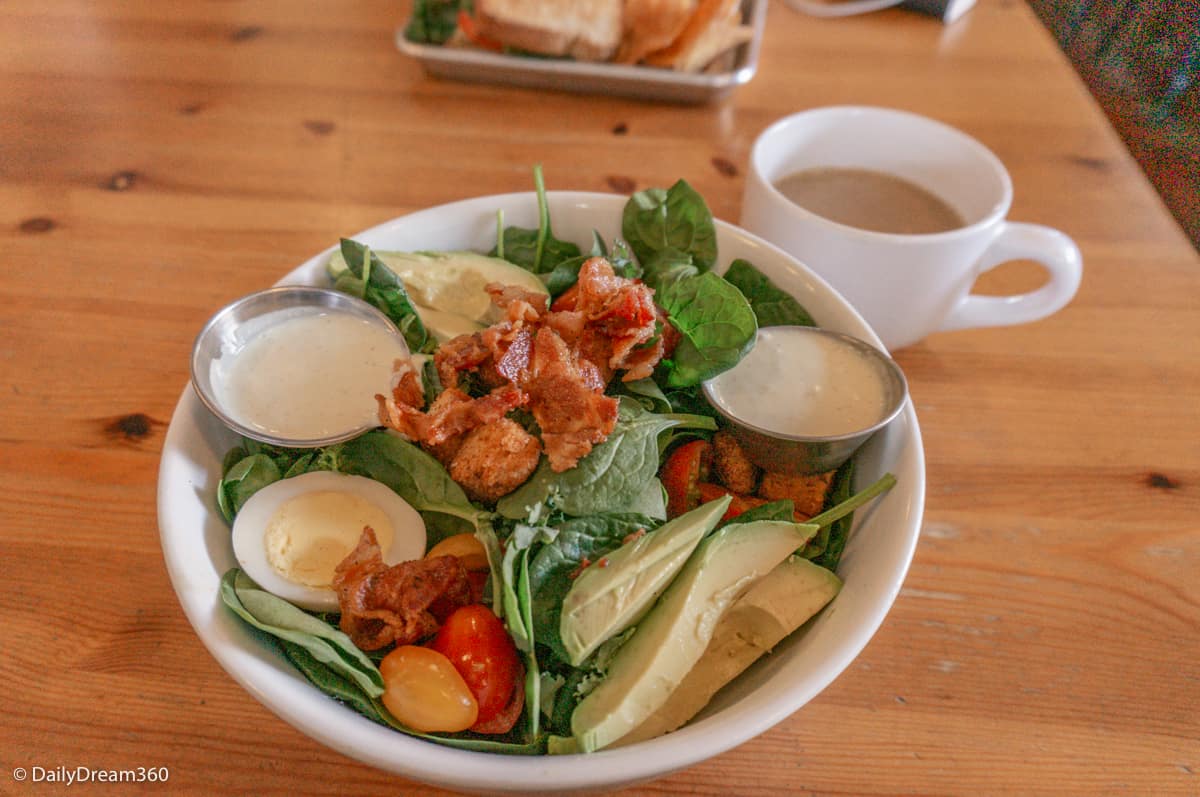 The cafe filled with relaxing couches, tables and some intimate little corners is well known for their delicious homemade baked goods, but I was super excited when I saw my amazing Kale Salad. There are also sandwiches and burgers which are sure to hit the spot.
Explore the Shops of Old Town Bay St. Louis
There are plenty of little souvenir, beach and boutique shops in old town Bay St. Louis to explore. If you are planning to hit the beach, this is an excellent place to buy some beach towels, umbrellas or other beach-themed gifts. You'll also find plenty of little gift shops filled with artisan crafts, great souvenirs and boutique goods.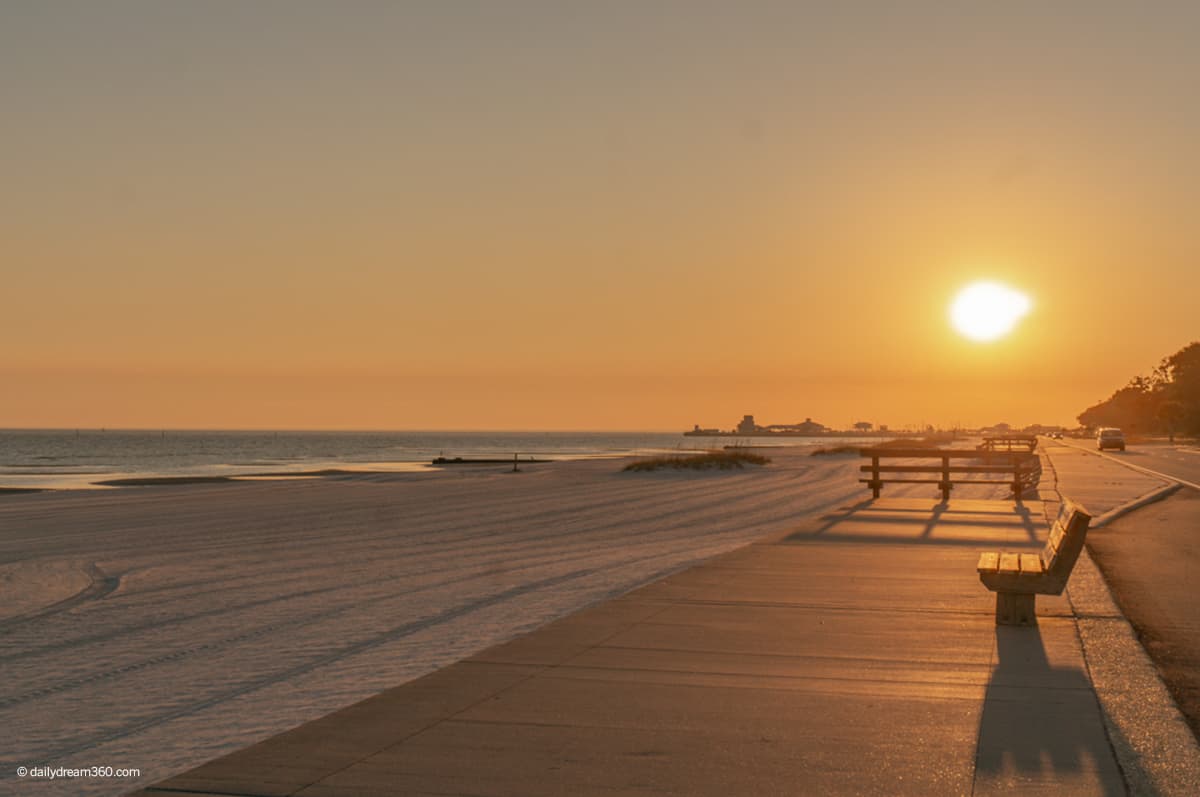 Things to do in Biloxi Mississippi
The Beaches of Coastal Mississippi
If the weather is right, you must set some time aside to relax at the beach. If you happen to visit the area when temperatures are a little cold, the long white sand beaches are great for a long walk and a beautiful sunset.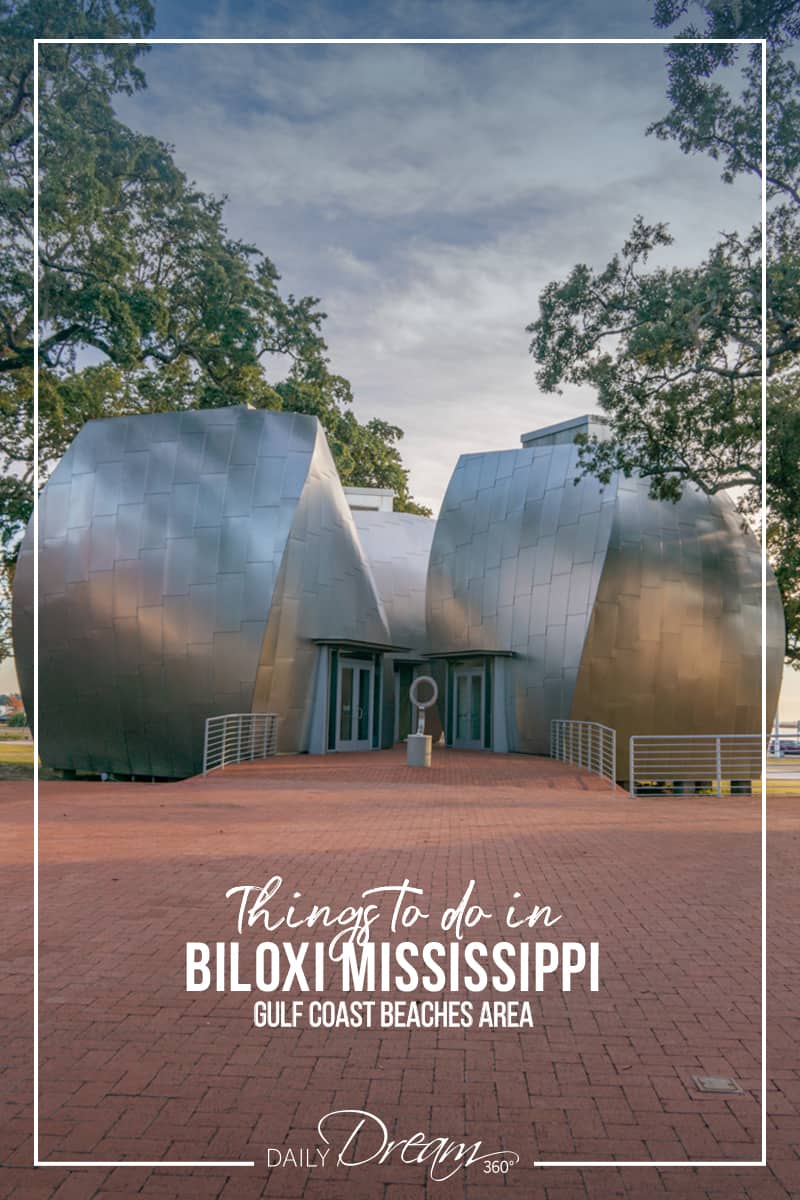 Ohr-O'Keefe Museum of Art
If the incredible steel pod architecture doesn't drive you in from the highway, then let me tell you about this lovely gallery — the many buildings on the campus house different artists and Biloxi Potter George E. Ohr.
At each gallery, the door was a friendly staff member excited to walk you through the exhibit and tell you about the artists featured inside. From amazing blown glass, exquisite pottery and some beautiful painters, you'll love a walk through this campus as you explore the amazing collections.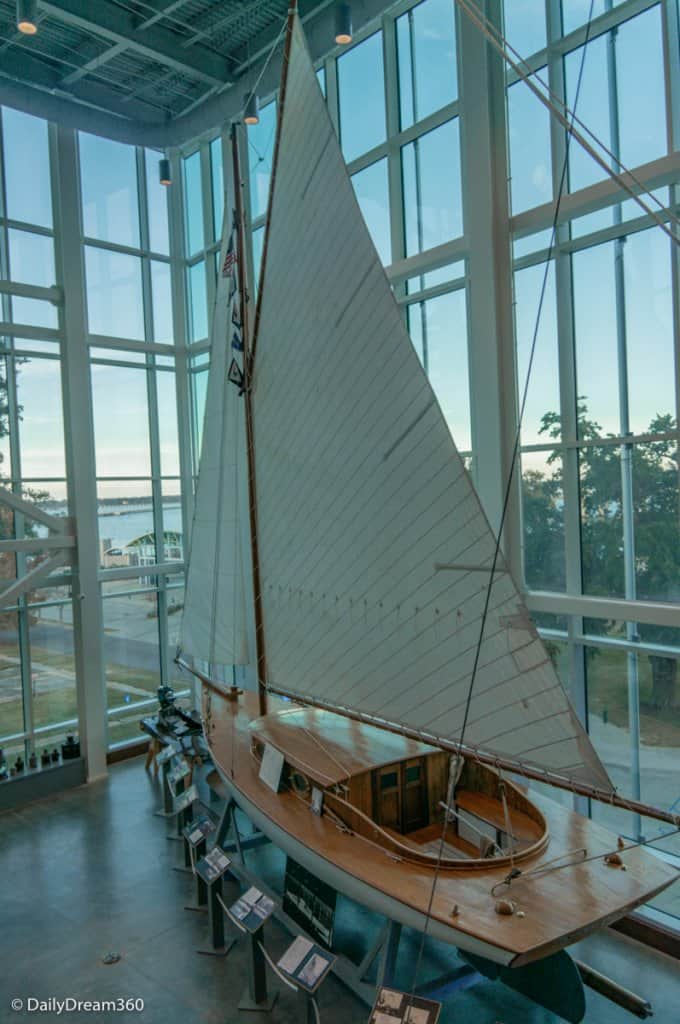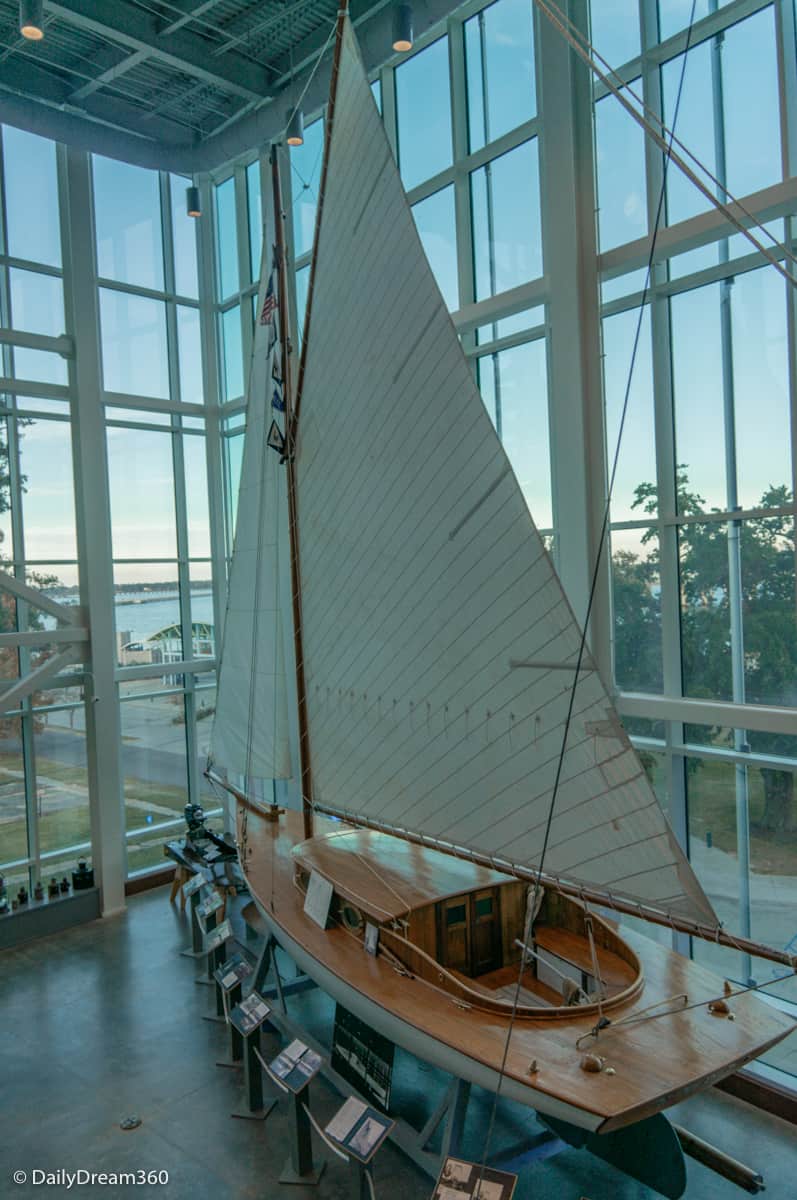 Maritime & Seafood Industry Museum
Built to explore the maritime history of Biloxi, you'll explore three levels of exhibits explaining the life of fishers and boaters in the region. These exhibits cover the history of shrimping, oystering, fishing and boat building and maritime monitoring over time.
Inside you will also find a full-sized oyster schooner on display, which you can see from all three levels.
Biloxi Shrimping Trip
Explore the waters of the Gulf while learning about the shrimping industry. While most shrimping takes place in the early hours of the morning, this 70-minute boat tour runs a few times a day. Kids love interacting with the fisherman, who place their catch into an aquarium and allow the kids to hold and interact with it.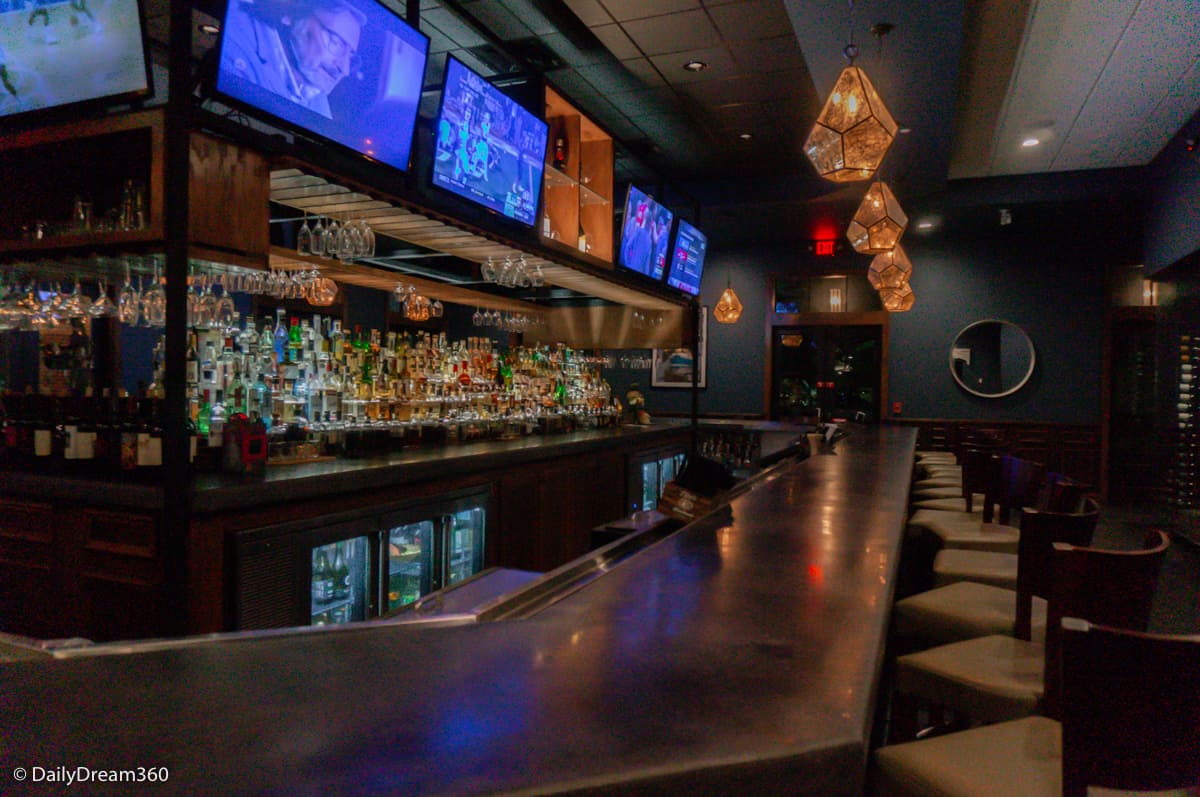 Dinner at Patio 44
If you are a lover of seafood and steaks, then Patio 44 is the restaurant for you. The Creole-inspired menu includes gumbo, shrimp and grits, fish tacos and, of course, juicy cuts of steak. They also have a massive bar filled with a perfect cocktail and wine pairings.
Shows at the Biloxi Casinos
If you are looking for an evening activity, you may want to take a look at the many shows and events taking place at one of the Biloxi Casinos. They have had some fantastic performers on their stages, and they also have a selection of bars where you'll enjoy some live music.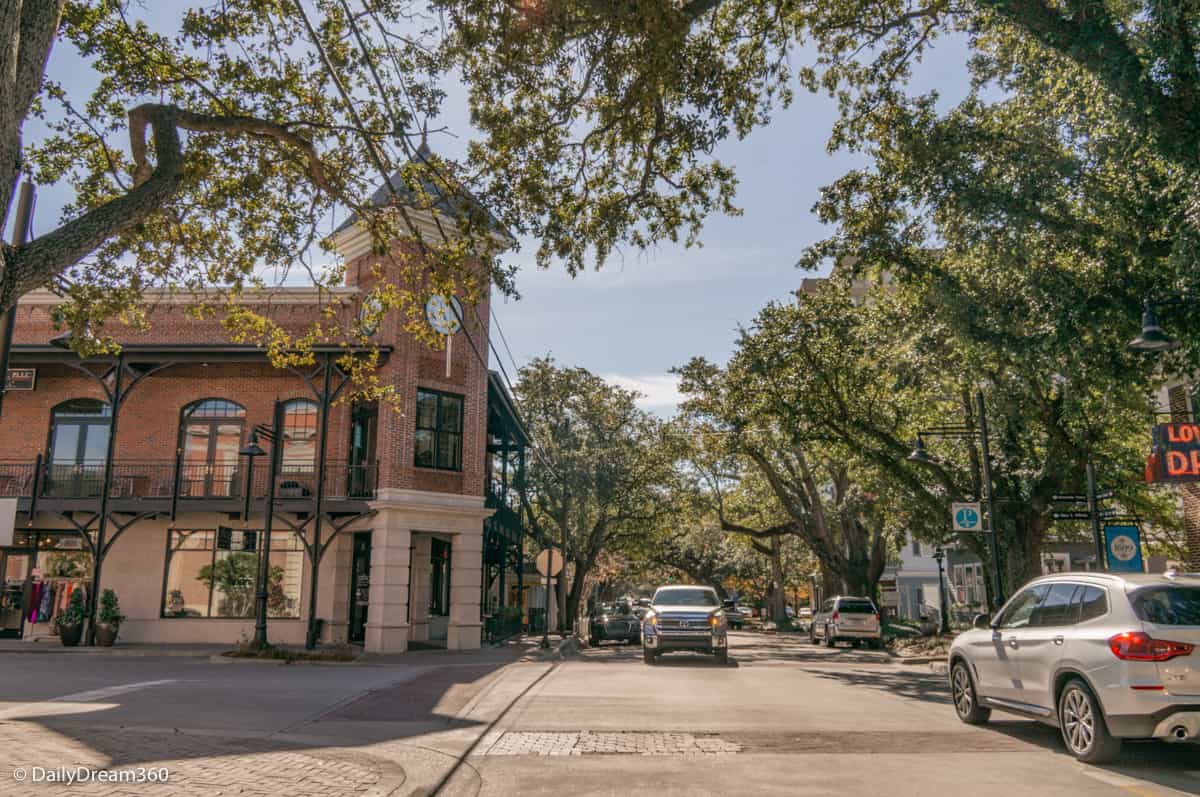 Things to do in Ocean Springs, MS
Filled with boutique shops, galleries and cafes, I fell in love with Ocean Springs the moment I arrived. Many of the locals stopped to say hi and ask me where I was from. This happened many times, on the beach in the morning they gave me directions as to where to catch the sunrise, in town they gave me suggestions on where to eat, it is just a lovely and welcoming community.
Breakfast at Knuckleheads
One of the local suggestions was to head to the TEXACO gas station for breakfast. One of the things I've discovered during my travels is don't judge a restaurant by proximity to a gas station. Knuckleheads did not disappoint. They had a breakfast menu with huge omelettes and delicious breakfast sandwiches.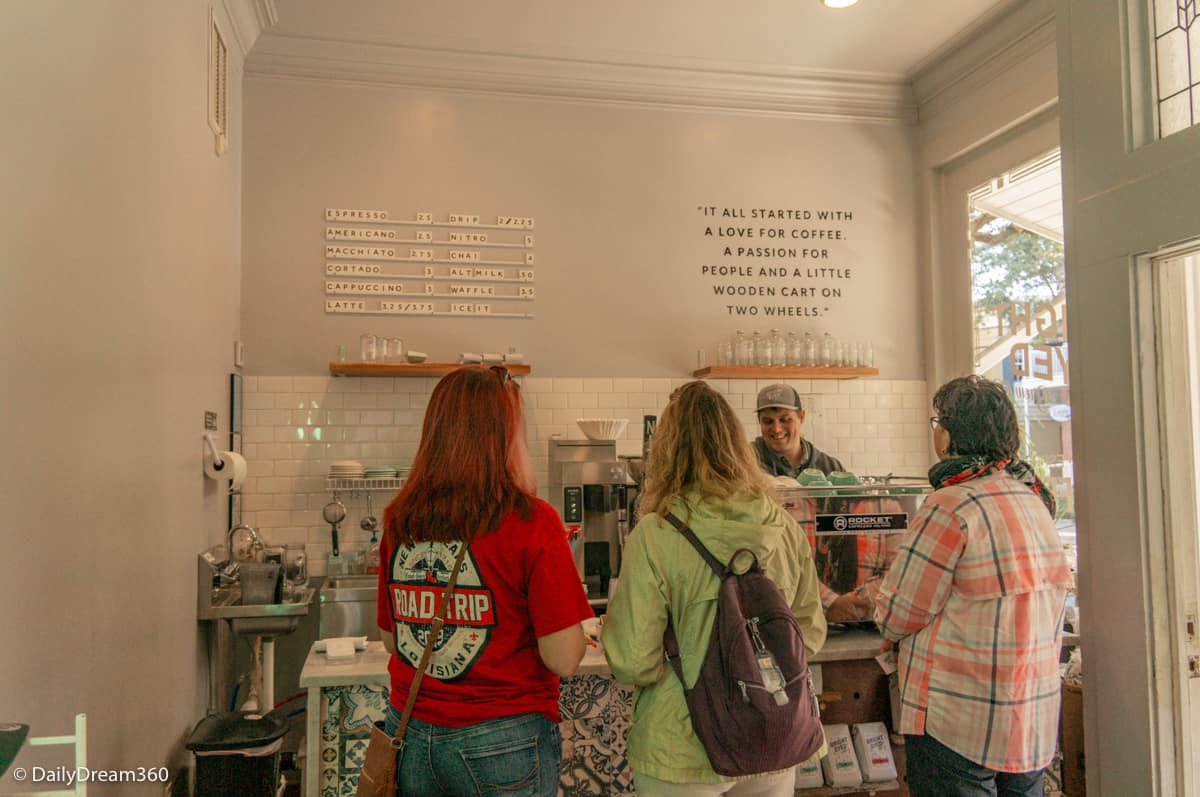 Bright-Eyed Brew Co.
Bright-Eyed is the local coffee shop in Ocean Springs, and their love of brewing will inspire whatever coffee lover you are. From Nitrogen infused cold brew to their 24 hour steeped brews, you'll get your coffee fix here, I promise.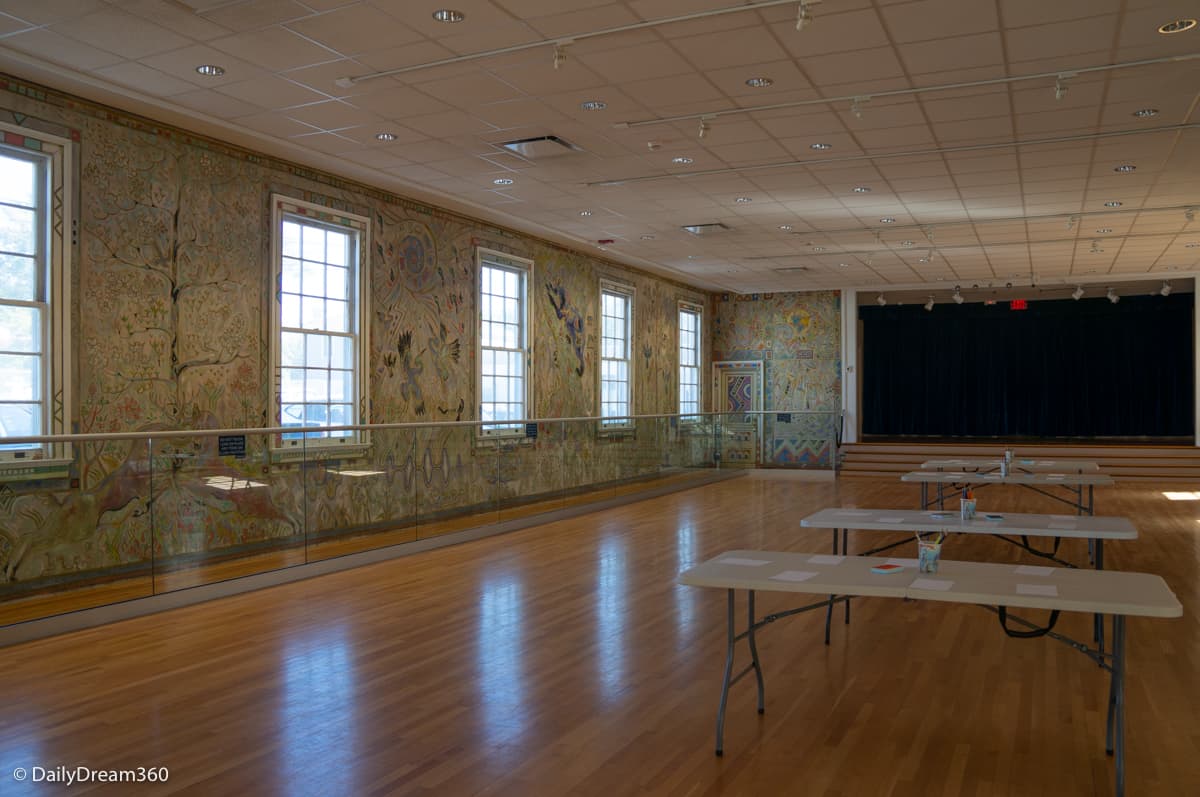 Walter Anderson Museum of Art (WAMA)
The Walter Anderson Museum of Art was one of my favourite stops during our trip to Coastal Mississippi. The museum does an extraordinary job of taking you inside the beautiful mind of Walter Inglis Anderson.
The famous artist is well known for his painting, drawing and fascinating murals. The museum displays take you through his many creative outlets but also his struggles with mental health, including the painted room he locked himself in before he died.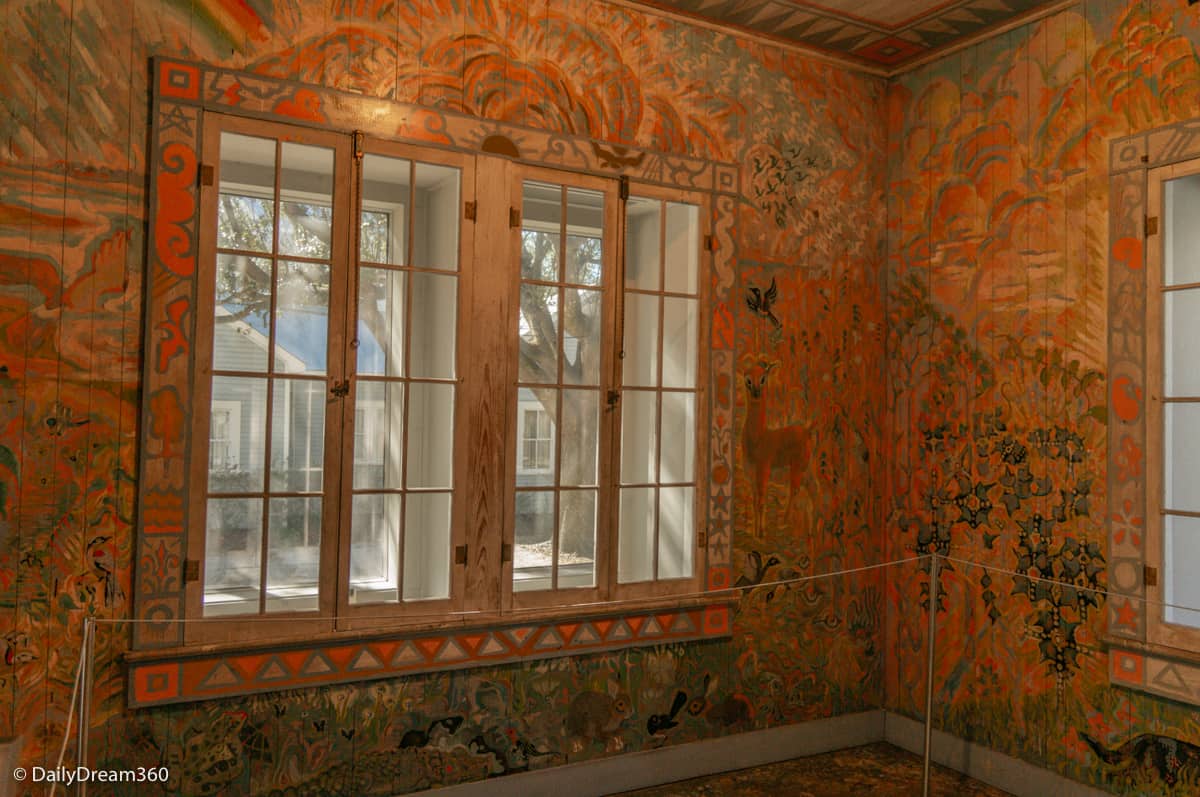 The museum was built as an expansion to the Community Center, where Walter received $1 to paint a mural. We started our tour there, exploring the mural painted walls in awe. WAMA is a must-visit if you are in the area.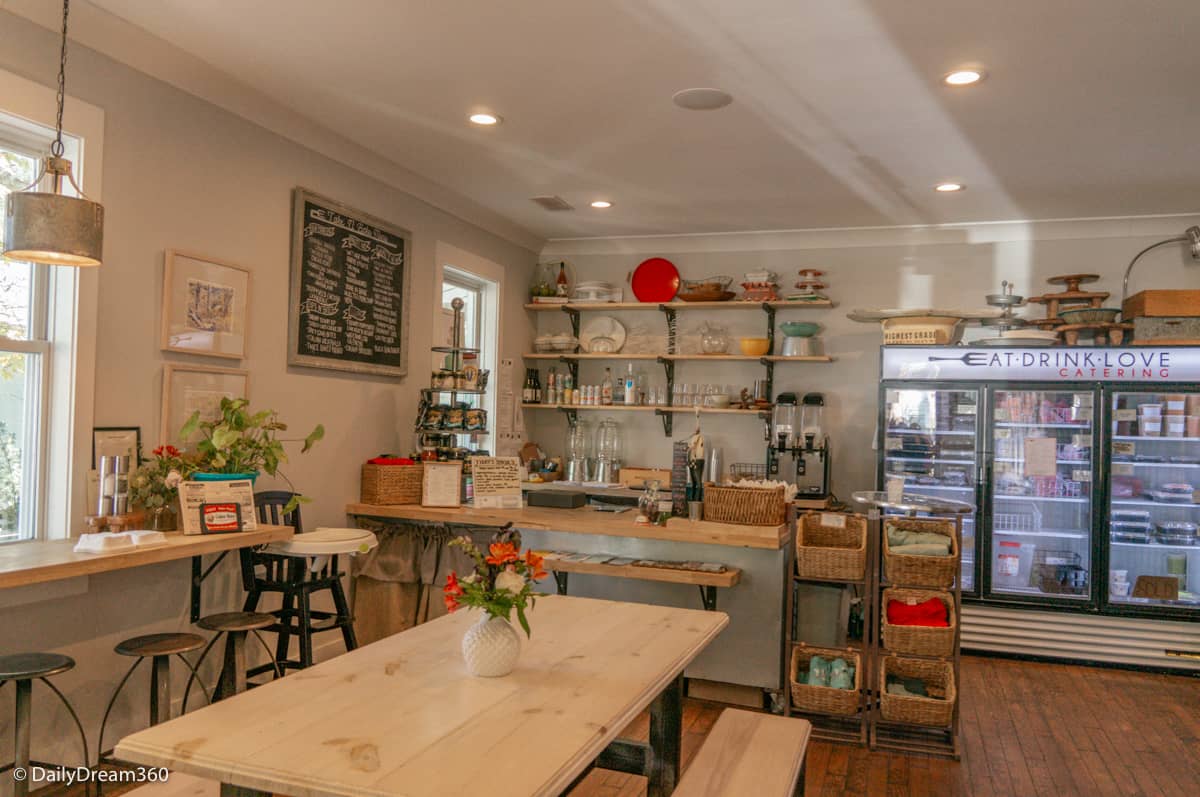 Eat Drink Love Counter
You will find the Grab and Go counter at the Roost Boutique Hotel is filled with delicious bites, sandwiches and salads. Eat Drink Love was also the spot to grab food to take back to your room at the Roost.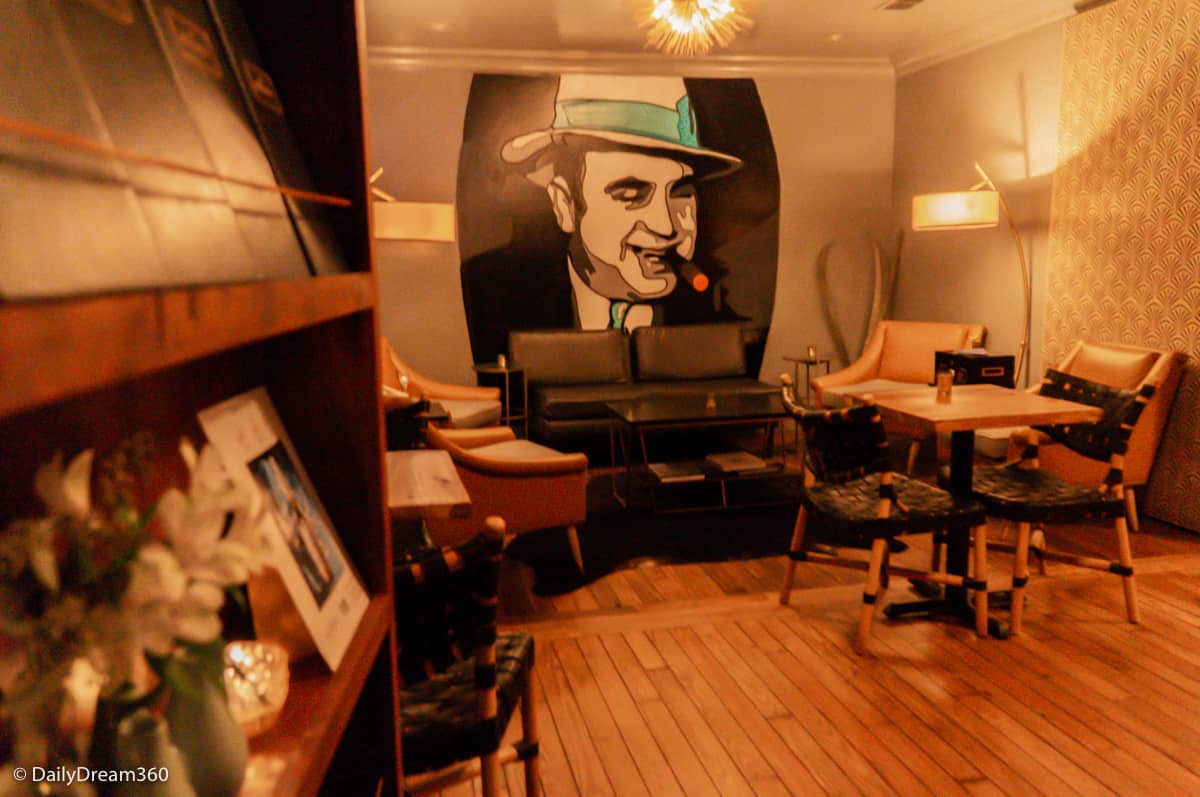 Happy Hour at Wilbur Bar
The cute little cocktail & wine bar at the Roost Hotel looked incredibly small until they opened the secret swinging bookshelf into the main sitting area. There we had our pick of cozy couches to choose from as we munched on a Charcuterie board and drank wine.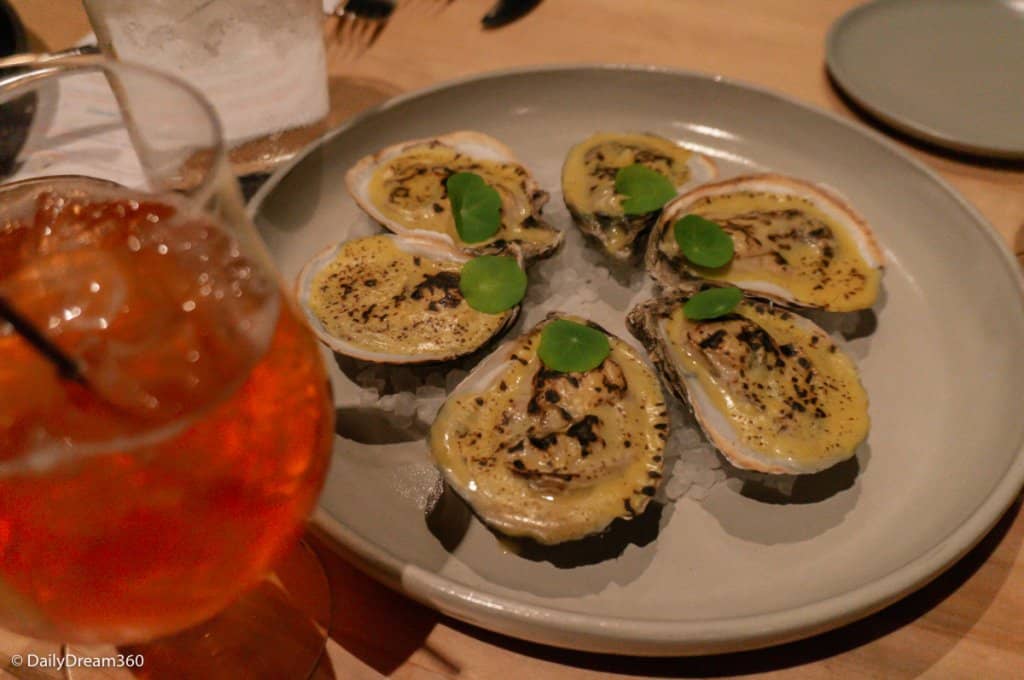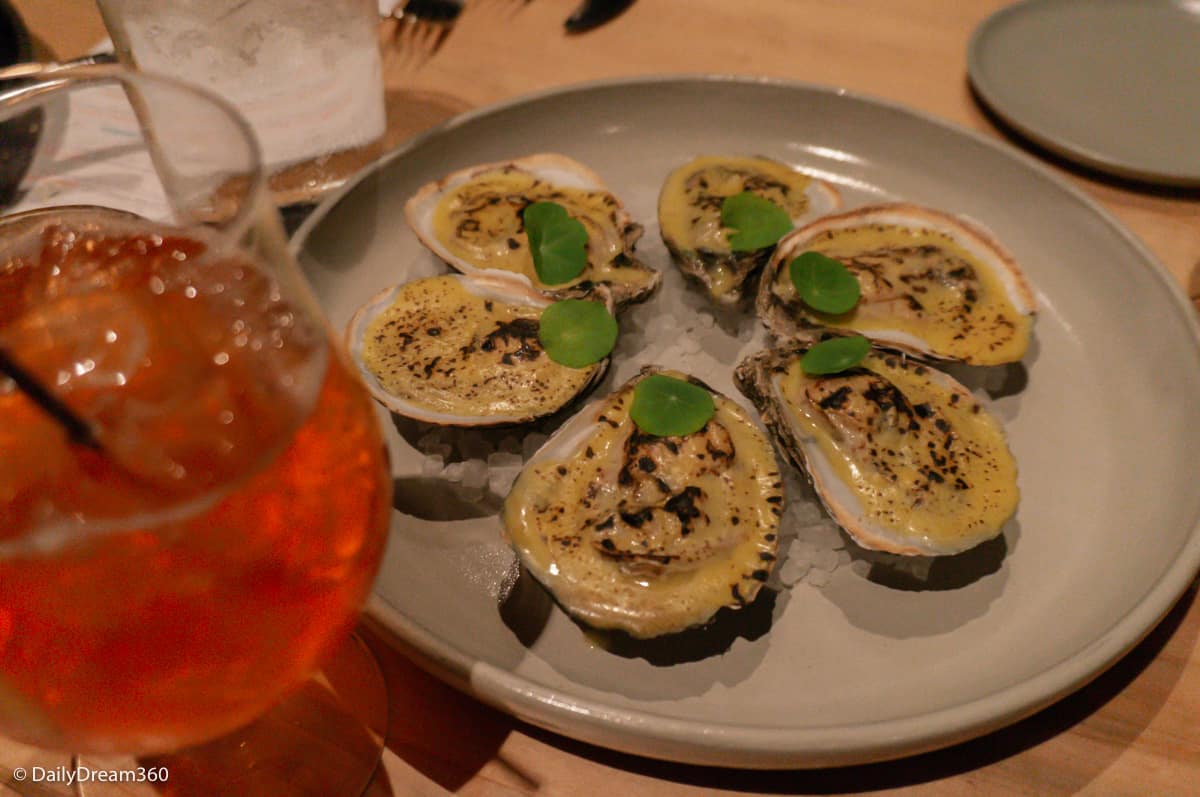 Dinner at Vestige, Ocean Springs
The menu is forever changing at Vestige, where Chef Alex tries to source local ingredients while merging American Cuisine with Japanese techniques and flavours. The result is a casual fine-dining atmosphere with plates of the James Beard Foundation semi-finalist chef's inspiration for the season. It is the perfect spot to gather with girlfriends at the big table or find a romantic corner for two.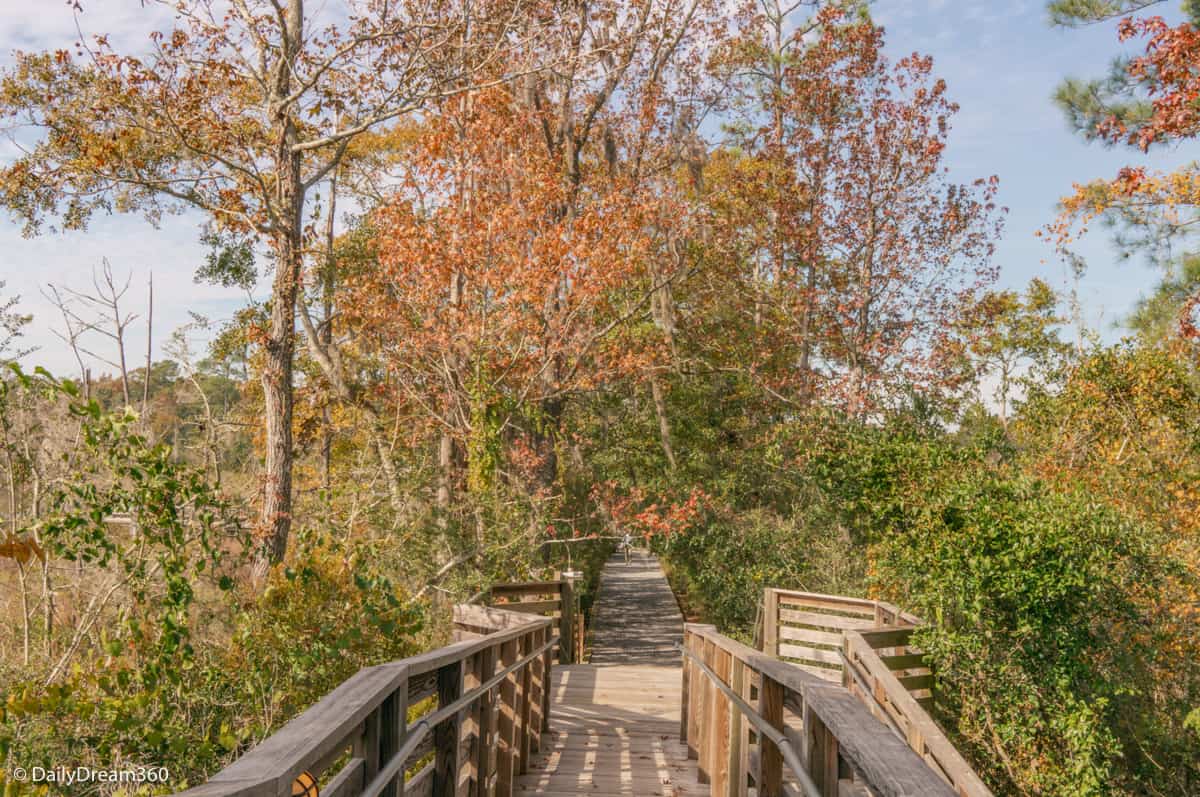 Coastal Mississippi For Nature Explorers
Pascagoula River Audubon Center, Moss Point
If you are in the mood for a little nature hike or bird watching, you'll want to drive out to Moss Point, MS and visit the Pascagoula River Audubon Center. There you can walk the many nature trails, take a kayak ride in the Pascagoula River while admiring the animals and birds which inhabit it.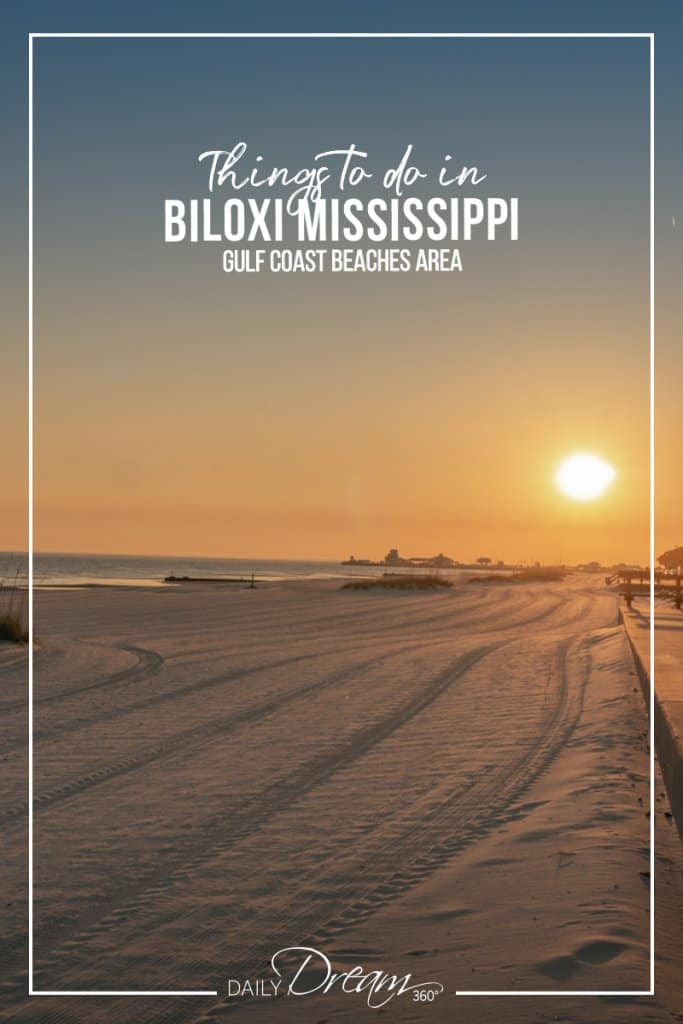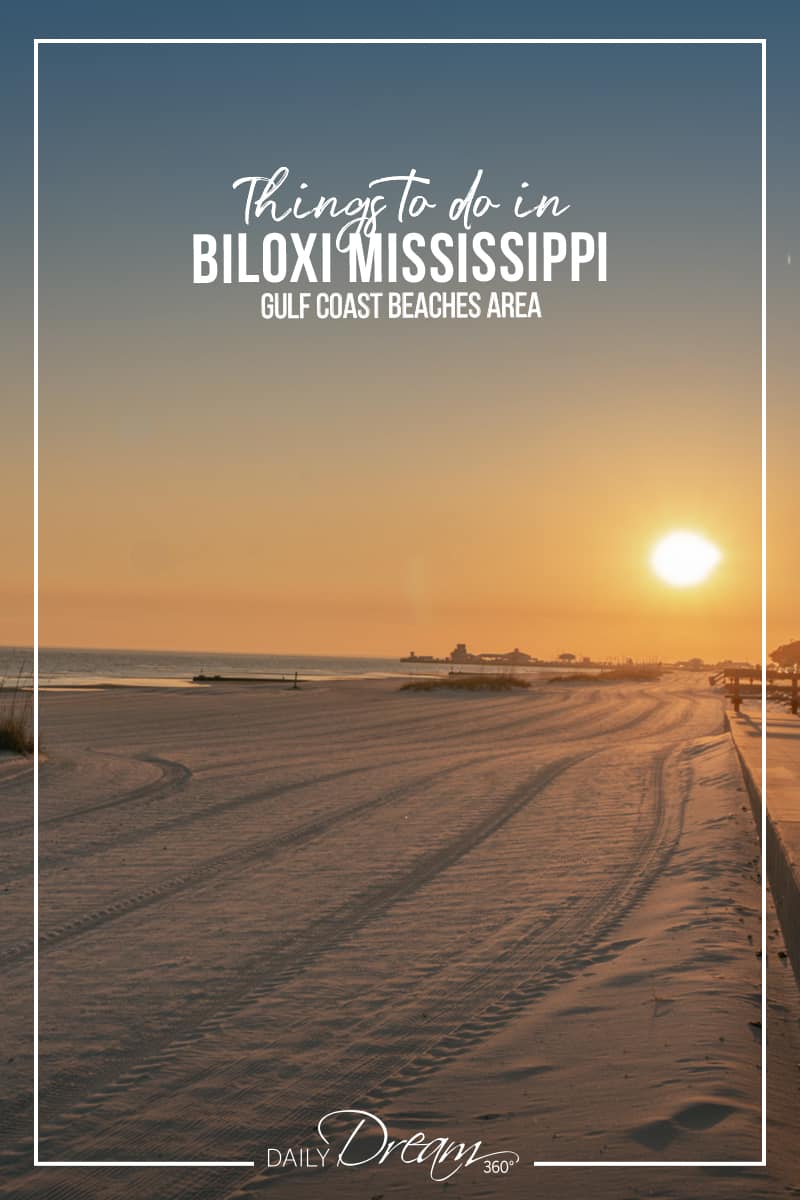 Read full article here.