Chilling out in charming Mississippi beach towns is just as fun in winter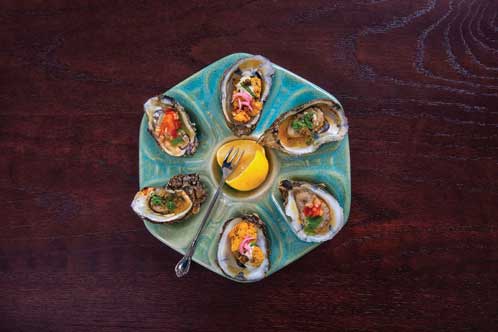 ​A chill in the air doesn't hamper the fun along the Mississippi Gulf Coast. Even when temperatures drop too low for walks on the world's longest man-made beach, there are indoor activities, including great dining and casinos.
Coastal Carnival is in full gear after Twelfth Night on Jan. 5, followed by more than 20 parades rolling throughout the coastal cities. In Ocean Springs, view floats and walking groups at the annual Ocean Springs Carnival Association's Night Parade the Friday before Mardi Gras. Biloxi also plays host to several parades and the Coastal Mardi Gras Museum downtown features elaborate costumes dating back decades.
To get a complete Carnival schedule and list of accommodations, attractions and upcoming events along Mississippi's "Secret Coast," visit gulfcoast.org.
Eat
There are so many restaurants lining the Mississippi Coast but two hotspots can boast numerous accolades. Mississippi Magazine gave White Pillars of Biloxi several nods, including Best Restaurant, Best Happy Hour, Best Wedding Venue and Best Chef on the Mississippi Gulf Coast to Chef Austin Sumrall. Chef Alex Perry got his own honors — he was a semifinalist in The Best Chef: South category by the James Beard Foundation for his contemporary American menu at Vestige in Ocean Springs.
For an elegant dinner with history, Mary Mahoney's Old French House in the heart of Biloxi still serves fresh seafood dishes both inside the historic house or outside on the patio shaded by an ancient oak tree. The restaurant has been in the Mahoney family for three generations.
Drink
Fly Llama Brewing pours craft beer inside an innocuous space behind the MGM Park stadium in downtown Biloxi. The beer flights range from traditional ales to seasonal specialties (we had pumpkin cheesecake in October). On a warm sunny day, visitors may sit outside and sip brews, plus enjoy dishes from visiting food trucks.
Over in Kiln, Lazy Magnolia has been brewing its craft beer under the magnolias since 2005. Try the popular "Southern Pecan" brown ale on "The Porch," the company's taproom and kitchen, or seasonal and limited editions brews.
Stay
We love the many boutique hotels, from the four modern "floating" cabins of the Beatnik in Ocean Springs to the new Pearl Hotel or Bay Town Inn in Bay St. Louis. In between you'll find two fun accommodations in Pass Christian — Hotel Whiskey and Hotel Pass Christian — and the renovated White House Hotel in Gulfport.
One of our new favorites is The Hemingway boutique hotel in Ocean Springs. Each room comes adorned with hip furniture and artwork and some Puff & Floss cotton candy.
A cheeseburger in paradise might be in order at the Margaritaville Casino and Resort in Biloxi, where owners are busy putting finishing touches on the Paradise Pier. It's just one of several casino resorts along the coast, many of which offer live music and dining options.
Play
The Mississippi Aquarium not only displays animals in healthy habitats for visitors to enjoy but also supports animal research and conservation. Over at the IMMS Ocean Adventures Marine Park, about halfway between the Gulf and Interstate 10 in Gulfport, there are dolphin shows, snake and alligator talks, bird shows and more. IMMS rescues marine animals for rehabilitation. Be sure to visit the "Tweeter Post," where parakeets rest on your arms as you feed them.