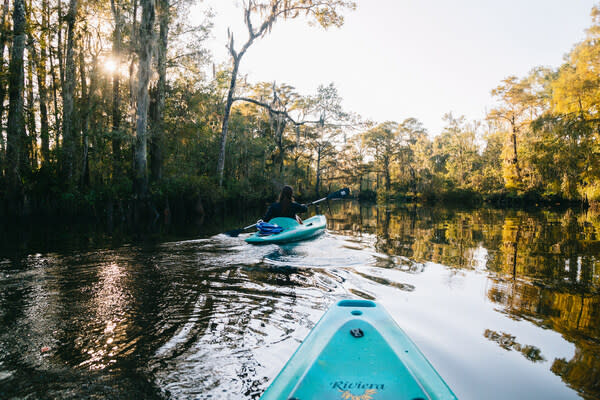 Image courtesy of Eddie Robinson
Coastal Mississippi Spotlights Sustainable Travel Experiences for Earth Month
The Gulf Coast region of Mississippi invites travelers to enjoy and preserve its natural beauty with dozens of outdoor adventures, educational offerings and environmentally conscious programs.
Coastal Mississippi, April 11, 2023— As travelers plan their Earth Month activities, the Mississippi Gulf Coast is excited to offer guests a variety of opportunities to volunteer, explore and protect its natural resources while they visit. With 62 miles of scenic coastline, several nature reserves – like the Mississippi Sandhill Crane National Wildlife Refuge and the Gulf Island National Seashore – cypress swamps, bayous and salt marshes to explore, sustainable travel is important to preserve these diverse ecosystems, throughout April, and all year long.
"Attractions, businesses and tourism partners along the Mississippi Gulf Coast are committed to sustainability and the preservation of our abundant natural resources. Many have taken major strides with new sustainable programs including oyster shell recycling, dozens of farm-to-table restaurants to choose from, and endless ways to immerse yourself in nature," said Pattye Meagher, Director of Communications and Engagement at Coastal Mississippi CVB. "We at Coastal Mississippi hope that visitors not only have a fantastic experience in our destination, but that they also learn a little bit about our unique environments and wildlife, and feel inspired to help us keep them healthy, so we've curated a list of sustainable experiences they can enjoy during Earth Month, but also year-round."
Sustainable Programs, Events & Volunteer Opportunities
Education, Outdoors & Eco-tours
The Pascagoula River Audubon Center offers more than 70,000 protected acres of unique ecosystem along the Pascagoula River, the largest free-flowing river in the contiguous United States. On Earth Day weekend (April 21-22), the center will host a Native Plant Sale that is free and open to the public from 9 a.m. - 3 p.m. The mini festival will include kids' activities and a wide variety of native perennials, shrubs and small trees for purchase. Other opportunities for visitors to learn and explore include kayak rentals, nature-based programming for all ages and countless volunteer opportunities like citizen science projects, litter pick up, critter care and more.
The Institute for Marine and Mammal Studies (IMMS) has aided in the rescue, rehabilitation, release and research of stranded marine animals along the Gulf Coast for nearly 40 years. In addition to daily general admission, IMMS is also currently rehabbing baby sea turtles from Massachusetts. Visitors can stop by to see the progress of these small creatures before they're released back into the sea. Other opportunities include swimming with dolphins, snorkeling with stingrays and a wide variety of educational camps, classes and experiences to learn more about the important rescue and rehab process.
The can't-miss Eco-Tours of South Mississippi gives guests an up-close look at the flora and fauna of the cypress swamps, bayous and salt marshes of the 80-mile-long Pascagoula River waterway–including over 300 different species of plants and an abundance of unique migratory birds–like pelicans, ospreys, herons, egrets and even bald eagles. The 2-hour interpretive tours are led by knowledgeable guides and offer a variety of watercrafts from single and tandem kayaks, to a fleet of motorized boats all powered by modern clean burning outboards.
The Gulf Coast Gator Ranch in Moss Point brings visitors face to face with alligators big and small. Recognized as the oldest gator farm in the state of Mississippi, the sanctuary offers 105 acres of swamplands and wildlife to explore. Visitors can stroll along protected walkways or climb aboard a high-speed airboat tour through the preserved wilderness to catch a glimpse of alligators, turtles, birds and other wildlife.
Farm-to-table & Gulf-to-table Dining
To learn more about these activities and more happening in Coastal Mississippi, visit our website at www.coastalmississippi.com.
Coastal Mississippi is an organization charged with promoting South Mississippi as a tourism and convention destination worldwide. Its mission centers on attracting ever-increasing numbers of leisure, convention, sports, and business visitors to the area. It is dedicated to maximizing the travel and tourism industry for South Mississippi. Visit CoastalMississippi.com to learn more.
###