FOR IMMEDIATE RELEASE
Anna Roy
Public/Media Relations Manager
228-388-2993
anna@coastalmississippi.com
Coastal Mississippi announces Patrick Clay as Digital Content Manager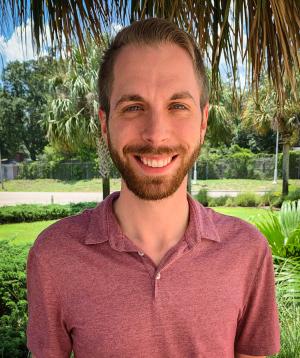 COASTAL MISSISSIPPI (August 6, 2019) – Coastal Mississippi has announced its latest addition to the Coastal Mississippi Communications and Engagement Department: Patrick Clay, Digital Content Manager.
The Coastal Mississippi Communications and Engagement Department is charged with the following: showcasing the vivid, varied character of coastal life through the development of unique and compelling content that inspires action; effectively communicating the incredible economic impact of the region's tourism industry; and engaging with community partners, media members and industry stakeholders to foster stronger relationships.
An award-winning communications professional with years of experience in television, Clay brings his videography, photography, writing and editing skills to the destination marketing organization, where he will be managing and optimizing multiple platforms to maximize the digital promotion of the region.
"Patrick's experience and dedication to promoting Coastal Mississippi as a premier destination are already proving him to be a great addition to the Coastal Mississippi team," said Milton Segarra, CEO of Coastal Mississippi. "The ultimate goal for the Digital Content Manager is to inspire and engage with existing and potential visitors, and we are very much looking forward to sharing fresh and innovative content that truly showcases the phenomenal and diverse offerings on The Secret Coast."
On the opportunity, Clay said, "My experience working in television has not only not only fostered my love for The Secret Coast, but it has also allowed me to highlight some of the greatest stories our area has to offer. By maximizing Coastal Mississippi content through social media channels, I look forward to taking that dynamic a step further, utilizing my existing relationship with our local communities along with my digital media experience to drive brand awareness and engagement for everything Coastal Mississippi has to offer."
"Patrick is a true professional, and his enthusiasm for content creation and development is contagious. Our destination will be stronger because of his wealth of knowledge and his willingness to learn more about how we can more effectively engage our audiences. We are excited to welcome him to the team!" said Coastal Mississippi Director of Communications and Engagement, Erin Rosetti. 
Follow Coastal Mississippi on Facebook (@seecoastalms), Twitter (@seecoastalms), and Instagram (@coastalms) to join in the #SecretCoast conversation!
###
Coastal Mississippi is an organization charged with promoting South Mississippi as a tourism and convention destination worldwide. Its mission centers on attracting ever-increasing numbers of leisure, convention, sports and business visitors to the area. It is dedicated to maximizing the travel and tourism industry for South Mississippi.
Visit CoastalMississippi.com to learn more.