Bay St. Louis
Our coastal Mississippi excursion started in Bay St. Louis. We met up with our delightful hostess for lunch there and she gave us a taste of what we were going to be doing for the days we were visiting. We had a packed itinerary with some much needed down time along the way too. The heat and humidity in Mississippi packs a punch in the summer months and we definitely had to pace ourselves. We have heat and humidity in Georgia, but it's kicked up a notch down there on the coast. We saw plenty along the way, but also had some built in rest stops.
Bay St. Louis is a charming little coastal town (named in 1699 for Louis IX of France), 58 miles northeast of New Orleans, Louisiana. In 1814, during the War of 1812, the bay was the scene of the naval engagement against the British known as the Battle of Pass Christian. In the late 20th century, casino gambling created growth in the area increasing tourism for the local economy. Bay St. Louis sustained severe storm damage from Hurricane Katrina, but walking around and seeing it for the first time, I wouldn't have known this fact, except for a few telltale signs.
Lunch at the Mockingbird Cafe wa a great way to start our day. We had time to see a bit of this cute town before we traveled across the bridge and on to Pass Christian.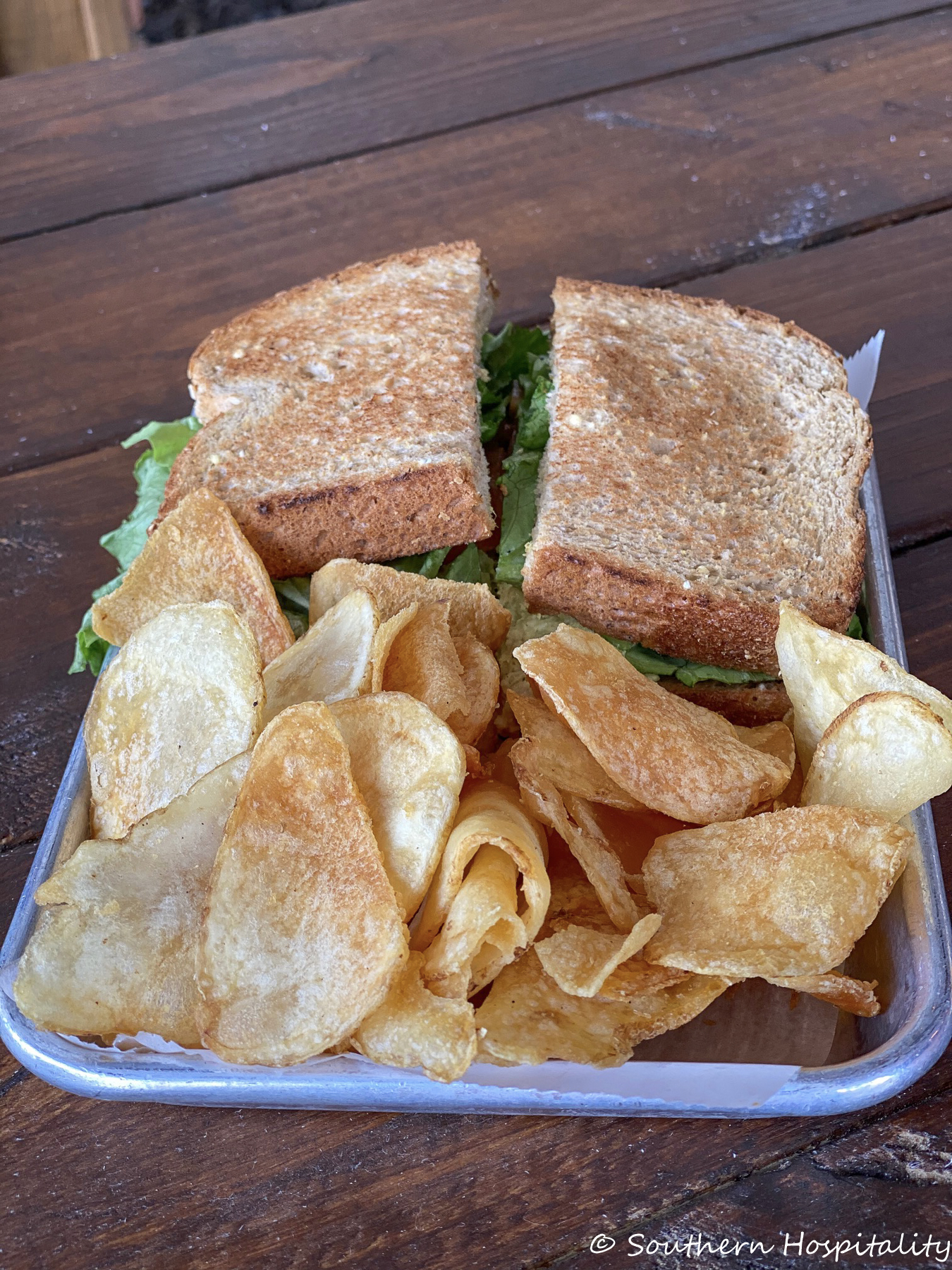 Delicious sandwiches at Mockingbird Cafe fueled our energy for the afternoon.
One thing we definitely wanted to see in Bay St. Louis after hearing about these unique trees turned art, which were created after Katrina damaged them, the angel trees were so interesting to see. Heavenly carved wooden angels that were once beautiful live oaks are now works of art, created by chainsaw artist, Dayle K. Lewis from Indiana.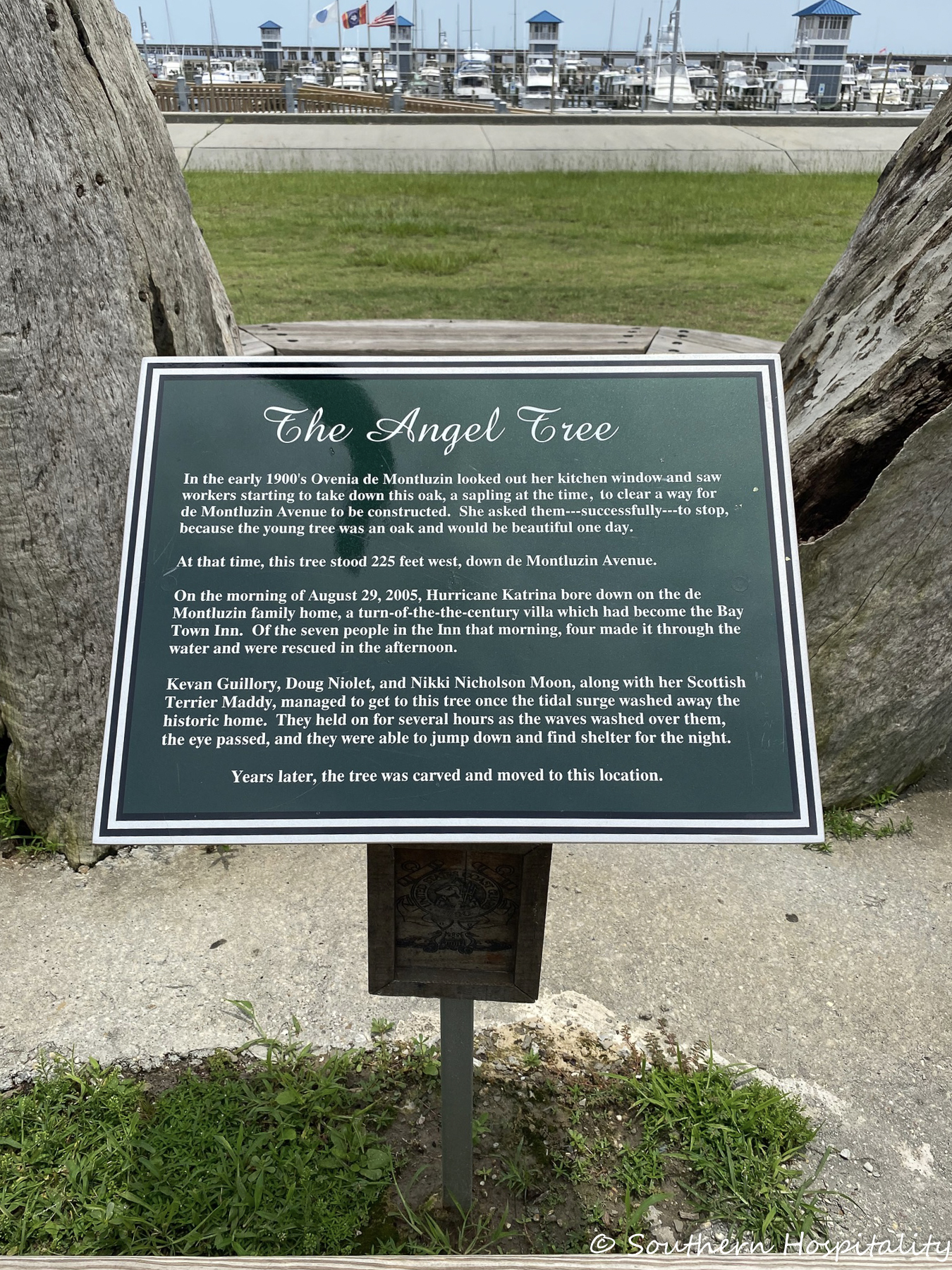 There are 6 angel trees in Bay St. Louis, with this one being the most famous, since it helped to save a family's lives during the hurricane.
After their family historic home turned Bay Town Inn was swept away during the hurricane, they clung to this tree until they were able to get down and go to shelter. It was later moved to this location and carved to remember the day in a beautiful way.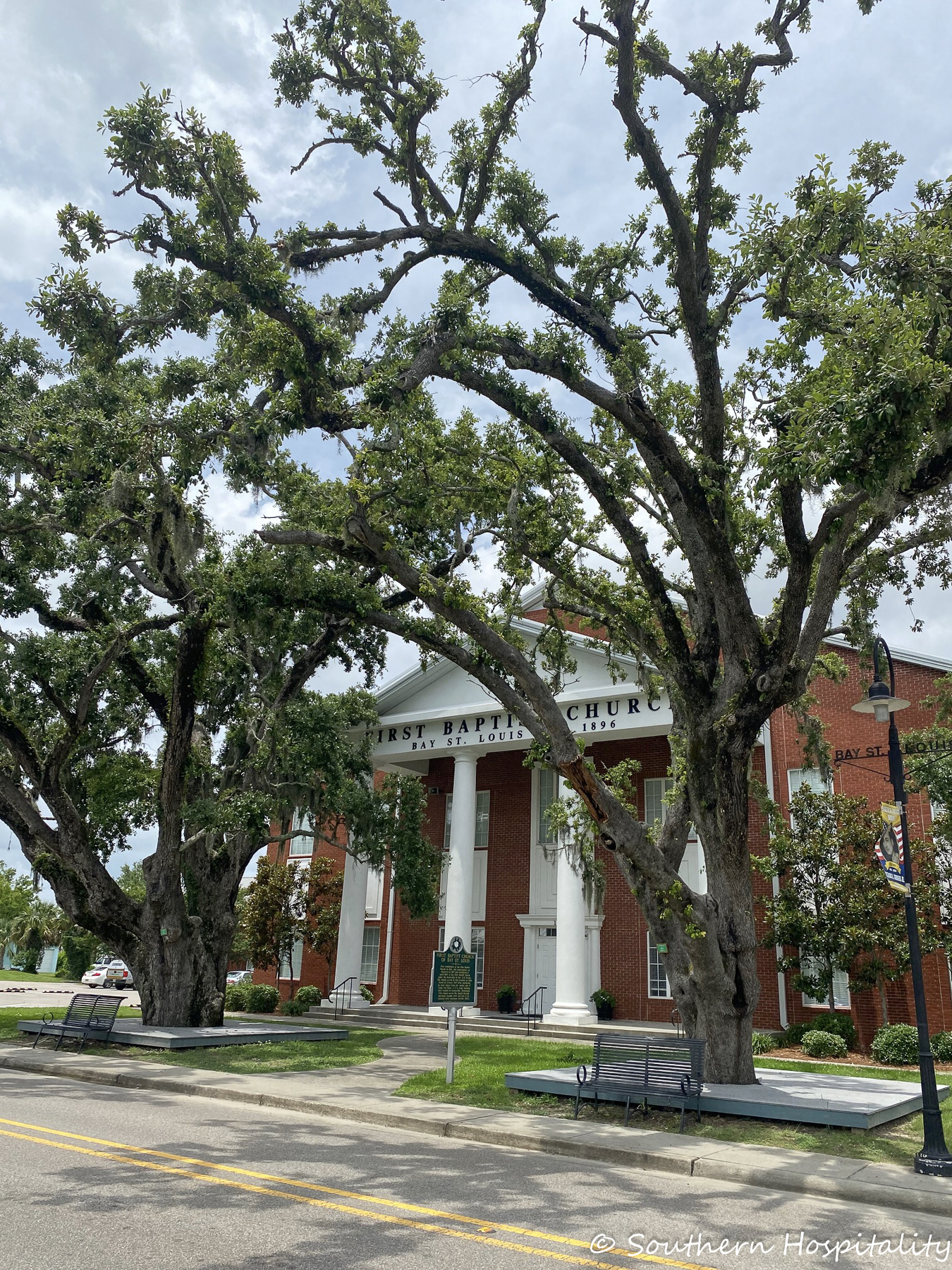 The town is charming with so many live oak trees. That one of the best parts of the coast, live oaks dripping with moss in many areas.
One of the best parts of the drive along Hwy. 90 is seeing all the beautiful homes along the way. You all know I love beautiful homes and there are some of the best in this area. Absolutely gorgeous!
The houses that front the coast are so stunning. I'm sure many of these were destroyed after the hurricane, but you can't tell it now.
Pass Christian or as the locals say "The Pass"
I learned after posting videos on Instagram how the locals pronounce Pass Christian. It's not the normal pronunciation I found out, but Pass Chris-chee′-ann, or The Pass.
We stayed at the Hotel Pass Christian, a 10 room boutique hotel which was right next to this beauty that happens to be for sale.
Inside our suite at the Hotel Pass Christian, it was a very comfy first night visit in this small coastal town. Situated right across from the Pass Christian Harbor it has a beautiful view. The weather was a little rainy that night, but we enjoyed our meal out.
We had dinner just across the street by the bay at Shaggy's Pass Harbor. with an island style atmosphere that makes you instantly feel like you're on vacation. We had a beautiful view of the water and took Daisy with us. Speaking of Daisy, coastal Mississippi is very dog friendly and she was able to go everywhere with us. We took her on every excursion and all the meals too. She was a big hit everywhere we went.
Mark got peel and eat shrimp which looked delicious.
I got fish tacos and they were delicious!
Right next door to the Hotel Pass Christian, Fillup with Billips is a great place for breakfast. Casual with inside or outside dining, it was the perfect spot for a breakfast bite.
We had to pace ourselves on the food and not eat too much! We aren't used to eating 3 full meals a day. The waffles and hash browns were perfect to split.
Miss Daisy had a perfect perch on the red bench.
Again, the houses in the area were just beautiful. Such charm and character with white picket fences on many.
Positively patriotic!
The drive along the coast on Hwy. 90 has many of these huge mansions. I don't know their age, but they sure are beautiful. This one was my absolute fave with the green shutters and white exterior, framed perfectly by the trees.
I couldn't get enough of the houses, definitely my thing to see when we travel.
Gulfport, MS
After our beautiful scenic drive, we arrived in Gulfport just in time for lunch. We looked around the town for a bit and headed to our lunch spot, Patio 44, serving classic and new Creole style dishes.
The patio called our names and we sat out there under the fans with Daisy.
Again, we had to pace ourselves on the food, so I opted for a Caesar salad and gumbo. It was delicious!  Highly recommend. We continued on our journey along the coast to our next destination, Biloxi.
Biloxi, MS
Biloxi harbor, we drove through here and took a peek at the harbor and lighthouse.
The beach along Biloxi was so pretty and I can imagine that this is where many people go to the beach. We didn't have a lot of time to enjoy the beach, but it was pretty to look at. We took a walk along the boardwalk in Biloxi and enjoyed the views.
Gorgeous beaches and not crowded at all.
Biloxi is a good sized city and best known for the casinos which dot the coast. That's not really our thing, but I hear a lot of people love them. I do remember many of them being destroyed during Katrina, but everything is built back now.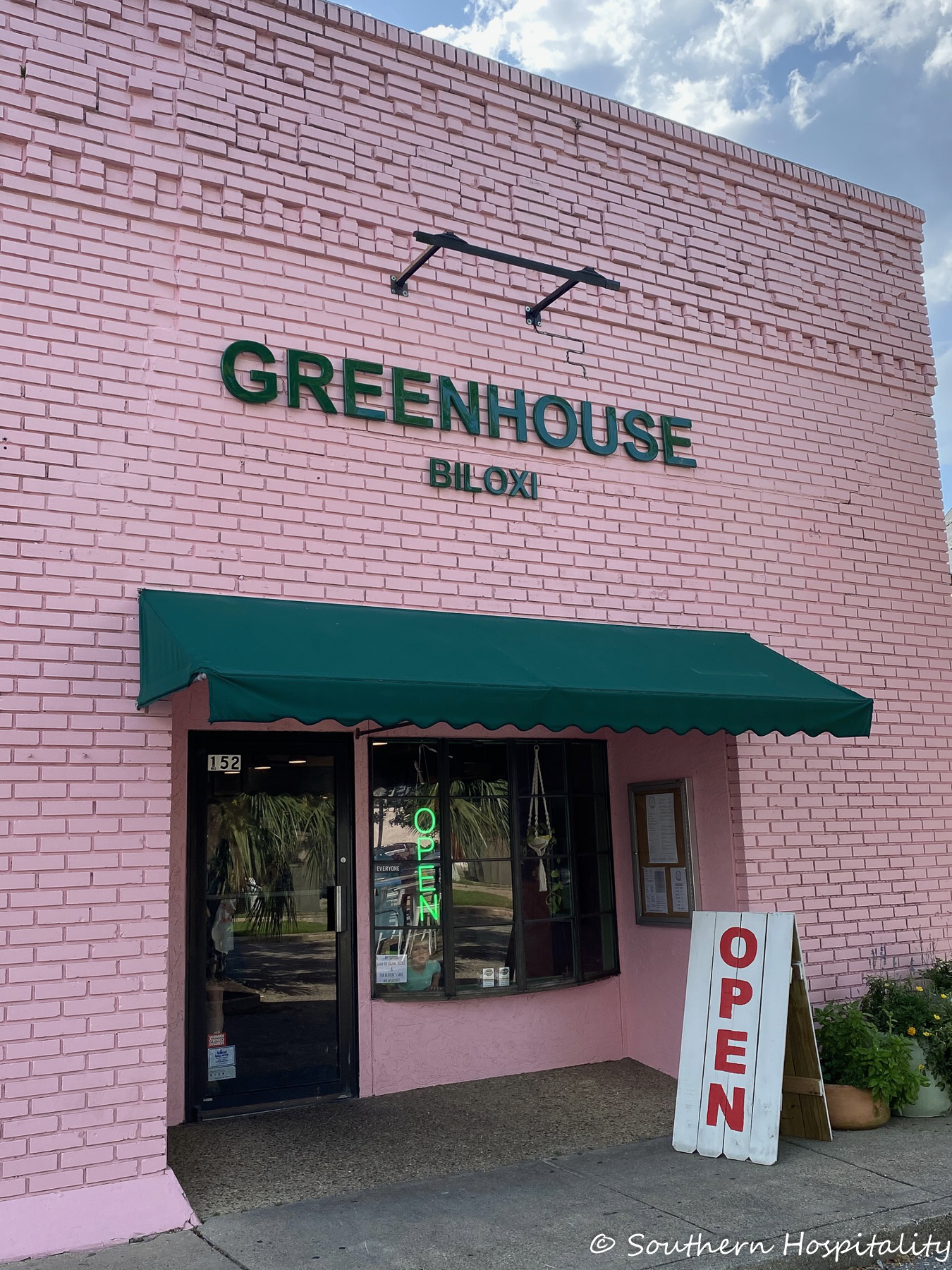 Another breakfast stop in Biloxi is Greenhouse, which was so good too.
Mark looks like he's saying what? here, but we both enjoyed our breakfast fare and ate outside under the trees.
Mark got a biscuit sandwich and I tried the cheese biscuit which was amazing with my cup of joe.
If you're in Biloxi, don't miss a meal at White Pillars. This place was amazing as well. Opened in 2017 by Chef Austin Sumrall and his wife Tresse, in 2018 it was awarded Best Restaurant, Best Happy Hour, Best Wedding Venue, and Best Chef on the Mississippi Gulf Coast. I can definitely see why!
It's a throw back to a classic and elegant time and has a beautiful design. I can certainly see a wedding in here and on the patio.
The meal we had was outstanding with an appetizer of heirloom tomato salad with blueberries and melon, shrimp corndogs, fried okra, and main course of Gulf Shrimp roll for Mark and Shrimp Pad Thai for me. Oh my gosh, were we in cuisine heaven. We had to try the strawberry shortcake for dessert. There's that pacing ourselves again!
A delightful excursion in Biloxi was the Biloxi Shrimping Trip, a shrimping boat trip that's also dog friendly, with TJ the black lab delivery dog who takes beer upstairs to the passengers. He and Daisy got friendly too. It was an entertaining and informative 70 minutes in the calm waters out from harbor shore and they bring up live sea creatures to look at and learn more about. Everything you wanted to know about the shrimping industry in Mississippi, you'll find out on this cruise. We enjoyed it a lot and the crew guys were funny.
Let's talk about hair for a minute. My hair had some bad days in Mississippi. Getting caught in the rain and the humidity did a number on it, so I ended up going curly but didn't have my normal curly hair products with me, so there you have it. It didn't matter after a couple of days.
Ocean Spring, MS
Allow me to gush a bit as we head to our next destination, Ocean Springs, Mississippi. I had many people telling me along the way to not miss Ocean Springs, just over the bridge from Biloxi. Since we were staying there 2 nights, I knew we would be seeing a lot of it, but the charm and quaintness of Ocean Springs was a delightful surprise. We fell in love with Ocean Springs and I would definitely head back there in a minute.
The Roost: Ocean Springs MS Boutique Hotel
The Roost Boutique Hotel was another sweet surprise and what a treat that was! It's on a picturesque street in the heart of Ocean Springs, with the beach about 2 blocks one direction and downtown Ocean Springs a short walk the other directions. The Roost is in a beautifully restored historic building and the attention to detail with reclaimed wood in every room, plus designer style, it was named Best Hotel in Mississippi by House Beautiful and The Most Beautiful Hotel in Mississippi by Architectural Digest.
Rooms upstairs share a big open patio and this door leads to The Wilbur Bar and there's a restaurant on site as well.
They were adding on another building and a pool while we were there, so construction was going on, but this is such a charming hotel that you will love if you visit. There's a speakeasy on the property, The Wilbur for drinks.  A short walk to town leads to so many shops and restaurant choices.
Ocean Springs is the quintessential Southern coastal town with so much to offer. I grabbed a coffee at Bright Eyed Brew company one morning.
Such a cute coffee shop with breakfast fare as well.
We had days of rain and sunshine so we dodged a few rain drops while there, but we didn't let it stop us from enjoying the town.
Another lunch spot, Maison De Lu is a wonderful stop for soups, sandwiches and heartier fare.
Beautiful setting with a patio outside.
A delicious sandwich for lunch for me and Daisy joined us again on the patio.
Someone told me to stop in Hillyer House, so a quick walk through gave me all the inspiration I needed. Check out that exotic jellyfish light fixture above, have you ever seen anything like that?
There were so many beautiful things inside, from these glass sculptures on the wall to hand made pottery and much more.
So many shops and restaurants in Ocean Springs, browsing was fun in the time we were there. I could definitely spend more time in Ocean Springs.
The Pink Rooster art gallery is where I found that pretty painting I added in the guestroom.
Artist is Curtis Jaunsen, who is from Atlanta but now lives in Ocean Springs. I loved this original oil painting and wanted to take a piece of Ocean Springs home with me.
Speaking of art, there is a famous art museum in Ocean Springs, the Walter Anderson Museum. We aren't huge museum or art gallery people, but I did walk in there and look around for a few minutes. He's very well known in the area as a folk artist, so check that out if you are in the area.
Someone on Instagram alerted me to the delicious donuts at TatoNut shop and so we got up one morning and stood in line for the delicacies.
They did NOT disappoint, we ate our fill with a cold glass of milk.
Don't miss dinner at Mosiac, with this open and stylish outdoor patio, complete with live music. We sat out there for dinner, again, with Daisy in tow and had a wonderful meal.
Shrimp quesadillas for me.
Fish tacos for Mark. It was all so yummy!
Our first night in Ocean Springs, we had the best treat you can imagine and thankfully the weather cooperated with the most beautiful sunset. Just a short walk to the beach from our hotel we had a delicious spread set up for us on the beach, complete with beach chairs, charcuterie board, water, and s'mores for dessert toasted over a firepit which was also brought in for us. Notice the string of lights as well to complete the ambience of watching the sunset.
Daisy went with us too and we enjoyed watching the sun slowly set over the beachside and the  sky was just gorgeous that night.
What a special treat this was set up in a new collaboration between Food, Booze, and Hiccups and Belly Up Beach chairs creates a wonderful opportunity for the ultimate beach experience with sunset views and delicious bites.
What a way to end the day!
I snapped this picture on the walk back to our hotel. This beach home was so picturesque up on the hill.
Another excursion we had while in the area was touring the historic Charnley-Norwood house. We had a private tour from the organization that runs the home. Designated a National Heritage Area, this summer home was built by architect Louis Sullivan who is known as Father of the Skyscraper. After summering in Ocean Springs, Sullivan decided to build this summer home there on the coast as well as a neighboring home for his Chicago lumber merchant friend, James Charnley. It's believed that he was assisted in the design and build of this home by his young draftsman, Frank Lloyd Wright. A fire destroyed the house in 1897, but was rebuilt quickly and named Bon Silene by the Norwoods after the French rose garden out front. The property sustained major damage from Hurricane Katrina, but was stabilized and eventually restored back to it's former 1900 glory, with the yellow pine walls intact. It's quite likely the first Modernist house ever.
It was a very interesting tour that we both enjoyed seeing. Historical homes are always fascinating to see.
The Gulf Islands National Seashore is in Ocean Springs as well and we were going to check it out, but it rained that morning. Looks like a great park to check out!
As you can see, we covered a lot of ground in 3 days on the Coast of Mississippi. I hope you enjoyed tagging along and also hope that our trip will spur you into exploring the Mississippi coast for yourself. There's nothing better than road tripping through an area and state you've never investigated before. You're sure to discover some hidden gems that will take your breath away.
We so enjoyed our visit and a big thank you to Coastal Mississippi for hosting us in such a comfortable manner, we loved all of our hotel stays and restaurant noshing. Such a fun part of our summer so far that we will remember forever in our travel memory bank. Thanks for stopping by and please let me know if you plan a trip to the Mississippi coast as well. I hope this post has been helpful and informative for you all!
Please Pin for later!