By: Deb Thompson
Small towns are kind of my jam. I love the slow pace, charm, and hidden gems that usually go undiscovered, for the most part, by those who prefer big city adventures.
Bay Saint Louis, located on the western edge of the Mississippi Gulf Coast, has charm and personality in spades! This is a community of survivors, entrepreneurs and those that love life on the Gulf.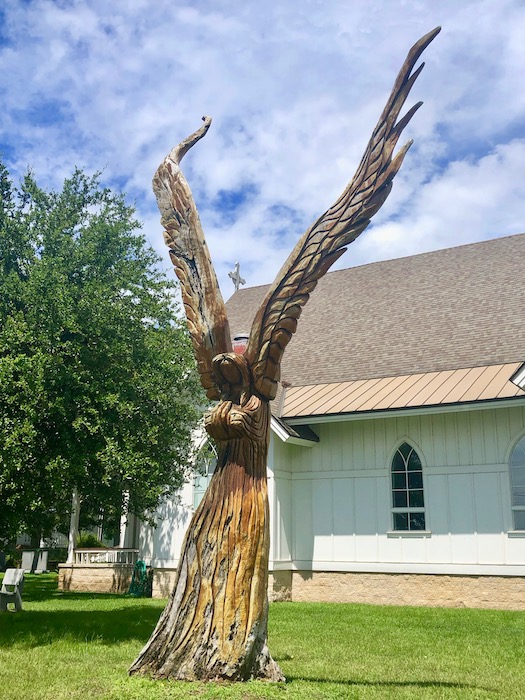 In 2005, Katrina demolished nearly everything I see as I drive along the coastal road today.
In fact, ground zero for Katrina is just a few miles down the road in Waveland.
New Orleans got all the Katrina press, but these small communities along the Mississippi Gulf Coast were leveled and many businesses took years to rebuild.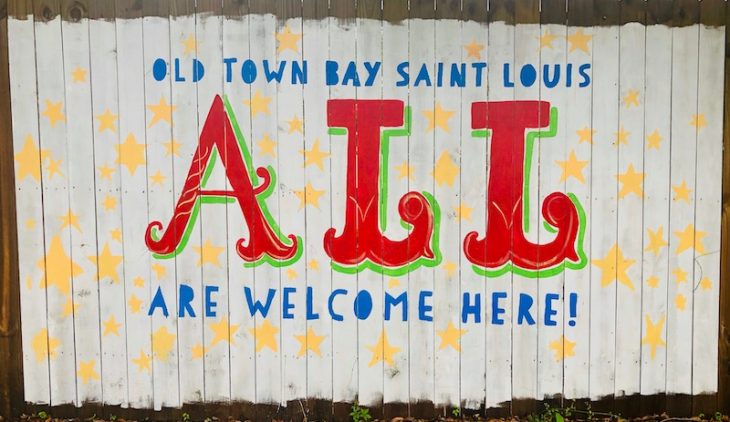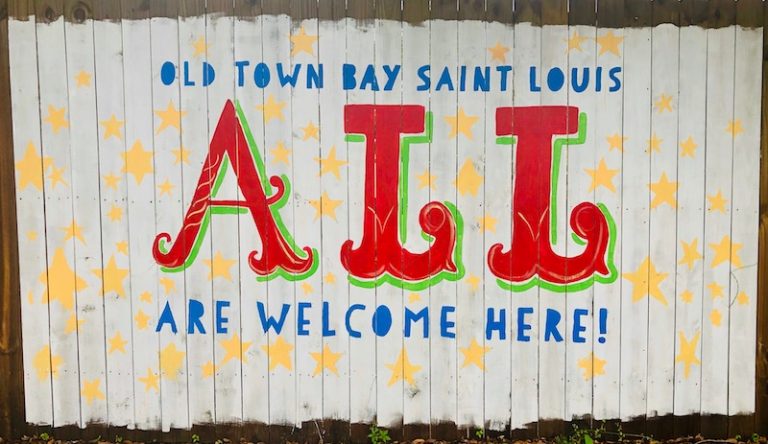 Thankfully, Katrina couldn't hold this town down and more than 14 years later, Bay Saint Louis is back to a vibrant community that welcomes ALL visitors with genuine kindness and openness.
I spent my brief visit chatting with locals, listening to stories of life on the coast, exploring the hidden gems and trying to figure out how to come back and do it all again.
The region is perfect for singles, couples, young families, multi-generational, girlfriend getaways, and snowbirds.
Honestly, regardless of what type of traveler you are, there is something for you here in Bay Saint Louis.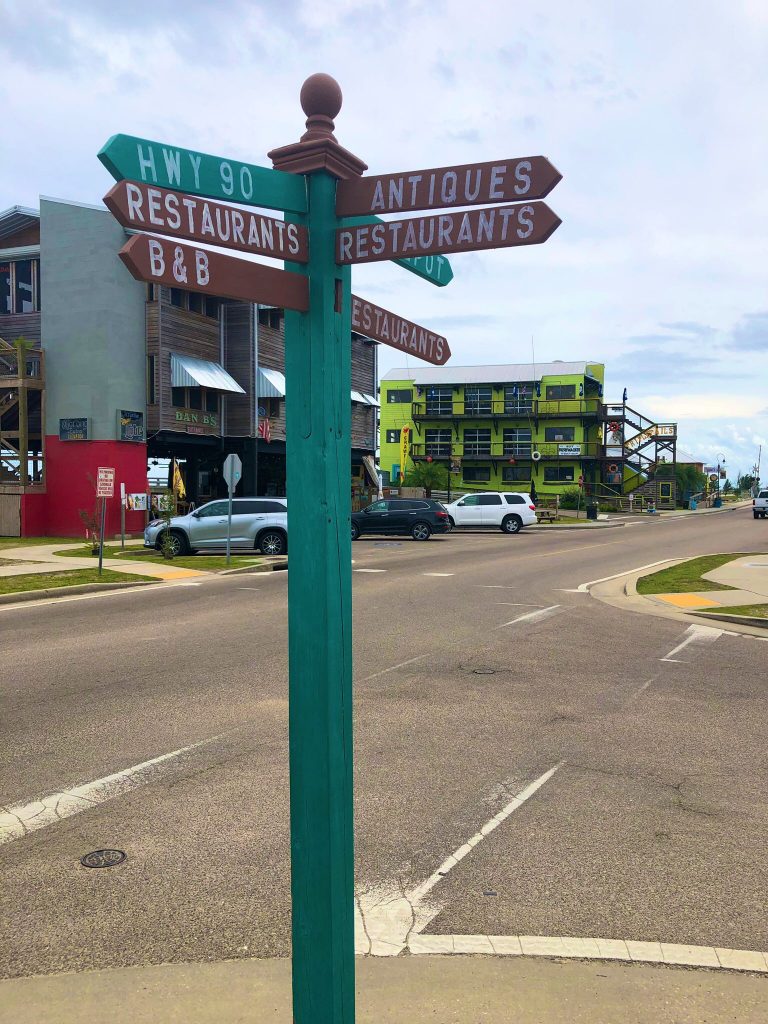 Plus, it's location couldn't be any more perfect.
Only an hour from NOLA there's absolutely no reason not to add a visit here on to your New Orleans adventure.
This is, after all, the destination where New Orleaneans come to get away from the city and you'll soon learn why.
I've compiled a list of 27 reasons why you need to visit Bay Saint Louis, MS.
Feel free to use this list to convince your kids, significant other, friends, etc on why this needs to be your next vacation destination.
Pet-Friendly
Pets are allowed on the beach (with a leash please), at restaurant patios, in the parks, and at some of the area lodging (I'm looking at you Bay Town Inn).
Bowls of water are readily available around town for Fido to find a refreshing drink.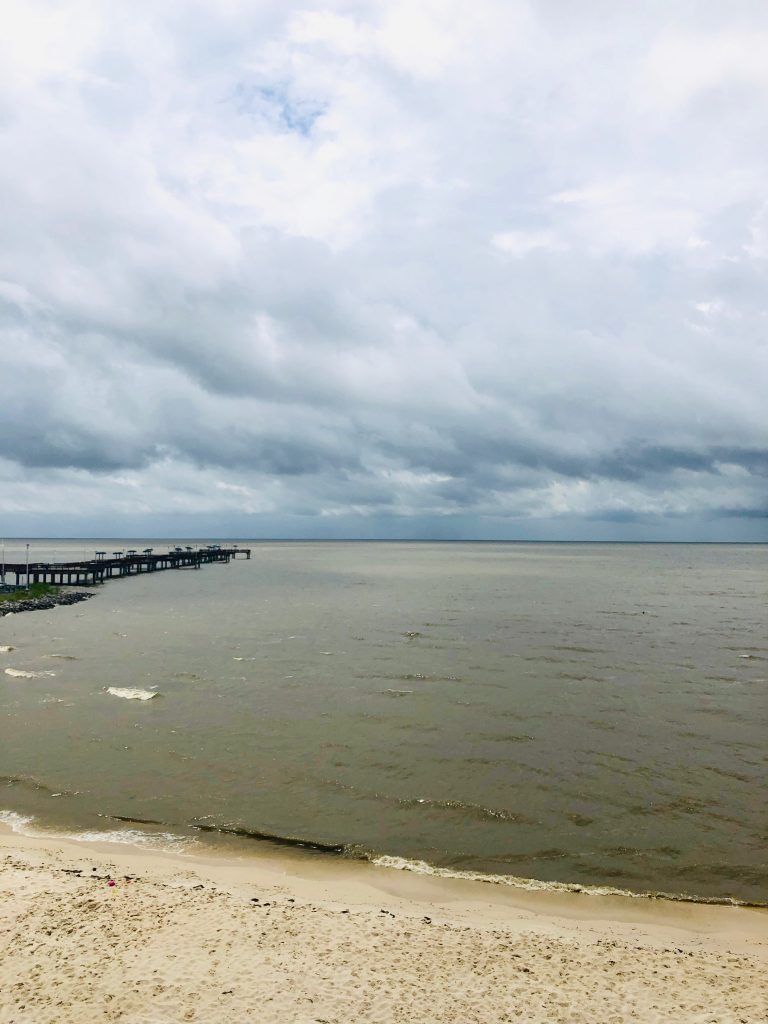 I loved seeing all the dogs around town and if you stop in at Marina Cottage Soap Co be sure to buy a "Can I pet your dog?" t-shirt. I know! Epic, right?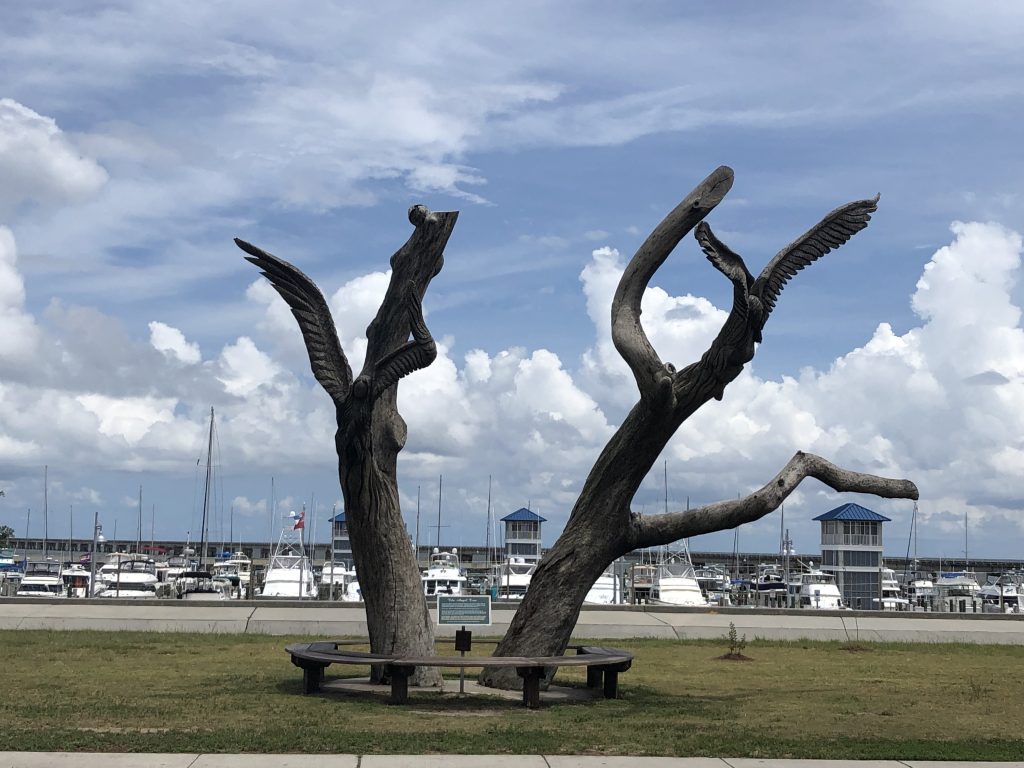 New 100+ slip harbor
This harbor gives boaters the opportunity to easily visit the town. Transient slips are available for free for up to four hours. Tie up the boat, walk across the street, have a delicious meal, go shopping, visit the beach and then head back out.
How perfect is that?
I love that there is no fee to dock for 4 hours.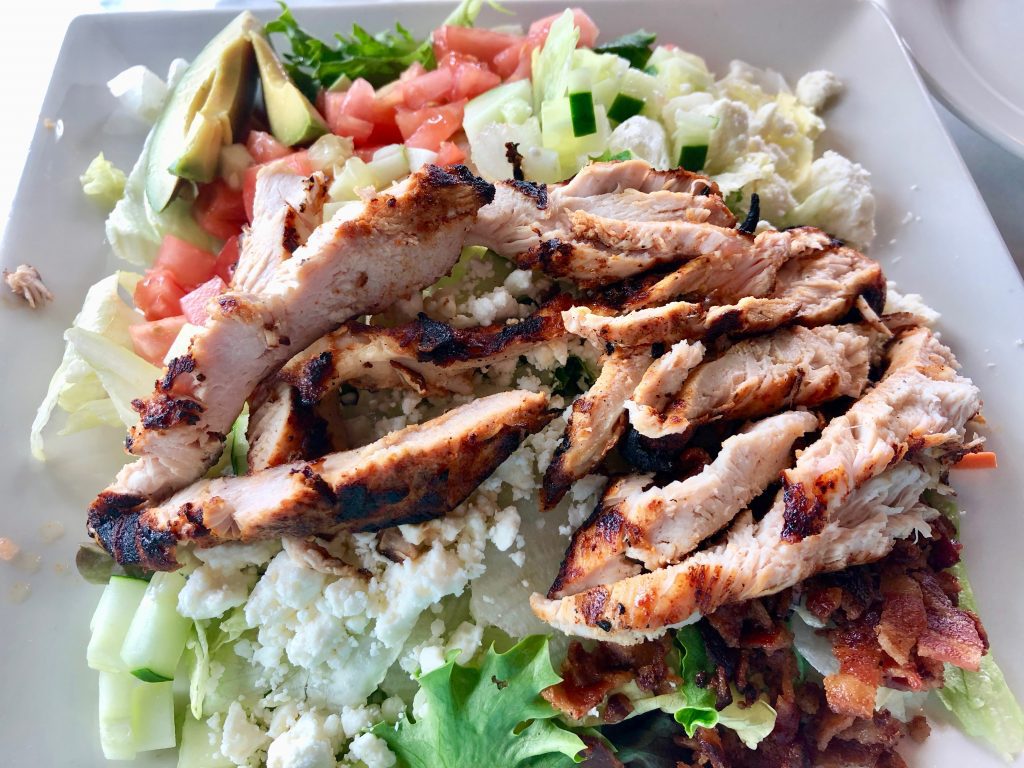 Food, food, food
15 unique and independently owned eateries and pubs dot the tiny community of Bay Saint Louis.
Be sure to include Mockingbird Cafe, Serious Bread Bakery, or Lulu's on Main in your visit.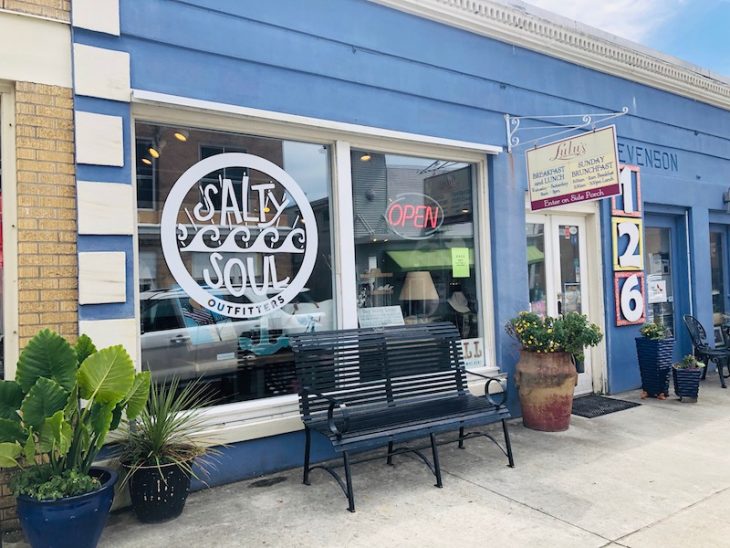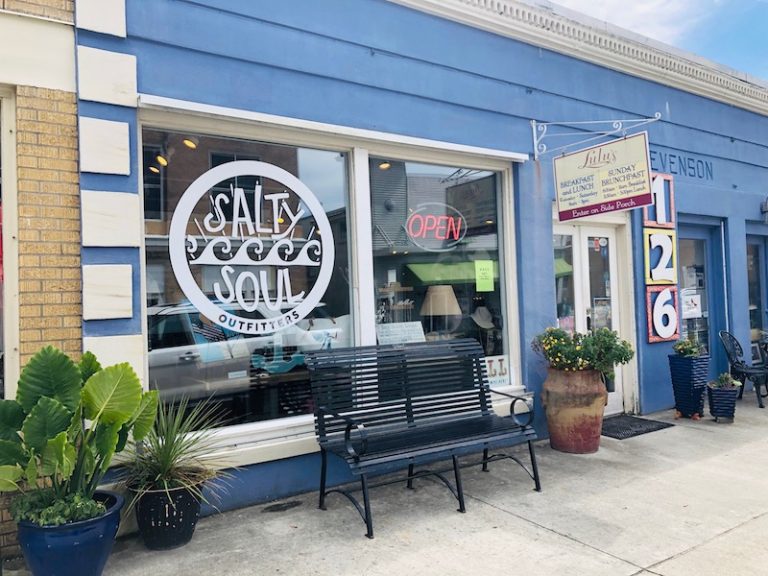 One-Of-A-Kind Boutiques
Home decor, women's fashions, books, pottery, antiques, art, shoes and more. These independently, mostly woman-owned, boutiques offer unique and fun items with lots of beach-themed options (adore).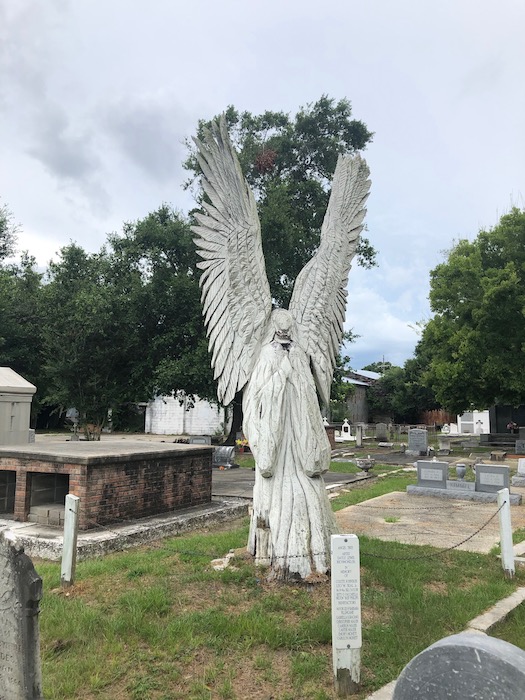 Angel Trees
Live Oak trees are so important to Bay Saint Louis residents. When Katrina destroyed a number of the trees the wood was turned into Angel Trees. Carved by an Indiana chainsaw artist, Dayle K Lewis, there are 6 "trees" located throughout town.
Stop in at the visitors center to see one and get the location of the other trees.
This Property is Condemned Movie Walking Tour
This 1966 drama starring Robert Redford and Natalie Wood was filmed in Bay Saint Louis. Today, you can visit 5 filming locations complete with storyboards that have a photo of the scene from the movie so you can see it then and now.
All the locations are within an easy walk of the train depot. Pick up a map at the visitors center where you'll find the first stop.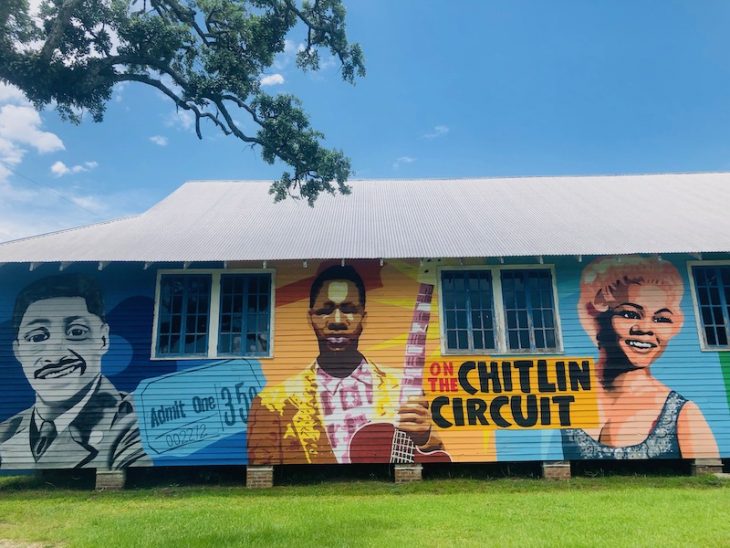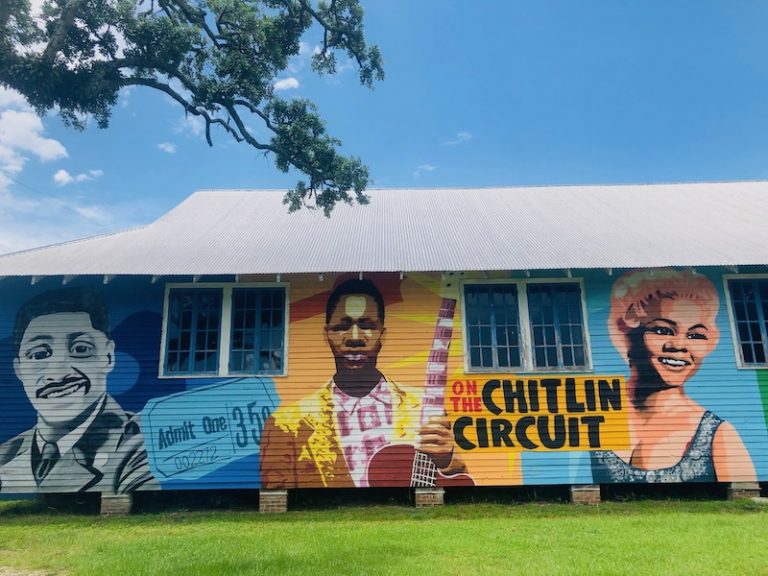 100 Men DBA Hall
A stop of the Mississippi Blues Trail the 100 Men DBA Hall is a historic music hall that welcomed the likes of Etta James and Ottis Redding.
Today, the owner is working hard to bring it back to its roots in addition to providing workshops for the community.
If possible, attend an event or at least stop and check out the epic murals on the side of the building. So much history is stored between these walls.

Mardi Gras Museum
Ahhh and ooohhhh over Mardi Gras gowns that have been worn by members of the Krewe of Nereids.
The museum is free to visit and is located in the historic train depot.
Open Monday-Friday 9am to 4pm, Saturday 9am to 5pm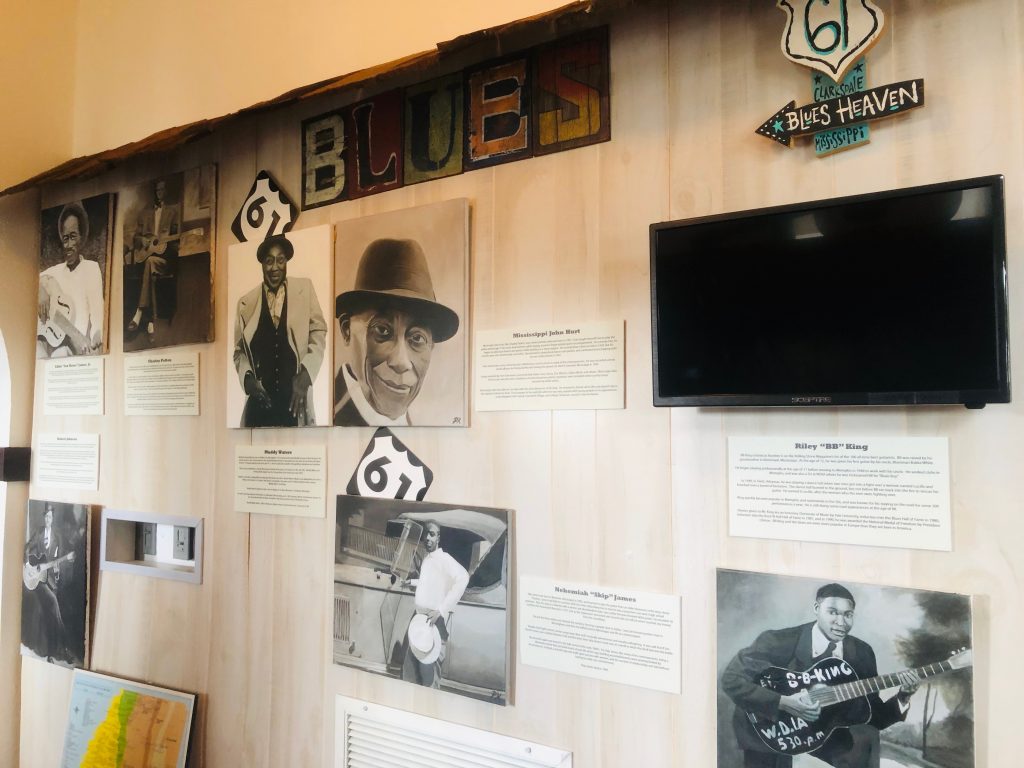 History of Hancock County Exhibit
Another reason to visit the historic train depot. The exhibit showcases travel, work, education, worship, entertainment, music, and hurricanes. Well worth the stop.
Golf Carts
Arrived by boat? Want to leave the car at the hotel? You can cruise around BSL in a golf cart. So much fun to scoot around town in these electric carts. Stop in at the BODEGA to rent your golf cart.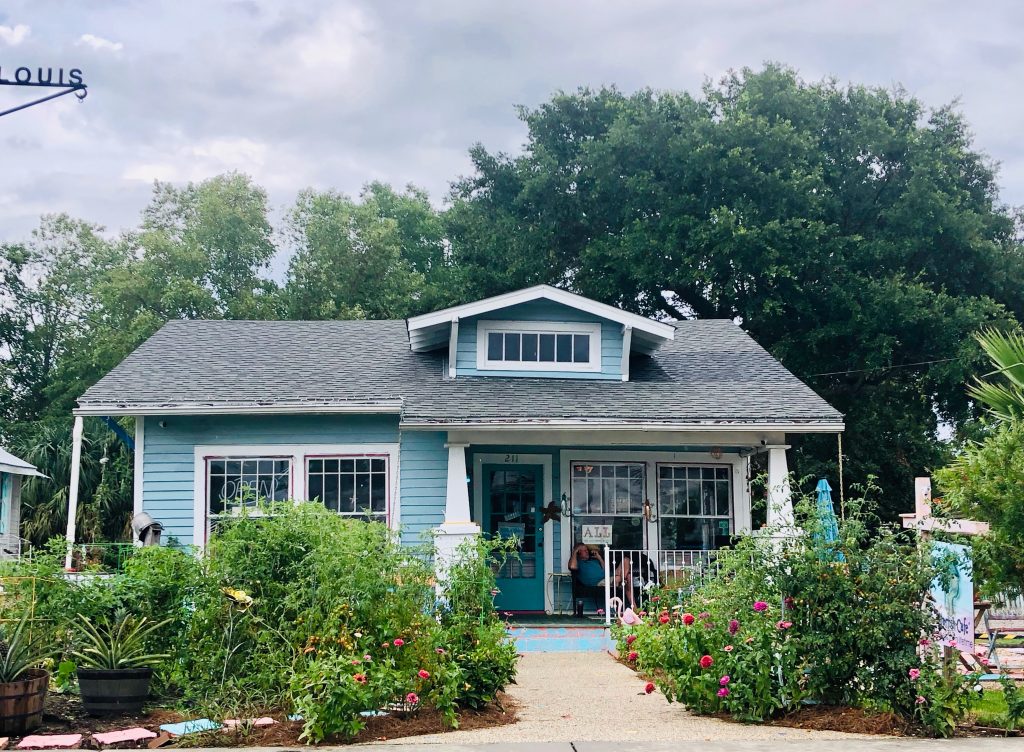 Starfish Cafe
If you want to experience something more than just satisfying your hunger, go to Starfish Café. The restaurant is famous not only for its tasty food but also because of how the restaurant values the community and how they are training up and coming culinary rock stars.
The restaurant ingredients like vegetables, herbs, and spices come from their own backyard and the rest are locally sourced. Their menu is ever-changing and will depend on the ingredients they have available.
Their menu doesn't have any price printed on them either – the diners just pay what they want. This encourages all to come at Starfish. Everyone is welcome.
Farm Market
Thinking of cooking a hearty meal while in Mississippi? Or you just want to taste something homemade or something fresh? Bay St Louis Farmers Market has loads of fresh garden produce for sale.
The community farmers market has lots of choices to offer: from organic fresh local produce to homemade baked goods, jellies, local honey, handcrafts, hot tamales, plants and more!
Rise early and be there Saturdays from 8 a.m. to noon before vendors sell out.
Old City Hall
Word on the street is that the Old City Hall could be haunted. I ran out of time and heard about this possible haunting too late during my visit to actually investigate, but if you are interested in the paranormal it's worth a visit.
The building is over 100 years old and once held the city jail. Stories of objects moving, doors opening and closing, footsteps, and bright lights.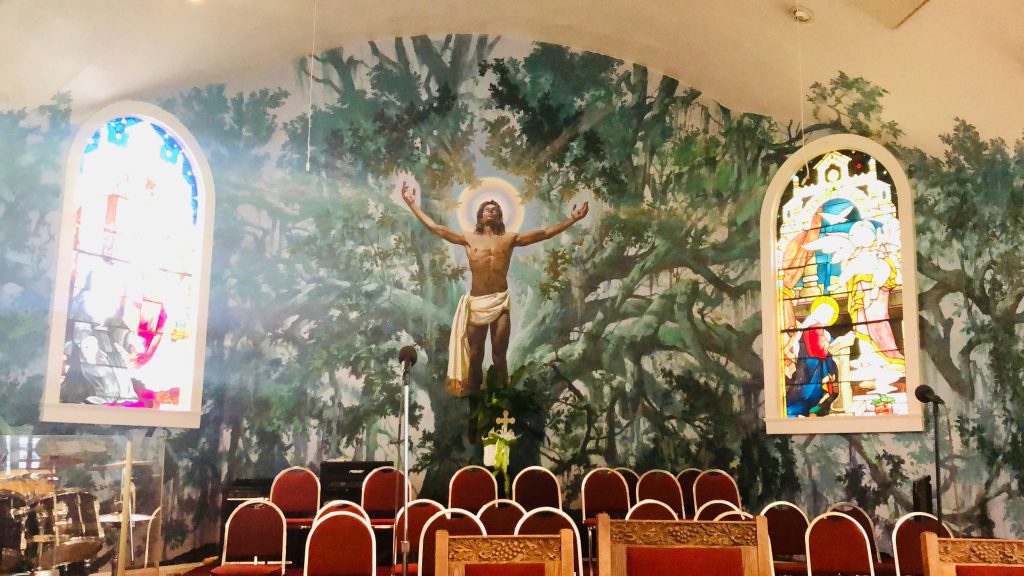 St Rose de Lima
Home to one of the best Southern Gospel Choirs in the country and its altar features an extraordinary mural of an African Christ figure rising before a live oak tree. St Rosa de Lima will make you want to attend church just to hear that choir sing.
For an interesting history of the church and why it's such an important stop on your visit watch this great video interview (start at 1:30 to bypass the long intro).
Second Saturdays
Shops and galleries of Old Town BSL are open to shop after hours. Second Saturdays feature local artwork, antiques, shopping, dining, and live music.
The Arts
The arts are alive and well in Bay St. Louis and is staying that way with the Creative Arts Center. The center, located at the corner of Washington and Central, is a gathering space for emerging arts. Offering classes for everything from pottery to metal works.
Nearby is The Arts, a non-profit dedicated to promoting art in everyday life in Hancock County, Mississippi. They host a number of events throughout the year including the growing and popular Arts Alive festival hosted in March.
Sandy Beaches
Not only does Bay St. Louis offer up beautiful sandy beaches they do so with free parking! Unheard of in most beach communities so an extra nice treat here. Bring your beach gear and plan to stay a while.
Walkable Community
Once you park your car in Old Town Bay St Louis you are able to walk anywhere you'd like to go. I love that about this little seaside town. Restaurants, shopping, museums, Angel trees are all within a short stroll making it a perfect way to explore the town.
Oh Those Coastal Views
Honestly, I never get tired of standing on the shore of the ocean and staring out past the horizon. There is something absolutely hypnotic about listening to the waves crash against the shore while realizing what a very big world we live in. And, oh, those Secret Coast sunsets. They are not to be missed.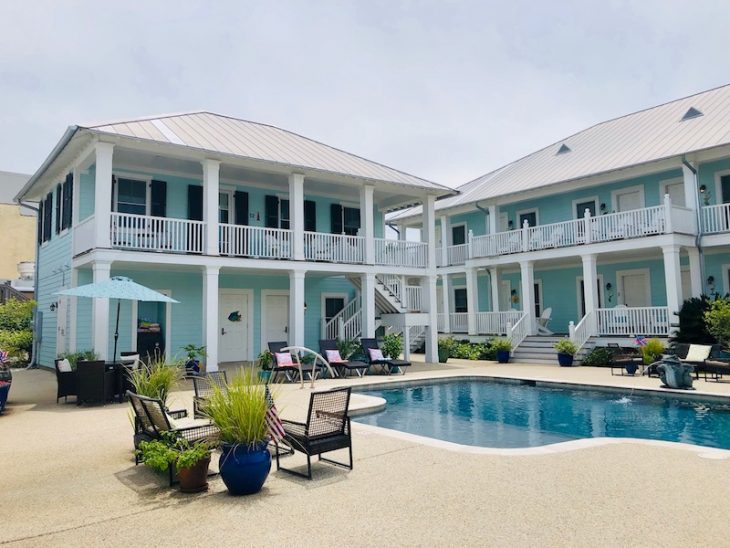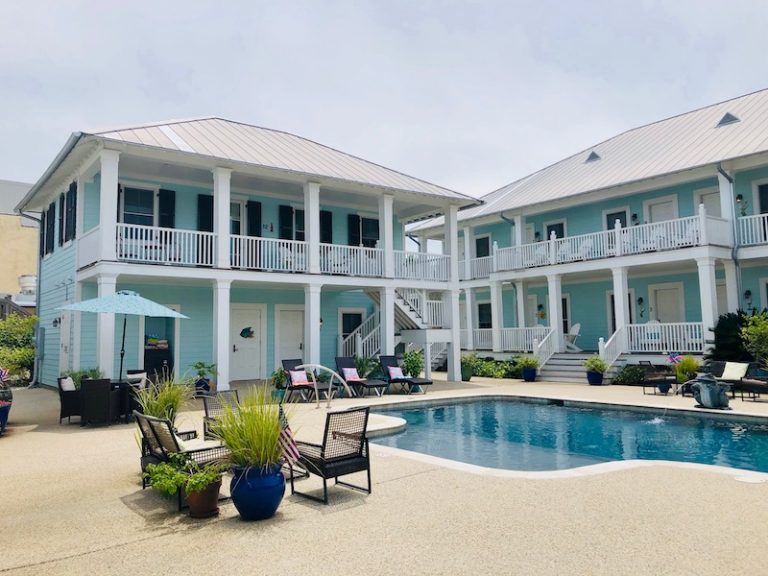 Bay Town Inn
I love this adorable inn by the sea. Seriously! It's comfortable, beautifully decorated and designed and located in the heart of Bay St.Louis. Be sure to read the story I wrote about my visit to the Bay Town Inn.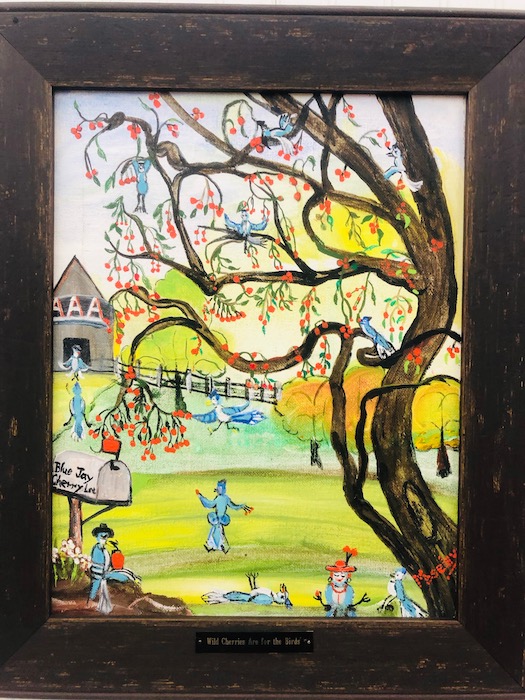 Alice Mosley Museum
Located in the T&N Historic train depot on the 2nd level. Alice Mosley is a nationally acclaimed fold artist, humorist and storyteller (1909-2004). Many of her originals on display plus there are prints to buy. I adore her works of art and hope to have the drunk birds (shown above) hanging in my house soon (they were sold out when I visited).
The museum also includes son Tim's 35-year-old collection of majolica, art pottery, art glass and a range of Americana.
Free to visit.
Be sure to drive by Alice Moseley's blue house located across from the T&N Historic Depo
Bay St. Louis Little Theater
Bay St. Louis Little Theater is a local community theater founded in 1946. Despite the destruction of the old Little Theater due to Hurricane Katrina, a new one rose at its present location. The theater produces shows that are truly exceptional and features talented actors. Aside from the traditional shows staged in the theater, it can also turn into dance halls as well as a location for concerts. This is a must-see and must-experience in Mississippi. Purchase a ticket to watch shows in this multi-awarded theater.
Kate Lobrano House
Aa 1896 Shotgun Cottage is now home to a turn-of-the-century museum located at 108 Cue St in Bay St. Louis. There are over 30k pieces in the photo collection, county history including census, birth, marriage, deaths, etc. Plus, the Kate Lobrano House is home to 800 reference books on the county and South Mississippi.
One of a Kind Festivals
Dolly Should (2nd Sat in Jan), Frida Fest (2nd Sat in July), Cruisin the Coast (Columbus Day weekend–America's Largest Block Party with cruise-ins, headline bands and oldies entertainment, wamp meet, auto auction), Historic Cemetery tour (Oct 31), Snowflakes in the Bay (mid-Nov through December)
Waveland, MS
There are 3 things you shouldn't miss at Waveland, Mississippi. First, visit the Lighthouse, originally built to serve as a bathroom at the beach and was finished to become a beautiful lighthouse that attracts more visitors.
Second, do some recreational fishing along the Garfield Ladner Pier with family and friends. The coastal waters offer various fishes for everyone.
Third, visit the Ground Zero Hurricane Museum which features inspirational displays of pictures as well as interactive exhibits that depict the recovery of the city and its people after Hurricane Katrina.
The MS Gulf Coast is Out of this World
If you are looking for a great and fun place to learn science, technology, and engineering, the Infinity Science Center is the place to be.
It's a non-profit museum that includes the visitor center for NASA's Stennis Space Center, a room full of carnivorous plants, a Deep Ocean Explorer, a place where you can build and invent, a rocket, outdoor exploration of the swamp, and many more.
Spark your curiosity, dig deep, and discover the earth, the ocean, and outer space.
Get Outside
Birding, Fishing, Biking, Walking, Kayaking, Paddle Boarding, Parks, Historic landmarks, shrimping, marsh tour, airboat tour, and so much more. If you love being outside you're going to love Coastal Mississippi.
If you are ready for warm sand, blue sea, breathtaking sunsets, sun-kissed skin, sea breeze, seafood and laid back afternoons. If you are dreaming about living the coastal life, if only for a week, then you really need to visit the Mississippi Gulf Coast and have a glimpse of the life and culture near the sea.
Looking for more fun destinations? Check out these reasons to visit Shenandoah Caverns!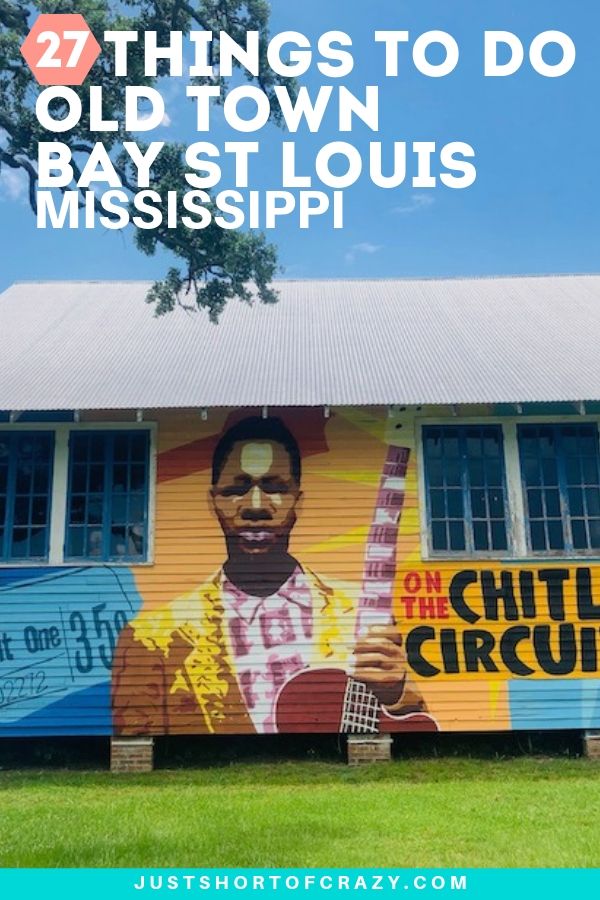 Read full article here.